Postdoctoral Fellowship Program
Postdoctoral fellowship positions for PhD-prepared nurses or other health science disciplines
We seek PhD-prepared nurses or other health science disciplines for postdoctoral fellowship
positions to be trained under the mentorship of School of Nursing scientists. The goal of the Postdoctoral Fellowship program is to prepare fellows to develop a record of scholarship and the skills needed for success in a tenure-track position in a research-intensive university.
Individual development plans may include coursework, grantsmanship training, and other activities in addition to expected scholarly publications and contributions to mentors' ongoing, funded research. Funding is made possible by friends and alumni of the School of Nursing and faculty awards. 
Please contact the faculty member with whom you wish to work, or if you have questions about preferred qualifications or availability in a specific area of study, contact Erin_Malley@urmc.rochester.edu.
Attract promising postdoctoral candidates in areas where faculty members have expertise
Provide trainees with experiences needed to develop research expertise, including hands-on learning with the mentors' research
Offer programming that complements the specific scientific area training with the trainees' senior scientist mentor(s)
Support trainees as they build knowledge, skills, research ethics, and portfolios required for success in a tenure track position in a research intensive university and for leadership in the field
PhD degree completed within past 5 years
degree in nursing or other related health science discipline such as psychology, social work, public health sciences, epidemiology, etc
Background and goals congruent with proposed mentor's area of research
Commitment to build a program of research in an area that can be supported by the SON faculty
Preference will be given to those meeting NINR training appointment criteria
Explore Candidate-Mentor Match by:
Reviewing descriptions of faculty
Contacting a potential mentor
Initiate correspondence with an email containing:

Cover letter with description of areas of interest and why pursuing a postdoctoral experience
Curriculum vitae

Receipt of this information begins the exchange of information leading to determination of a potential candidate-mentor match.
If you have questions about a potential mentor email SON-Research@URMC.Rochester.edu to learn more.
Phone Interview and/or Applicant Visit and Final Acceptance
If your application is advanced to the next step, the Postdoctoral Committee and the mentor(s) will invite you to a phone interview or a campus visit with the mentor and mentor team. Candidate may receive up to $700 to reimburse personal expenses incurred during the visit.
Applicant and mentor will begin to co-develop and negotiate an individualized program.
A recommendation and a beginning draft of the co-developed individualized program are submitted by the mentor to the Postdoctoral Committee for a final decision
You are then informed regarding acceptance.
The Postdoctoral Experience
Experiences are designed to support trainees as they build knowledge, skills, and portfolios required for success in a tenure-track position in a research intensive university and for leadership in the field. These experiences include:
Mentored research training
Working closely with a mentor(s), the postdoctoral fellow will initiate and co-develop a program tailored to the individual's needs. Experiences will be designed to ensure depth in the fellow's area of focus sufficient to be successful in publishing in high impact journals and obtaining competitive research funding. Program plans are geared toward the highest quality of training and may include relevant coursework, grantsmanship, presentation, and publication training, laboratory experience, and other activities in addition to expected scholarly publications and contributions to mentors' ongoing research. To develop the commensurate skills, trainees will have hands-on learning with mentors while contributing to the mentors' research and conducting preliminary studies for their own program of research.
Postdoctoral group
Fellows will become part of a postdoctoral trainee group designed to provide peer support and develop a deeper understanding of the context and life of a nurse scientist. All postdoctoral fellows and their mentors meet weekly in "Progress and Perspectives" meetings (about 60 minutes) during which each fellow and mentor discuss their activities and progress. This is followed by theme-oriented, literature-based conversations related to trends, issues, and challenges in nursing, science, careers in science, and health care.
University and community connection-participation
Fellows are encouraged to embrace the learning and social connection opportunities within the University and community, e.g., CTSI lectures and seminars, and interdisciplinary events. Fellows are connected to internal list-serves that announce meetings, rounds, seminars, and conferences likely to broaden postdoctoral experience. Activities are planned to support fellows as they hone tools to network with other interdisciplinary scholars.
Substantive Areas of Postdoctoral Training
Senior Science Mentors
Areas of training are determined by the availability of sponsoring mentors who are senior scientists with primary appointments in the School of Nursing as well as experienced research collaborators in other disciplines. Fellows have a primary mentor, but round out their mentored training experiences with experts in substantive and methodological areas supportive to their emerging individual program of research.
Current Areas of Focus 
The program is designed based on the areas of focus and availability of a mentor match. Interested applicants are encouraged to explore descriptions of senior faculty and determine intersections with their own backgrounds and interests, recognizing that to be successful, the primary mentor's work must overlap with the postdoctoral candidate's in one or more dimension.
The list of potential mentors and their areas of research follows:
Mary Carey: Optimizing the ECG for detection of dynamic cardiovascular conditions
Marie Flannery: Patient-reported outcomes and symptom science with a focus on oncology and older adults
Susan Groth: Biobehavioral mechanisms of weight gain, weight retention, and cardio-metabolic risk in women
Kathi Heffner: Stress resilience for symptom management and healthy aging
James McMahon: Implementation of biobehavioral HIV prevention approaches in underserved populations
Ying Meng: psychosocial and biobehavioral mechanisms of eating behaviors in early childhood
Sally Norton: Communication processes and practice patterns of care delivery in palliative care
Meghan Underhill-Blazey: Understanding and improving the patient and family experience with inherited cancer risk.
Jinjiao Wang: Home- and community-based health for older adults, large dataset analysis, innovative trial design.
Ying Xue: Nursing workforce, health policies, and health care delivery and outcomes
Measures of Success
As fellows complete the post-doctoral program, they are expected to have a portfolio indicating readiness to apply for a tenure track assistant professor position in a research intensive university. This includes a well-defined program of research with first-authored publications, presentations, small grant awards, and proposals in the area.
Why Choose the University of Rochester:
1. Rochester offers a unique opportunity to be an active participant in your mentors' research while obtaining the training you need to become an independent scientist and tenure-track candidate at a research intensive university.
2. You will become part of a vibrant, integrated research environment where discovery and scholarly productivity are highly valued and supported.
3. Ongoing training, support, and guidance will be available through research-funded faculty mentors with specialized expertise in your area and a strong commitment to your training and success.
4. You will have access to a rich multidisciplinary climate and the many valuable intellectual resources of a research intensive university and academic medical center. The University of Rochester Medical Center garnered more than $1.18 billion in the last five years in biomedical research funding, landing the University in the top 26 percent of U.S. medical centers in federal research funding.
5. Your training will be facilitated by the Center for Research Support which provides aide for drafting research proposals, identifying funding sources, designing experiments, gathering and analyzing data, and connecting with expert collaborators across the university.
6. You will join a group of emerging scientists who share your excitement and determination along with mentors who provide timely, skilled guidance, and support.
7. Rochester is a great place to live. Rochester's cost of living, ease of access, and family-friendly community give you personal peace of mind as you pursue your research training.
Learn More About Living in Rochester
Why did you choose the School of Nursing for your postdoctoral fellowship?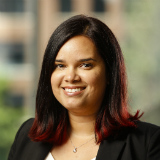 Maria Quiñones-Cordero, PhD
Assistant Professor of Clinical Nursing

"The School of Nursing possesses a warm, kind, and inclusive atmosphere that rivals other departments I have been a part of. Here, I feel safe as an emerging researcher, knowing that the school is really invested in my career development. As a clinical psychologist, I feel that my expertise in mental health and cognition is valued, as other nursing faculty are openly willing to collaborate. Lastly, as a Latina, I was driven to stay here because of the School of Nursing's outstanding commitment with cultural inclusion and awareness, not just within the School of Nursing community, but highlighting this importance in research as well."
Chen Zhang, PhD, MPH
Assistant Professor
"Prior to applying for a fellowship, I spoke with Dr. James McMahon to discuss potential mentoring and collaboration during my fellowship. Based upon my background and our common interests in HIV research among vulnerable populations, Dr. McMahon agreed to serve as my mentor for this fellowship and potential future research. With the cultivating environment in School of Nursing at University of Rochester, as well as the guidance from a well-established research team, I believe my expertise and experience will greatly foster my transition from a postdoctoral fellow to an independent researcher."