Postdoctoral to Tenure-Track Opportunity
Postdoctoral fellowship positions with appointment to tenure-track faculty available for highly promising PhD-prepared nurses
The University of Rochester School of Nursing is seeking scholars with a developing program of research to become a postdoctoral fellow and, upon successful completion of the specified deliverables during the two-year fellowship, receive a direct appointment to our tenure-track faculty.
This is a unique opportunity to establish and accelerate your program of research with a world-class research institution. Postdoctoral fellows will be paired with a faculty mentor and develop an individualized training plan. After two successful years, you will transition into a tenure-track assistant professor role.
Candidates must have:
At least one degree in nursing
A PhD from a research-intensive program within the past five years
At least one first-authored publication
At least one external grant submission and/or internal research funding as principal investigator
A strong match with a School of Nursing senior-level faculty mentor
Contact Us
Please contact the faculty member with whom you wish to work, or if you have questions about preferred qualifications or availability in a specific area of study, contact Erin_Malley@urmc.rochester.edu. To apply, see posted faculty positions.     
Why did you choose the School of Nursing for your postdoctoral fellowship?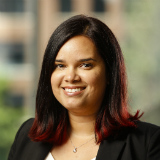 Maria Quiñones-Cordero, PhD
Assistant Professor of Clinical Nursing

"The School of Nursing possesses a warm, kind, and inclusive atmosphere that rivals other departments I have been a part of. Here, I feel safe as an emerging researcher, knowing that the school is really invested in my career development. As a clinical psychologist, I feel that my expertise in mental health and cognition is valued, as other nursing faculty are openly willing to collaborate. Lastly, as a Latina, I was driven to stay here because of the School of Nursing's outstanding commitment with cultural inclusion and awareness, not just within the School of Nursing community, but highlighting this importance in research as well."
Chen Zhang, PhD, MPH
Assistant Professor
"Prior to applying for a fellowship, I spoke with Dr. James McMahon to discuss potential mentoring and collaboration during my fellowship. Based upon my background and our common interests in HIV research among vulnerable populations, Dr. McMahon agreed to serve as my mentor for this fellowship and potential future research. With the cultivating environment in School of Nursing at University of Rochester, as well as the guidance from a well-established research team, I believe my expertise and experience will greatly foster my transition from a postdoctoral fellow to an independent researcher."
Why Choose the University of Rochester:
1. Rochester offers a unique opportunity to be an active participant in your mentors' research while obtaining the training you need to become an independent scientist and tenure-track candidate at a research intensive university.
2. You will become part of a vibrant, integrated research environment where discovery and scholarly productivity are highly valued and supported.
3. Ongoing training, support, and guidance will be available through research-funded faculty mentors with specialized expertise in your area and a strong commitment to your training and success.
4. You will have access to a rich multidisciplinary climate and the many valuable intellectual resources of a research intensive university and academic medical center. The University of Rochester Medical Center garnered more than $1.18 billion in the last five years in biomedical research funding, landing the University in the top 26 percent of U.S. medical centers in federal research funding.
5. Your training will be facilitated by the Center for Research Support which provides aide for drafting research proposals, identifying funding sources, designing experiments, gathering and analyzing data, and connecting with expert collaborators across the university.
6. You will join a group of emerging scientists who share your excitement and determination along with mentors who provide timely, skilled guidance, and support.
7. Rochester is a great place to live. Rochester's cost of living, ease of access, and family-friendly community give you personal peace of mind as you pursue your research training.
Learn More About Living in Rochester