Nursing Trailblazer Dr. Loretta Ford Comes Home | University of Rochester School of Nursing
  By Nora Williamson
  Saturday, December 5, 2015
Sometimes it takes a superhero to bring about change.
For nursing, that superhero is Loretta "Lee" Ford, founding dean of the UR School of Nursing, whose vision for nursing and habit of questioning the status quo galvanized colleagues and other health professionals, and continues to inspire countless others who follow in her footsteps.
Working as a public health nurse in rural Colorado during the 1940s and '50s, Ford saw firsthand how a shortage of physicians often left children and families without access to care. To fill the gap, she envisioned a solution in which nurses received advanced education in both clinical care and research so they could better meet the needs of patients as well as practice to the full extent of their capabilities.
The nurse practitioner model she co-developed with Dr. Henry K. Silver at the University of Colorado Medical Center in 1965 expanded the scope of practice in public health nursing and led to the creation of the first pediatric nurse practitioner model of advanced practice.
"This is one of those instances where you say an academic achievement was truly transformative," UR President and CEO Joel Seligman said before a crowd of Ford's friends, admirers and former colleagues last November at a 50th anniversary celebration of the nurse practitioner role.
Ford, 94, was welcomed home by the school and the Margaret D. Sovie Center for Advanced Practice to celebrate and reflect on the evolution of nursing and health care. She also visited and shared her wisdom with current UR nursing students.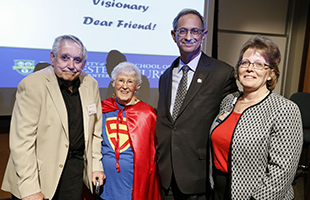 Al Sovie, Dr. Loretta Ford, UR President and CEO Joel Seligman, and School of Nursing Dean Kathy Rideout pose for a photo after Dr. Ford's presentation on "Historical and Hysterical Reflections of the Role of Nurse Practitioners."
"Meeting Dr. Ford is an experience I will never forget. She told us, 'You will learn more from mistakes than you ever will from success.' That advice resonated with me," said Shannska Atis, BSN, RN, a student in the MS-PhD dual program and a 2014 Loretta Ford fellow.
Ford continued to lead the nurse practitioner movement when she became dean of the School of Nursing in 1972, helping to further establish the School of Nursing as an independent school.
The nurse practitioner model flourished at the University of Rochester due to the collaborative and progressive environment at the Medical Center and in the community.
"Coming to Rochester, I quickly realized how close the Medical Center was, not only physically, but technically and psychologically," Ford said. "It had the philosophy and the interdisciplinary aspects to develop a team approach and establish a system that was receptive and responsive to new ideas."
Harriet Kitzman, PhD, RN, FAAN, senior associate dean for research and a Loretta C. Ford Professor of Nursing from 1995 to 2005, was one of the early leaders in the nurse practitioner movement, developing a continuing education program in 1967 and the first graduate nurse practitioner program at the University of Rochester in 1971.
"Dean Ford captured the readiness of nursing and the university to move forward with an adventurous agenda in the development of nursing and interprofessional alliances," Kitzman said.
Working alongside Ford, Kitzman paired early nurse practitioners with pediatricians, allowing them to continue their education and obtain master's degrees.
"We have opportunities for nurses to be innovative, to be inquiring, to ask some really tough questions."
Today, nearly 200,000 nurse practitioners are practicing in the United States, with more than 400 at Strong Memorial Hospital.
"The project kept the nurse practitioner vision alive," Ford said. "It demonstrated that nurses, once given the extra education, could do more safely and competently and were a key part of providing comprehensive patient-centered care." 
Kitzman became the first clinical chief/chair in the School of Nursing's unification model, which brought together the nursing services in the Medical Center with nursing education and research, and became a national model for other nursing schools.
 "The marriage of education and practice allowed us nurses to do our own research – focused on the well-being of the patient," said Ford.
That partnership across disciplines remains an integral component of interprofessional education today.
"The School of Nursing has always had its finger on the pulse of what was currently happening as well as what is in the future," said Dean Kathy Rideout, EdD, PPCNP-BC, FNAP. "And not only seeing what the future could be, but actually designing what that future needed to be. We are continuing as generations of innovators because we had that foundation modeled for us by Dr. Ford."
For researcher and 1992 Loretta Ford fellow, Mary Wilde, PhD, RN, coming to the University of Rochester as a faculty member to pursue long-term urinary catheter research was a "dream come true."
"The unification model that was established here fueled my research from the ground up," Wilde said. "I knew earning a clinically focused PhD degree would enable me to do cutting-edge research and communicate it across the globe."
Eleven years later, she attributes her success in improving the lives of individuals with long-term catheters to the strong intersection between research, practice, and education.
"We have to build science but we also have to reach patients and make the best evidence available to them and to nurses," Wilde said. "You have to talk to the patients to know what is going on. In every level of my research, I ask patients, 'What's it like to live with this?'"
Today – in line with Ford's vision – advanced practice nurses are developing and leading innovations to ensure access to care for vulnerable populations, prevent disease, promote health, manage chronic disease, and improve end-of-life care. And, more than ever, they are at the table where key health care decisions are being made.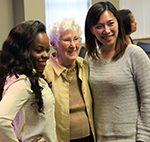 "Dr. Ford told us, 'You will learn more from mistakes than you ever will from success.' Her advice resonated with me."
- Shannska Atis, BSN, RN, on left, a student in the MSN-PhD program, said after meeting Dr. Ford with Katie Chaung, on right, a student in the PhD program. Atis and Chaung were recently awarded with Loretta C. Ford fellowships.
Holly Brown, DNP, RN, NPP, PMHCS-BC, assistant professor of clinical nursing and a 2000 Loretta Ford fellow, says it's an exciting time to prepare students for a complex and evolving health care environment.
"Mentorship is key in all of this," says Brown, who is specialty co-director for the Child/Adolescent Psychiatric Nurse Practitioner Program, one of six nurse practitioner specialty programs at the school. "We provide students with the crucial knowledge, guidance, and support to take their nursing careers to the next level and work hard to match preceptors with students' clinical skills. Our students are able to actualize their roles and become true leaders in the nursing profession."
Students in the program, for example, learn to take care of patients across the lifespan to help address the critical need for mental health services across the state and country.
"We have the right mixture of structure, effective program delivery, and clinical experience to ensure the future of the mental health nurse practitioner workforce is strong and well-prepared to understand what challenges patients face," said Brown. "We've designed the program to restore the health and well-being of the community."
As the landscape of health care continues to change, more innovations will emerge. Technology has already put information in the palm of patients' hands, triggering a tremendous power shift. But nurses, on the front lines of health care, are well-positioned to leverage their knowledge and their relationship with patients to help determine which of those innovations will ultimately have the most impact on patient care. But, Ford says, they must bring energy, imagination and courage to their work.
"We have opportunities for nurses to be innovative, to be inquiring, to ask some really tough questions."