National Nurses Week: Still amazed by care of nurses
  By Nora Williamson
  Monday, May 9, 2016
As a member of the Ethics Consult Team at Strong Memorial and Golisano Children's Hospital, I am often called to meet with nurses to discuss issues affecting patient care or quality of life, and in those meetings, I often witness the most amazing moments of empathy, caring and compassion.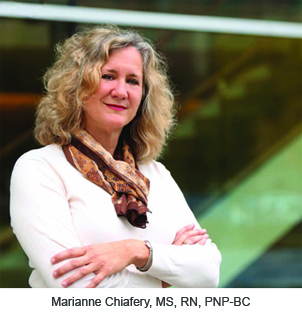 Just a few weeks ago, I visited the room of an elderly patient in palliative care to clarify the limits of his treatment plan with his team of nurses. The man had no family present and it was clear that his cancer was causing him great pain. But as he lay in bed, the nurse at his side gently stroked his hand and spoke soothingly to him.
"Are you suffering?" she asked. 
"Yes."
"Are you suffering in your body?"
"Yes."
"Are you suffering in your mind?"
"Yes." 
All the while, she continued to stroke his hand.
It's hard to put into words how beautiful this moment was. The nurse's presence had such a tremendous calming and comforting effect on him. When no one else was there for him, this nurse took the time to sit and focus on providing him peace. She was intent on making him comfortable.
The man died five days later. But at that time, for that moment, he was her number one priority. And it was the right one.
I see this from nurses all the time. They are consistently stepping up, standing in, and speaking out on behalf of their patients. After more than three decades working as a nurse, educator and ethicist, I have a deep respect and understanding of the role nurses play and the type of person who succeeds in providing the best possible patient care, often under the most trying of circumstances.
After all this time, the consistency of care and the intelligence and compassion of nurses does not surprise me in the least. But that doesn't mean I'm not still amazed by it.
—    By Marianne Chiafery, MS, RN, PNP-BC, associate professor of clinical nursing, University of Rochester School of Nursing, pediatric nurse practitioner, University of Rochester Medical Center