Faculty, Alumni, and Supporters Honored at Dean's Diamond Circle
  By Nora Hicks
  Thursday, October 13, 2016
The annual Dean's Diamond Circle dinner, held Oct. 5 at Monroe Golf Club, presented UR School of Nursing leaders, supporters, and students with the opportunity to reflect on the previous year's accomplishments and recognize individuals who have made an impact on the school and community.
"It has been another year of progress here at the School of Nursing as we continually strive to be ever better," said UR School of Nursing Dean Kathy Rideout, EdD, PPCNP-BC, FNAP, as she reflected on several of the year's achievements, including the conclusion of the Meliora Challenge and the school's high placement in the annual rankings of research funding from the National Institutes of Health. "The support from individuals like you is what allows the school to remain at the forefront of all we do."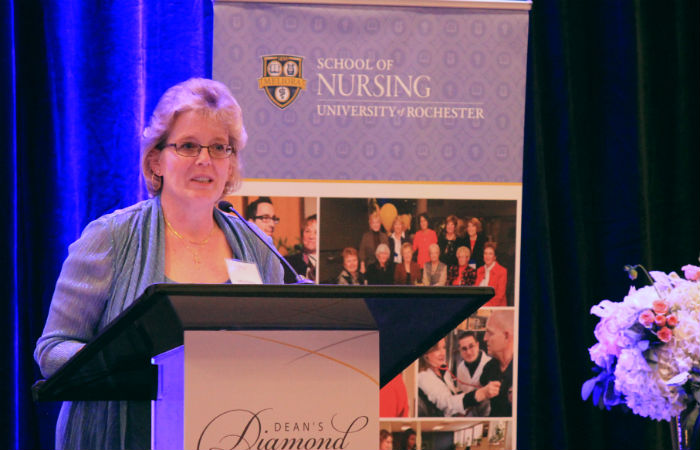 Mark Taubman, MD, CEO of the University of Rochester Medical Center and dean of the School of Medicine and Dentistry, also helped kick off the event by highlighting the unique collaborative relationship between the two schools and the School of Nursing's role as a leader in addressing the nationwide shortage of nurses.
Each year at the event, the school presents awards to faculty, alumni, and supporters who have made a significant contribution to the school or its mission. This year, the Dean's Medal, an award that recognizes extraordinary service, philanthropy, and leadership, was presented to Professor Emerita Madeline Hubbard Schmitt '65N, '70 (MA), PhD, RN, FAAN, FNAP. Schmitt, a nurse-sociologist, is considered a national leader in advancing interprofessional collaborative practice and interprofessional education, a commitment that has spanned nearly 45 years.
While accepting the award, Schmitt thanked the individuals who helped shape her approach to nursing and interprofessional practice — including an attending physician who allowed her to work collaboratively with him when she was just a nursing student.
"My professional journey has taught me that in health care, we need each other to succeed," she said.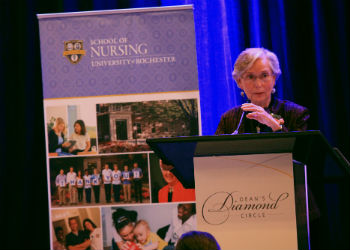 Schmitt was a faculty member at the school from 1972 until 2005. She was an integral figure in the emergence of the school as an autonomous institution and held numerous leadership posts in administration, teaching, and funded research. She was also a co-leader of an informal national interprofessional network for two decades and acquired an international reputation as creator and chair of the North American Division of the Journal of Interprofessional Care.
Since her retirement, Schmitt has continued to be a sought-after national consultant. She currently serves as ambassador and community moderator for the National Center for Interprofessional Practice and Education, and she has continued to co-publish seminal articles, conduct collaborative research, and deliver more than 80 local, national, and international presentations.
The Distinguished Alumna Award was presented to Cynthia A. Connolly '87N (MS), PhD, RN, FAAN,an associate professor of nursing at the University of Pennsylvania School of Nursing, where she is one of four faculty directors at The Field Center for Children's Policy, Practice, and Research. Connolly, who also holds senior fellow posts at Penn, is highly respected for her contributions to children's health policy and nursing education.
Connolly has focused her scholarly work on the forces that have shaped children's health care delivery and family policy in the United States. Her National Library of Medicine-funded research on children and tuberculosis was published in her award-winning book, Saving Sickly Children: The Tuberculosis Preventorium in American Life, 1909–1970. Her forthcoming book, No Drug Left Behind? Children, Drug Therapy, and Pharmaceutical Policy in the United States 1933-1979, will soon be published by Rutgers University Press.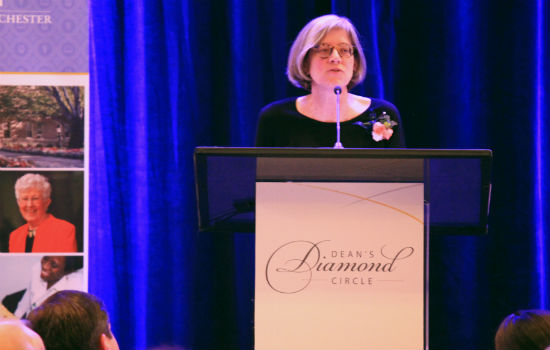 "Cynthia is truly a forerunner in her field and has accomplished many 'firsts' over the course of her career," said Rideout, noting that Connolly is one of three nurses to receive a Robert Wood Johnson Foundation Investigator Award in Health Policy Research.
Connolly is also a highly respected educator and is the recipient of the University of Pennsylvania's highest teaching award, The Lindback Award for Distinguished Teaching.
John C. "Jack" Schottmiller '53, PhD, a dedicated advocate for the School of Nursing, received the Legacy Award. Schottmiller, along with his wife, Anne, established an endowed scholarship fund at the school in memory of their daughter, Julia Anne Schottmiller-Koestner '84N, who was tragically killed in 1990 during a visit to Prague.
"I am proud of my daughter and am glad that we were able to establish a scholarship in her name," said Schottmiller.
A native of Rochester, Schottmiller earned his bachelor's degree in general science from the University of Rochester in 1953. He remains an active alumnus, regularly attending Rochester events. He has served as a volunteer on the Arts, Sciences and Engineering Reunion Committee for his 50th, 55th, and 60th class reunions.
Schottmiller is the former president of RM Consulting, Inc., a quality training business serving Fortune 500 clients across the United States and Canada. Prior to launching his firm, Schottmiller had a highly successful 27-year career at Xerox Corporation, where he pioneered studies in photoconductivity, was awarded several patents, and served as a leader in manufacturing and development.
Two 2015 UR School of Nursing graduates, David Bynum and Ma Melita Hebert, also spoke at the event to thank the audience for their support and talk about their experience at the school.
"Two years ago, I was in a major motor vehicle accident and was diagnosed with cancer at the same time. That's when I decided to go back to school to become a nurse," said Bynum, now a nurse at Wilmot Cancer Center. "When I got here, it truly felt like coming home, and I knew I was where I was supposed to be. Because I received the scholarships that I did, I am able to be part of what I believe is the finest profession."