School of Nursing Staff Member Honored as Diversity Award Finalist
  By Nora Williamson
  Monday, January 30, 2017
Jonathan Wetherbee, an information analyst for the Center of Employee Wellness at the University of Rochester School of Nursing, was honored as a finalist for the 2017 Presidential Diversity Award from the University of Rochester.
"Jonathan has been a leading voice among the University's staff members in the ongoing efforts to build and maintain a community that is welcoming, understanding, and accepting of all people," said UR School of Nursing Dean Kathy Rideout, EdD, PPCNP-BC, FNAP. "In the past few years, Jonathan has taken on an ever-increasing leadership role, and we are incredibly proud of his efforts and achievements."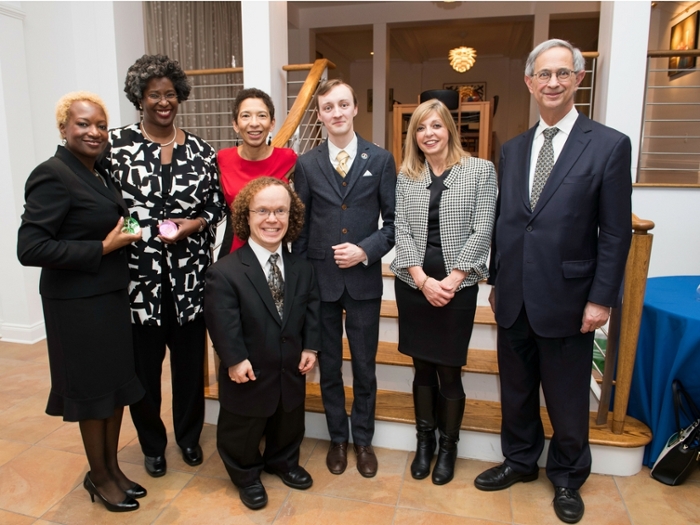 University photo / J. Adam Fenster | Jonathan Wetherbee, third from the right, was honored as a finalist for the 2017 Presidential Diversity Award.
Wetherbee, who joined the school full time in 2008, is involved in numerous diversity initiatives across campus. As co-chair of the University's Pride Alliance, Wetherbee helps to lead and direct a group of employees dedicated to promoting a positive work environment that values and supports individuals regardless of their sexual orientation or gender expression. He is also a Safe Space training coordinator and helps to educate faculty, students, and staff while providing visible support and an identifiable network of allies for the LGBT community.
Wetherbee was recently appointed to the University of Rochester Medical Center Executive Committee on Diversity and Inclusion, which aims to advance diversity initiatives within the Medical Center and cultivate a culture of inclusion in its approaches to education, health care, research, and community outreach.
At the School of Nursing, Wetherbee has been an active member of the Dean's Council for Diversity and Inclusiveness (CoDI). He led the development of the CoDI's first recurring newsletter to promote awareness of the council's work, as well as create an avenue for dialogue between the council and school community. He also helped to set up guest speakers and other special events at the school focusing on diversity.
Wetherbee has been recognized numerous times for his efforts. In 2016, he was named the school's first Staff Diversity Officer and he also recently received the school's Mary Dombeck Diversity Enhancement Staff Award.