End of the Year Awards | University of Rochester School of Nursing
  By Nora Williamson
  Wednesday, May 24, 2017
The UR School of Nursing honored faculty and staff members' accomplishments with several awards and recognitions at a luncheon in Evarts Lounge on May 16.
Those awarded include: 
Lynne Massaro, DNP, RN, ANP-BC, FNP, assistant professor of clinical nursing, received the Professional Advancement Award for spearheading the new nurse practitioner residency program at Highland Family Medicine and for taking on the role of clinical insights editor for the state's nurse practitioner association journal.
Yvette Conyers, RN, MSN, FNP-C, CTN-B, instructor of clinical nursing, received the Mary Dombeck Diversity Enhancement Faculty Award. Conyers is a member of the school's diversity council and a founding member of the LIFT program. She was recently appointed as the Medical Center's representative to the Structural Racism Project for Agencies sponsored by St. Joseph's Neighborhood Center and Catholic Family Center.
Abdullah Abbas, wellness coordinator, received the Mary Dombeck Diversity Enhancement Staff Award. The award recognizes individuals who have demonstrated a significant commitment to enhancing diversity at the school and who have created and implemented diversity and inclusiveness action plans.
Rebecca Tucker, PhD, RN, ACNP, received the Outstanding Scholarly Practitioner Award, which recognizes a faculty member whose activities have made a great impact on the improvement of clinical practice. Tucker, a nurse practitioner on the heart failure service, is one of the few PhD-prepared advanced practice registered nurses at the Medical Center.
Mary Carey, PhD, RN, FAHA, FAAN, associate professor and associate director of the clinical nursing research center, received the Outstanding Faculty Colleague Award. Carey has worked to advance collaboration between researchers and clinicians and is responsible for the evolution of the school's Clinical and Research Grand Rounds. 
Marie Flannery, PhD, RN, AOCN, assistant professor, received the Most Promising New Investigator Award for her research on the multiple symptoms experienced by older adults with cancer. Flannery's work aims to find new methods to improve symptom reporting and communication between health care providers and individuals. 

Faculty and staff were recognized with several awards
at a luncheon in Evarts Lounge on May 16.

Nora Williamson, web communications manager, received the Outstanding Staff Colleague Award for leading the redesign of the school's website and for her valuable contributions to discussions regarding student enrollment strategies.
Joe Gomulak-Cavicchio, instructional design specialist, received the Outstanding Staff Member of the Year Award for his efforts to integrate flexible, online courses into the school's curriculum and facilitate the integration of new technologies to enhance student engagement and student-faculty interaction.
Special recognition was also given to:
Susan Ciurzynski, PhD, RN-BC, MS, PNP, VCE, who was recently promoted to professor. Ciurzynski, who has more than 30 years' experience as a pediatric nurse, is the director of the school's Center for Lifelong Learning, which offers continuing education, professional development, and nursing school prerequisite courses.
Kathy Hiltunen, MBA, RN, assistant professor of clinical nursing, and James McMahon, PhD, associate professor, who received the Josephine Craytor Nursing Faculty Award. Hiltunen was recognized for her role as the study skills expert for Center for Academic and Professional Success, which helps students improve their learning strategies, study habits, and critical thinking skills. McMahon was recognized for mentoring new faculty as they begin and shape their careers.
Feng (Vankee) Lin, PhD, RN, assistant professor, and Kathi Heffner, PhD, associate professor, who received the Terry Family Research Fund Education for the Center for Outcomes Measurement and the Elaine C. Hubbard Center for Nursing Research on Aging Endowed Award. The awards will further their research on the neural mechanisms of — and interventions to improve — older adults' social connectedness.
Ying Xue, DNSc, RN, associate professor, who received the Dr. Jeremy A. Klainer Entrepreneurship Fund Award. She will examine the availability of geriatric nurse practitioners compared to geriatric physicians and assess whether NPs will be able to compensate for the growing health care needs of the population.
Sarah Peyre, EdD, assistant dean for interprofessional education and an associate professor of surgery, nursing, medical humanities and bioethics, who received the Dean's Appreciation Award for advancing interprofessional education.
At the end of the awards presentation, the school's faculty and staff members celebrated the career of Jane Tuttle, PhD, APRN, BC, FNP, CPNP, professor of clinical nursing and specialty director of the family nurse practitioner program, who retired at the end of the academic year after more than 40 years as a NP.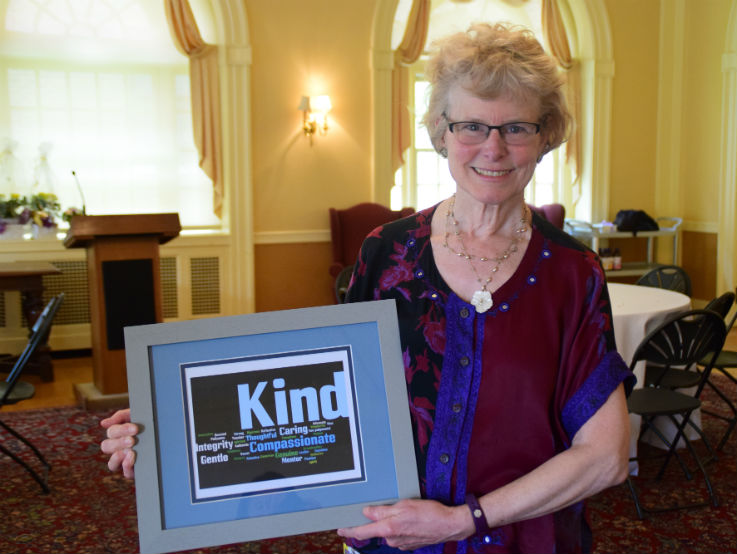 A distinguished educator and clinician, Tuttle joined the School of Nursing faculty in 1993 and took over as specialty director of the family nurse practitioner program a year later.
Passionate about adolescent health issues, she was nursing discipline coordinator for the HRSA-funded Leadership Education in Adolescent Health (LEAH) program from 1997-2015.
A member of the nominating committee of the Society for Adolescent Health and Medicine, she is also a longtime member and board member of the Epsilon Xi chapter of Sigma Theta Tau. She has been honored as Nurse Practitioner of the Year by New York State and the Connecticut Nurse Practitioners Group, and inducted as a Fellow of the American Association of Nurse Practitioners.
"In her career, Jane has proven to be a tremendous educator and clinician, a tireless advocate for the NP profession, and most importantly, one of the kindest, most sincere people you will ever meet," said Rideout at the ceremony.