UR Nursing Finger Lakes Regional Scholarship Program Expands
  By Patrick Broadwater
  Tuesday, October 24, 2017
More than 30 health care professionals pursuing additional education have seen their tuition costs cut in half, thanks to an emerging scholarship program offered by the University of Rochester School of Nursing.
The Finger Lakes Regional Scholarship provides substantial financial support in the form of a 50 percent scholarship to eligible students who live or work in select counties and are enrolled in UR Nursing's RN to BS program or its Family Psychiatric Mental Health Nurse Practitioner (FPMHNP) program.
Amid a rising demand for nurses nationwide, the Finger Lakes region is experiencing an acute need for health care providers. Its overall rate of vacant health care positions is nearly 10 percent, but that number is as high as 40 percent for key job titles, such as psychiatric nurse practitioners, according to March 2017 data from the New York State Department of Health. Infusing the region with graduates from these programs will address specific community needs, directly fill gaps in care, and help patients to achieve better health outcomes.
"The University of Rochester is proud to expand access to our cutting-edge degree programs," said Alexandria Duffney, director of enrollment management at the School of Nursing. "Our graduates in these key areas will help meet critical shortages in care delivery and play pivotal roles in strengthening care quality, improving prevention and management of chronic diseases, promoting health across populations, and controlling costs in the future."
To date, 31 students have received $344,000 in financial assistance under the scholarship program, which debuted in 13 counties in 2016 as the FLPPS Scholarship. Financial awards have been split nearly equally between the two programs (16 RN to BS, 15 FPMHNP), and recipients have hailed from six different counties (Allegany, Genesee, Livingston, Monroe, Ontario, and Wyoming). Three Finger Lakes scholars have already graduated from their respective programs.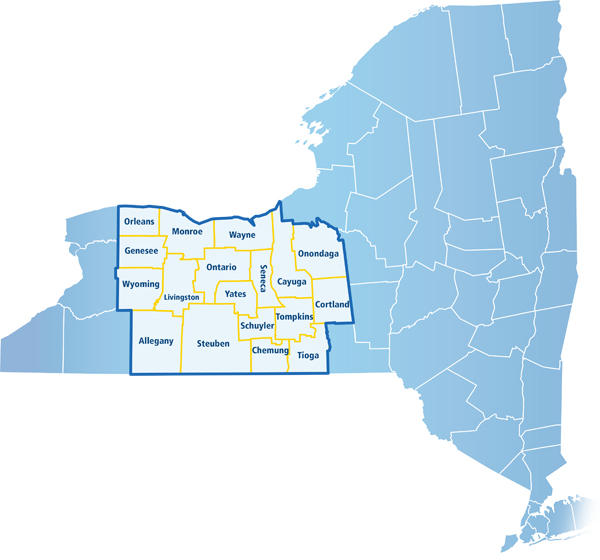 Now in its third academic year, the scholarship's eligibility area has expanded to include 18 counties in and around the Finger Lakes region. The area now comprises Allegany, Cayuga, Chemung, Cortland, Genesee, Livingston, Monroe, Onondaga, Ontario, Orleans, Schuyler, Seneca, Steuben, Tioga, Tompkins, Wayne, Wyoming, and Yates counties.
"We take our role as a community partner very seriously," said Kathy Rideout, EdD, PPCNP-BC, FNAP, dean of the UR School of Nursing. "Contributing to and improving upon the health and well-being of individuals and populations in our community is an important aspect of our mission, and this scholarship is just one way for us to help tackle the significant health care challenges our region faces."
For more information on the Finger Lakes Regional Scholarship or the School of Nursing's other scholarship opportunities, visit the Scholarship Opportunities page.