Alumni Profile: Christine Tebaldi | University of Rochester School of Nursing
  By Patrick Broadwater
  Wednesday, June 14, 2017
From reunions with friends and colleagues to learning opportunities, concerts, and comedians, there's something for everyone at Meliora Weekend (Oct. 12-15).
As part of this year's festivities, the School of Nursing will offer two events welcoming alumni, faculty, staff, and the community. Learn more about these events below, and don't forget to register for Meliora Weekend!
Friday, October 13 | 10:30 a.m. - noon
School of Nursing Auditorium
59th Annual Clare Dennison Lecture | Christine M. Tebaldi, RN, MS, PMHNP-BC
Class of 1959 Scholarship Presentation | Samuel Salter, recipient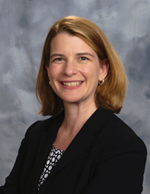 Distinguished alumna Christine Tebaldi '96N, '01N (MS) will deliver this year's Clare Dennison Lecture. Tebaldi will explore proven strategies addressing the barriers of stigma and discrimination surrounding mental illness and substance use disorders in a lecture titled "Deconstructing Stigma: Implications for Care." The presentation will highlight approaches including innovative care models, recovery-oriented practice, and awareness and advocacy initiatives, along with the critical concept that overall health is inclusive of mental health.
Tebaldi is McLean Hospital's director of clinical business development and director of psychiatric emergency services. She is a leader in advancing numerous issues nationally, including increased access to substance use disorder services, inpatient safety, recovery-oriented practice, and improved patient and family engagement. Prior to her current position on the board of the American Psychiatric Nurses Association (APNA), Tebaldi co-chaired the Institute for Mental Health Advocacy, worked to update the APNA's official policies regarding scope and standards for psychiatric-mental health nurses, and was a member of the American Nurses Credentialing Center Interprofessional Disaster Certification Advisory Panel.
This event will also recognize School of Nursing student Samuel Salter, who will be presented with the Class of 1959 Scholarship.
Friday, October 13 | Noon. - 1:30 p.m.
Helen Wood Hall, Evarts Lounge
School of Nursing Alumni Reception & 2017 Dean's Medal Presentation
2017 Dean's Medal Presentation | Carol Brink '56N (DPL), '62N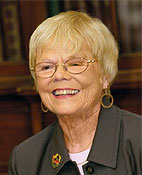 Following the Clare Dennison Lecture, the School of Nursing will host an alumni lunch where guests can enjoy a buffet with classmates, family and friends, and School of Nursing faculty and staff. During this reception, Carol Brink '56N (DPL), '62N will be presented with the Dean's Medal in honor of her legacy at the School of Nursing. Brink also received the Distinguished Alumnus Award in 2012; you can read more about her remarkable career here.
Established in 2008, the Dean's Medal recognizes extraordinary service, philanthropy, and leadership to the School of Nursing, and dedication and commitment that inspire others to take leadership roles at the University. Individuals, families, associations, corporations, or foundations may be recognized. It is among the highest honors given by the School of Nursing.
Seating for both the lecture and the reception is limited and registration is required. For more information on registration, along with a complete schedule of Meliora Weekend events, click here.