Graduates of Nursing Education Program Blaze Trail | University of Rochester School of Nursing
  By Patrick Broadwater
  Monday, June 5, 2017
Flexible, family-like atmosphere help MNE program's inaugural grads address nursing faculty shortage sooner than anticipated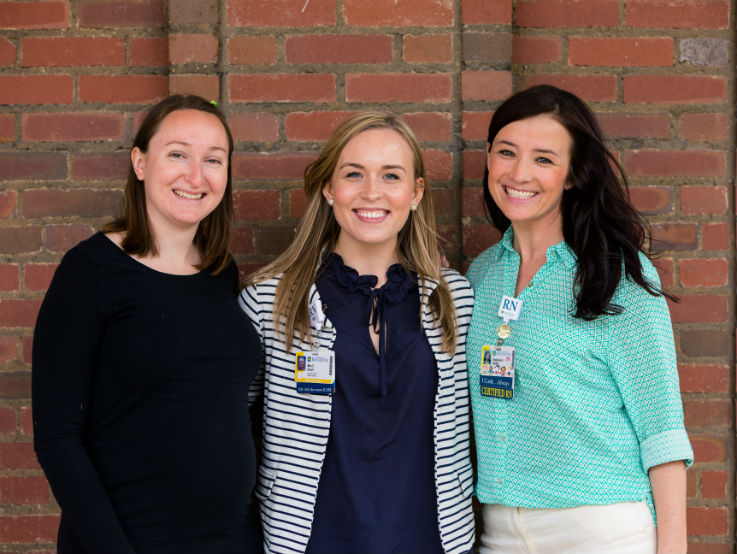 Molly Becker, Mia Gesel, and Stephanie Herbst were the first three students to complete their capstone projects in the new Master's in Nursing Education program.
Molly Becker just wanted to work out a plan. But her discussions with Assistant Professor of Clinical Nursing Maria Marconi helped create an entire program.
Becker, a NICU nurse at Golisano Children's Hospital, knew she was interested in teaching. She was already taking courses in the Health Professions Education (HPE) program at the Warner School, but what she really wanted was a program that was specifically focused on preparing nurse educators. So she sat down with Marconi, a nationally certified nurse educator and one of the faculty in the HPE program, to talk options.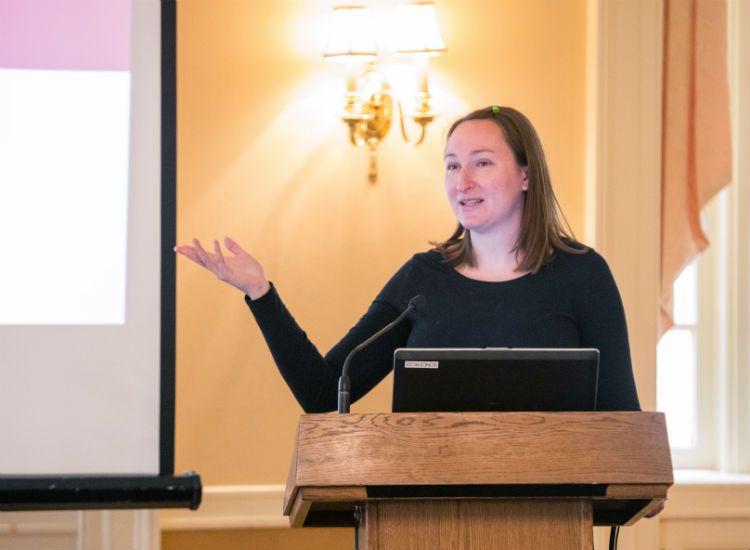 Molly Becker.
"It was one of the early conversations with Molly, who was trying to blend nursing education with health professions education, that helped us to identify the need that existed for many nurses who wanted to teach nursing," said Marconi. "There was no direct path for them to do so at the University of Rochester."
Recognizing the need to strengthen the pipeline of future nursing faculty and offset the needs of nationwide nursing faculty shortages – some 65,000 prospective nursing students are turned away each year in part because of lack of qualified faculty, according to a 2016 American Association of Colleges of Nursing survey – the School of Nursing launched its Master of Science in Nursing Education program in September 2015.
The program offers an interdisciplinary curriculum aimed at teaching nurses how to teach. It blends online and classroom instruction with opportunities to work with experienced educators and learn new skills, such as developing online courses, lecturing to a large class, or precepting a clinical group of nursing students on a patient care unit.
Becker was among the initial group of 23 students to join the MNE program. The school anticipated that the 35-credit program would produce its first graduates in 2018, but Becker and Stephanie Herbst blazed their way through the program, receiving their MNE degrees in May 2017. A third member of the cohort, Mia Gesel, is one course shy of completing the MNE program while also simultaneously pursing a Family Psychiatric Mental Health NP degree.
"There was just a lot of support… Maria was so excited to work with us where we were to get us where we wanted to go."                                                  — Molly Becker, MS, RN
"These three students all came to the new MNE program with unique backgrounds and goals, and it was clear after meeting them at their interview that the right thing to do was to mobilize our amazing resources at the School of Nursing to help them graduate in one year, as opposed to waiting until 2018," Marconi said.
"There was just a lot of support," Becker said. "We were instantly given a roadmap or guide that was specific to what our needs were. The program wasn't rigid. Maria was just so excited to work with us where we were to get us where we wanted to go. She figured it out for us."
"We were really thankful we went through this whole program together. We relied on each other to make sure we were on the same page with assignments and providing support to each other," Gesel said. "In Maria's class, I felt that she really made a family atmosphere. We always talked about things that were going on in our lives, and we were constantly updating teach other. It was a very relaxed and personal environment."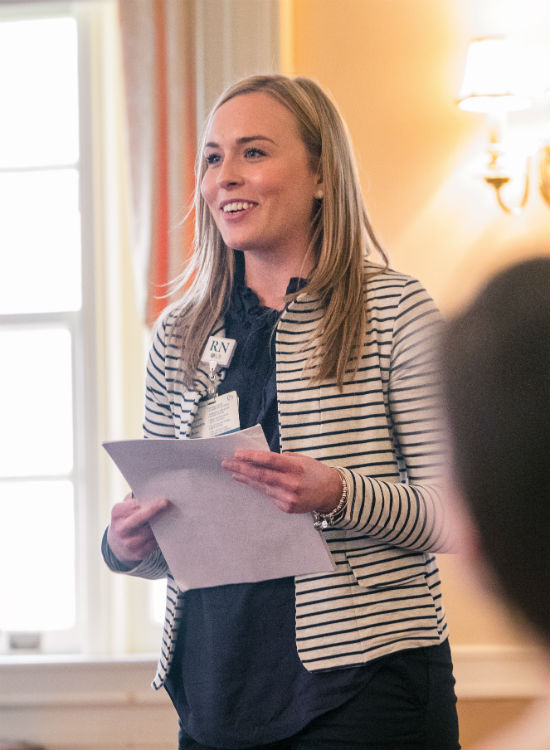 Mia Gesel.
"Not only were these three students close, but the entire cohort became very close and worked incredibly well together," Marconi said. "The MNE faculty helped them work toward a common goal – to learn to be the best nurse educators they could be – and they worked together to take advantage of all the wonderful opportunities that an academic medical center and the Warner School have to offer. Even though they were all from diverse specialties, they helped each other balance working and going to school."
That personalized approach certainly pays off.
Gesel, a psychiatric nurse at Strong Memorial Hospital, knew from day one that she wanted to be a nurse practitioner.
But she also wanted to be a nurse educator. She worked closely with Marconi, Craig Sellers, director of master's programs, and Holly Brown and Susan Blaakman, specialty directors of the psychiatric NP program, to turn that career goal into an academic path. Gesel ended up taking two courses per semester while maintaining her full-time job.
"I just jumped into the MNE program and was able to take courses that applied to both, so that was really nice," Gesel said.
Herbst, a graduate of the Accelerated Program for Non-Nurses (APNN), meanwhile, began by taking some master's level prerequisite courses as a non-matriculated student. She wanted to pursue a graduate degree, but wasn't sure which program would suit her best.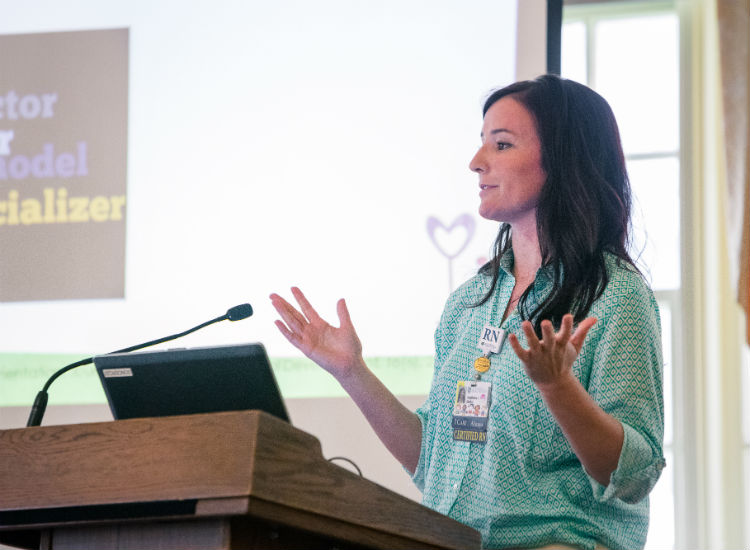 Stephanie Herbst.
"I didn't really know what program fit my learning style, then when Maria brought up the master's in nursing education, it really pinpointed exactly what I wanted to do," said Herbst, who also works at Golisano. "It was kind of an a-ha moment for me."
Upon graduating, Herbst will take on a new role as a pediatric clinical instructor in the APNN program, a transition made easier by her student-teaching capstone project.
"I still like that fast-paced hospital environment, as well, so in the future I like that I'll be able to combine those two roles."
"This is exactly the program outcome we anticipated – our graduates easily getting jobs teaching the next generation of nurses, demonstrating best practices in teaching and learning that they have learned from expert faculty, and engaging with students both in the hospital and in the academic setting," Marconi said. "The need for more master's and doctorally prepared nursing faculty is well known – both locally and nationally. The goal of our program is to help address that need."
The help meet those needs, the MNE curriculum features a number of multidisciplinary courses taught at the Warner School, where nurses learn alongside physicians and other health professionals, which added an interesting dimension to the program. It also includes 140 hours of clinical work, a comprehensive exam, and a final semester-long capstone project.
"Although there were, of course, some growing pains along the way, the support from the School of Nursing was vital to develop and welcome this first cohort of MNE students" Marconi said, citing the School of Nursing admissions office, graduate program faculty and staff, including director Craig Sellers, Dean Kathy Rideout, Associate Dean Lydia Rotondo, as well Warner School faculty and staff, including Dean Raffaella Borasi. "It really takes a village."
"I have to say our student-teaching experiences every semester really helped to build my abilities as an educator. I thought that was a really important part of the training was getting that real world experience," said Gesel, who will begin working as a psychiatric clinical instructor for the APNN program this summer.
As for Becker, who completed the program this spring while working in the NICU, and teaching in the simulation lab at an area college, she won't be entering the education field just yet. She recently moved back home to her native Canada to give birth to her second child.
"It's a bit of a funny time to graduate but I feel prepared in the experiences I've been given and the opportunities I've had," she said. "There will be a position for me in the near future. Nursing is everywhere, and education is everywhere, so I'm sure there's a fit for me."
This story is also featured in the Spring 2017 NURSING magazine.