Sarah Brown | Nurses Week | University of Rochester School of Nursing
  By Sarah Brown, RN, '12N
  Thursday, May 4, 2017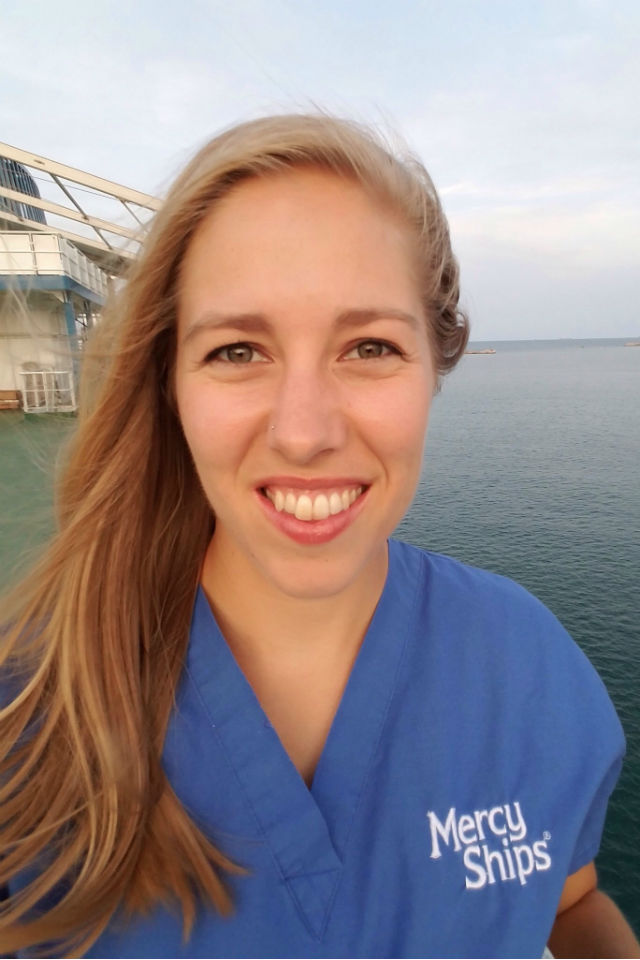 Sarah Brown, RN, '12N 
Adjidjatou is a 6-year-old from northern Benin in West Africa. She has lived most of her life with a tumor growing on the side of her left jaw and neck.
When she first arrived at Mercy Ships for her preoperative appointment, she was immediately admitted and her scheduled surgery was postponed because she was sick and severely malnourished. Her family doesn't speak the language of most of our translators so everything we said to her had to be translated from English to French to her own language.
She slept most of the time, all scrawny 29 pounds of her sprawled out. We had to wake her up to encourage her to drink Pediasure and eat high calorie foods. Adji weighed all of 33 pounds when she had free surgery on the Africa Mercy to remove the 2-pound tumor and replace her jaw bone with her rib.
Today she was finally a kid again: painting nails, blowing bubbles, and giving stickers to everyone in sight! She still has a ways to go. We still wake her up to make her drink Pediasure and her jaw will stay wired shut until it heals. In the meantime, she loves playing charades to communicate with me and blows me kisses when I leave!
This is why I became a nurse: to be a witness to the moments that make up the journeys that make up our lives — moments both here in Cotonou, Benin and Rochester, where I have been entrusted with a family's most precious possession and have the knowledge and the power to actively help someone towards a better future.
Sarah's story was shared with the UR School of Nursing as part of
National Nurses Week.