Professor Emeritus of Nursing Honored by Rochester Academy of Medicine | University of Rochester School of Nursing
  By Nora Williamson
  Wednesday, May 17, 2017
Madeline Hubbard Schmitt '65N, '70 (MA), PhD, RN, FAAN, FNAP, professor emeritus of nursing, received a Distinguished Service Award from the Rochester Academy of Medicine on Tuesday for her achievements in advancing interprofessional education and practice.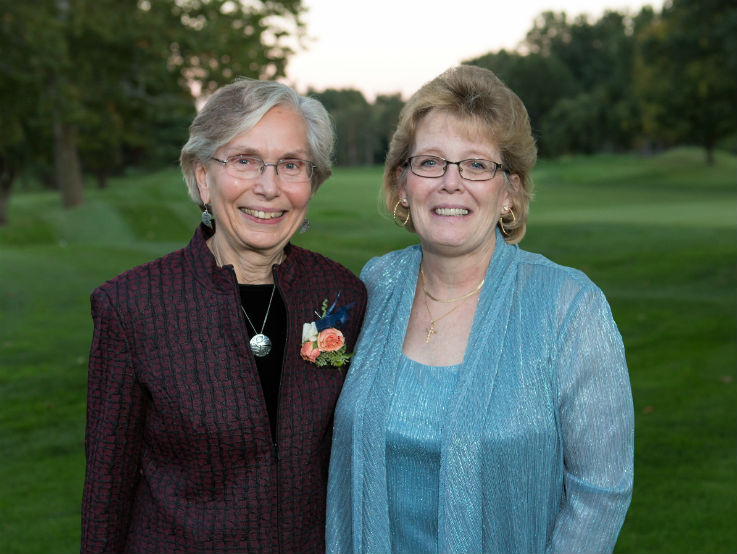 Schmitt, a nurse-sociologist, is considered a national leader in interprofessional practice and interprofessional education, a professional commitment spanning nearly 45 years.
From 1972 until her retirement in 2005, Schmitt was a faculty member at the UR School of Nursing. She was an integral figure in the emergence of the school as an autonomous institution, and she held numerous leadership posts in administration, teaching, and funded research.
For more than two decades, she was also co-leader of an informal national interprofessional network focused on interprofessional education. She acquired an international reputation as creator and chair of the North American Division of the Journal of Interprofessional Care, and now serves as an editor emerita of the journal.
Since her retirement, Schmitt has continued to be sought after as a national consultant and currently serves as an ambassador and community moderator for the National Center for Interprofessional Practice and Education. She has continued to co-publish seminal articles, conduct collaborative research, and deliver numerous local, national, and international presentations.
Schmitt is the past recipient of the University of Rochester's Excellence in Graduate Teaching Award and the School of Nursing's Dean's Award for Excellence in Teaching, the Distinguished Faculty Colleague Award, the Graduate Award of Distinction, the Graduate Teaching Award, and the Distinguished Alumni Award.