Dean's Diamond Circle Dinner Honors Alumni, Donors
  By Patrick Broadwater
  Monday, February 18, 2019
The UR School of Nursing handed out some of its highest honors at the Dean's Diamond Circle dinner last fall at Monroe Golf Club. The awards recognized five of the school's most distinguished alumni, faculty, and philanthropists.
The 2018 class of honorees were: Elizabeth Sloand '75N, Humanitarian Award; Steven Young and Susan Young (Legacy Award); Jane Tuttle '79N, '84N (MS), Dean's Medal; and Nancy Dianis '85N (MS), Distinguished Alumni Award.
A pediatric nurse practitioner, Sloand made her first medical missionary trip to Haiti in 1999. Since then, she has served as the east coast team leader at the Leon Medical Mission and led health promotion and educational activities at Haitian elementary schools. She even did her dissertation there, studying child health and survival in rural Haiti.
The work dovetails with her domestic experience, which has been dedicated to caring for underserved and low-income children. She teaches students interested in community health and focuses on the health and well-being of uninsured or underinsured children and youth in East Baltimore.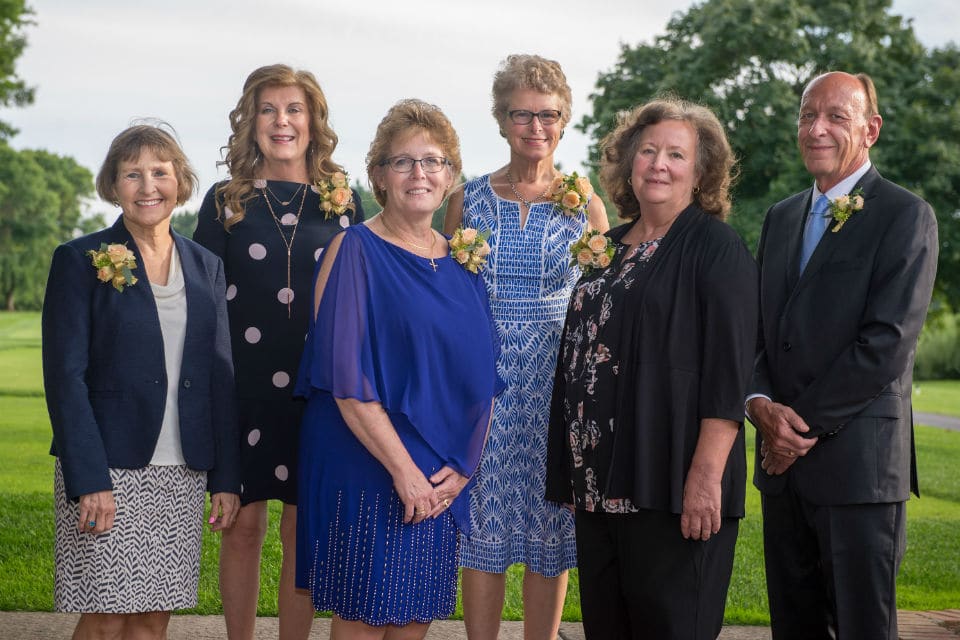 An associate professor at Johns Hopkins School of Nursing, she earned her master's in nursing from the University of Maryland in 1986 and joined the Baltimore City Health Department, where she became involved in its school-based health center program. She was named director of the program in 1994 and joined the Johns Hopkins faculty in 1995, earning her PhD from the Johns Hopkins Bloomberg School of Public Health in 2007.
Though neither one joined the profession, Steven Young and Susan Young have carried on their mother's work of recruiting new generations of nurses. Their scholarship in the name of Anna Bater Young supports and encourages students to broaden their horizons and pursue education at the University of Rochester School of Nursing. Steven and Susan Young established the Anna Bater Young Endowed Scholarship Fund in 2007 in her memory, providing an everlasting tribute to her contributions to the school.
Steven Young is a municipal designer at Thornhoff Consulting Engineers, Inc. in Texas. He earned his bachelor's degree in mechanical engineering from Carnegie Mellon University.
Susan Young is a senior consultant at Foth Infrastructure and Environment in Minnesota. She graduated with a bachelor's degree in biology and aquatic environments from Allegheny College and earned a master's degree in biology and geology from the University of New Mexico.
For a quarter of a century, Tuttle dedicated herself to improving nurse practitioner education. She was the longtime specialty director of the UR Family Nurse Practitioner program, pushing through key revisions to the curriculum that bolstered the pediatric and women's health content in the program. Tuttle retired from the full-time faculty in 2017 and was named professor emerita in honor of her service to the university.
Tuttle was the nursing discipline coordinator of the Leadership Education in Adolescent Health program funded by the Interdisciplinary Maternal and Child Health Bureau for 15 years, and received numerous awards for her work as an educator and clinician. A former winner of the UR School of Nursing's Distinguished Alumni Award and Outstanding Scholarly Practitioner Award, she was named the Nurse Practitioner of the Year in 2008 by the Nurse Practitioner Association of New York State. Two years later, she was selected as a fellow by the American Academy of Nurse Practitioners.
Tuttle earned her associate degree in nursing from Monroe Community College, and later earned her PhD in family studies from the University of Connecticut. She taught at Yale University for eight years before joining the UR School of Nursing faculty in 1993.
A clinician and educator with more than 40 years of experience, Dianis heads up clinical trials, epidemiologic research, and global health projects on a wide range of conditions for Westat, a multimillion dollar corporation providing research services to businesses, foundations, and government agencies.
She currently serves as Westat's principal investigator, project director, and project manager on many clinical trials and clinical studies of HIV and TB infection, other emerging infectious diseases, cancer, blood-transmitted diseases, cardiovascular and pulmonary diseases, and trauma and is also principal investigator and corporate officer for the Centers for Disease Control and Prevention (CDC) Tuberculosis Trials Consortium.
Dianis received her bachelor's degree in nursing from Illinois Wesleyan University. She earned her master's degree through the Adult Primary Nurse Practitioner Program from the University of Rochester.