UR Nursing Teaching Associate Invited to Digital Innovation Bootcamp
  By Patrick Broadwater
  Monday, May 13, 2019
Tara Serwetnyk, MS, RN-BC, a teaching associate at the University of Rochester School of Nursing, is one of 35 nursing faculty from across the country chosen to participate in the 2019 Digital Innovation Bootcamp sponsored by Apple and the American Association of Colleges of Nursing (AACN).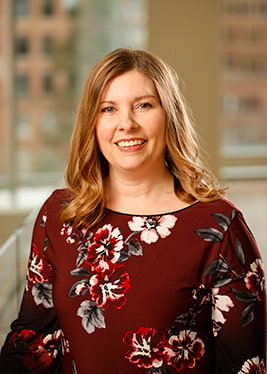 The three-day conference, titled "From Content to Action," is described as a unique opportunity to help nurse educators create and curate digital content to enhance learning in classroom, online, laboratory, and clinical settings. It will be held June 24-27 at Apple's Austin, Texas, campus.
Participants in the program will attend highly interactive sessions with Apple development executives and distinguished educators and gain hands-on experience preparing digital content and developing iOS mobile apps to create an engaging learning environment. They will be expected to complete a digital project and be given an opportunity to present at an upcoming AACN conference.
"I'm honored to represent the UR School of Nursing at this event, where I'll have the opportunity to learn best practices and collaborate with other nursing faculty from across the country," said Serwetnyk. "These strategies can help inform our practice as educators and provide our learners with the best educational experience."
Serwetnyk was among the faculty and staff chosen from a pool of more than 130 applicants nationwide. Program participants were chosen from 21 states plus the District of Columbia and represent an array of institution types, including small liberal arts college, public and private schools, and large academic medical centers.