Wang Selected for Provost's Furth Fund Award
  By Patrick Broadwater
  Wednesday, April 24, 2019
Jinjiao Wang, PhD, RN, an assistant professor at the University of Rochester School of Nursing, was one of three promising scientists recently selected by Provost Rob Clark to receive the Valerie and Frank Furth Fund Award.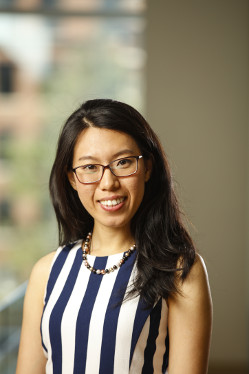 Wang joins Martina Anto-Ocrah, an assistant professor in the Department of Emergency Medicine, and Mauricio Ibanez-Majia, assistant professor in the Department of Earth and Environmental Sciences, as tenure-track, junior faculty in the natural and biological sciences to receive the award in 2019. The Furth Fund was established by Valerie and Frank Furth to provide early career scientists with funds to promote faculty research activities.
The $9,000 award will support Wang's research proposal to employ the principles of behavioral economics in the development of a patient-centered adherence enhancement intervention for underserved homebound older adults who have heart failure and co-morbid depression, physical frailty, and/or cognitive impairment.
Wang's career has been devoted to improving care delivery in the post-acute care settings (such as home health) to inform practice as it relates to depression, physical frailty, and particularly cognitive impairment that can have long-term health outcomes, such as hospitalization, early nursing home placement, and mortality.
She is the second UR Nursing researcher to receive the Furth Fund Award. Feng (Vankee) Lin, PhD, RN, received the award in 2016.
Wang joined the UR Nursing faculty in 2017 and in 2018 was named a fellow in geriatric mental health at the Research Career Institute in the Mental Health of Aging, funded by the National Institutes of Health. She received her master's and PhD in nursing science from Columbia University and did a postdoctoral research fellowship at Vanderbilt University.