Spotlight on: Caitlin Bonanni, RN, Registered Nurse II, Thompson Health
  By Marianne Benjamin
  Wednesday, May 20, 2020
"I became a nurse because I fell in love with taking care of people," said Caitlin Bonanni, RN. It all began when her husband deployed to Afghanistan and she started working at Thompson as a tech on 3 West, a medical/surgical, stroke care, and telemetry unit. She worked at Thompson as a nurse's aide and a secretary while pursuing her education at Finger Lakes Health College of Nursing and Sciences and The College at Brockport. Bonanni has been a nurse on 3 West for three years.
"I love working at Thompson, a community hospital where the CEO knows me by name," said Bonanni. "I have been on the same floor with the same people for most of my time there. They have become my family. It's comforting to the people of our community that when they are hospitalized they will be cared for by nurses who know them and who have cared for them before."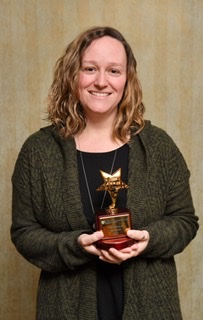 It was no surprise that Bonanni volunteered to work in Thompson's COVID unit because she is known for her compassion and as a consummate team member. "I'm low risk for COVID," she said, "I wanted to contribute the best I could. I talked it over with my husband, and we agreed it was important for me to step up."
"I learned a lot caring for COVID patients," she said. "We really are a small community and I trust everyone I work with. They made sure I was safe. I made sure they were safe, and we all worked together to ensure the safety of our patients. Hospital management was truly appreciative and supportive. They thanked us every day."
Bonanni is back on her unit but stays on a list to be part of the COVID unit if there is a need. "I love my job every day, even on challenging days," she said. "I thrive on making a connection with patients and I am honored to help them through some of the most difficult times of their lives."
Bonanni didn't always know she wanted to be a nurse but her lifelong best friend and the woman's mom are nurses and they were important influences on her. She is grateful to her colleagues on 3 West for their inspiration, support, and encouragement to pursue her degree and each day on the unit.
Bonanni was one of Thompson's 2019 Shining Stars. That's an honor that goes to 2 percent of Thompson 1,700 associates, so it's typically about 35 people per year. Staff members are nominated by their peers and a committee selects the winners.
About F.F. Thompson Hospital Nursing
Since 2004, F.F. Thompson Hospital has had designation from the American Nurses Credentialing Center as a Magnet® hospital, in recognition of nursing excellence.
It is also nationally recognized as a NICHE (Nurses Improving Care for Healthsystem Edlers) hospital.
Thompson nurses are an integral part of a prestigious world-class team of health care professionals who practice excellence every day.
About F.F. Thompson Hospital
F.F. Thompson Hospital is a 113-bed acute care community hospital boasting some of the finest technology and staff in all of upstate New York. Founded in 1904, the hospital became an affiliate of UR Medicine in 2012.
A New York State-designed Stroke Center, the hospital has been awarded a number of certifications and advanced certifications from The Joint Commission, as well as several other quality designations from other independent, national organizations.
For more information, visit thompsonhealth.com.