Spotlight on: Amy Campbell, RN, Med/Surg Nurse, St. James Hospital
  By Marianne Benjamin
  Friday, December 11, 2020
"My mom was a nurse," said Amy Campbell, RN, med/surg nurse at St. James. "So choosing a career in nursing was always in the back of my mind." But the decision was confirmed for Campbell, when she gave birth to her daughter and they both needed life-saving care.
"The nurses were wonderful to me," said the Wellsville resident. "They advocated for me and my daughter, who was in the NICU, every step of the way."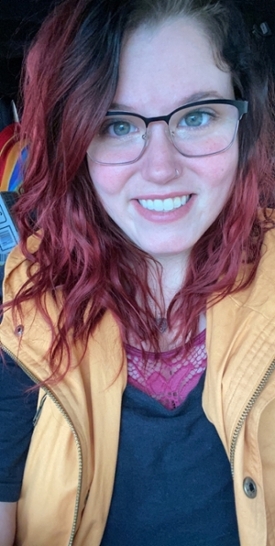 Campbell already had a bachelor's degree in psychology from Shippensburg University before she decided to go to nursing school at Alfred State right after her daughter's first birthday.
She chose St. James to begin her career because she was impressed at how much nurses can do and learn there. "You continue to learn every day as a nurse," she said. "St. James offers so many ways to continue your education. We don't have an ICU but we do monitor patients on telemetry and cardiac drips and take care of septic patients, GI bleeds, and those needing transfusions right on our floor."
St. James offered a welcoming, positive environment for Campbell. "I love the people there," she said. "As a new nurse I feel very comfortable asking questions. My co-workers are always willing to help out."
Being in a smaller hospital is a plus for her. "I've cared for some of my patients more than once," she said. "They recognize me and that makes them feel more comfortable. When you are in the hospital you are vulnerable and lonely. I like making patients smile when they might have a million reasons not to and make a difference in their lives."
During the COVID pandemic Campbell says that nurses are more important than ever. "When a patient isn't feeling well it's hard not to have your family with you. We are the patients' advocates. We are the first to notice when things change and the hospitalists trust us, listen to us, and are willing to teach us."
About St. James Hospital
Founded in 1890, St. James Hospital has provided health care services to residents in the Hornell and surrounding communities for 130 years. During this time, St. James has evolved from its humble beginnings as a small, rural farmhouse to the regional, full-service hospital it is today.
St. James Hospital is an affiliate of the University of Rochester Medical Center, one of the nation's leading academic medical centers. St. James provides a range of inpatient and outpatient services, a 24-hour emergency department, general surgery, orthopaedics and rehab services, imaging and laboratory services, Urgent Care, and a host of outpatient clinics through including cardiology, ENT, neurosurgery, urology, pain management, and more.
St. James opened a new Medical Office Building in 2018, where high quality outpatient services are located. In March 2020, St. James unveiled a brand new 87,000-square-foot hospital adjacent to the Medical Office Building, completing the campus, where patients can access state-of-the-art health care services locally. The network of physicians, nurse practitioners and physician assistants provide primary and specialty care to enhance access to health services for residents of the area.