Spotlight on: Casey Renno, RN, BS, Med/Surg Charge Nurse, Noyes Memorial Hospital
  By Marianne Benjamin
  Tuesday, August 11, 2020
When Casey Renno, RN, BSN, med/surg charge nurse at Noyes Memorial Hospital, was a child she spent a lot of time in hospitals because her brother was born with a rare disease. "I was always around nurses as a young girl," she said. "They helped my brother and my whole family including me. I wanted to be that kind of person. That's one of the reasons I became a nurse."
Renno was also influenced by the positive examples in her family. "Every women in my family was involved in health care in some way," she said. Her mom is a CNA, and her grandmother ran a family care home for those with developmental disabilities.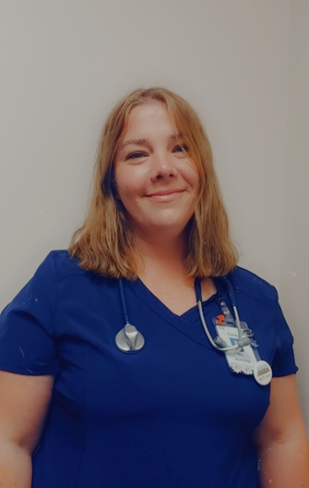 The tragedy of her brother's death led Renno to postpone her dream for a few years but she pursued her LPN at Genesee Valley BOCES then obtained her RN through the bridge program at Genesee Community College and went on to Roberts Wesleyan College for her bachelor's degree.
Renno grew up in Dansville but her parents relocated. "I love Dansville, and as soon as I could I moved back there," she said. "I love living there, working with people I know and taking care of people in our community."
She believes that nursing is a career that you are born to do. "It's a special calling," she said. "It's the only thing I can imagine myself doing and I feel so good about it."
Renno is grateful for the opportunities she has at Noyes. "I can be involved in various changes and projects here," she said. "For instance, I am in the process of obtaining my certification in wound care and assisting in the development in a wound care program here at Noyes."
As a charge nurse she works alongside the clinical director, hospitalist team, and the nursing staff. "I serve as a resource for all of them," she said. "And I have the chance to provide direct patient care as well. It's a great role where I can be helpful to more people and make a positive impact as part of a patient care team."
About Noyes Health
UR Medicine's Noyes Health is a comprehensive non-profit health care system, which serves all of Livingston County and parts of Steuben, Allegany and Ontario counties in New York. The system is an affiliate of UR Medicine, one of the nation's leading academic medical centers, and includes 5 facilities: Nicholas H. Noyes Memorial Hospital, in Dansville; Noyes Health Services and Urgent Care in Geneseo; Noyes Kidney and Dialysis Center in Geneseo; and Noyes Mental Health and Wellness Services in Dansville. Nicholas H. Noyes Memorial Hospital in Dansville, accredited by the Joint Commission, is a full-service, 67-bed community hospital with an After Hours Clinic and the only 24-hour Emergency Department in Livingston County. For more information about Noyes Health, visit noyes.urmc.edu.