Employee Wellness Team Honored with Meliora Award
  By Johanna Lester
  Tuesday, June 2, 2020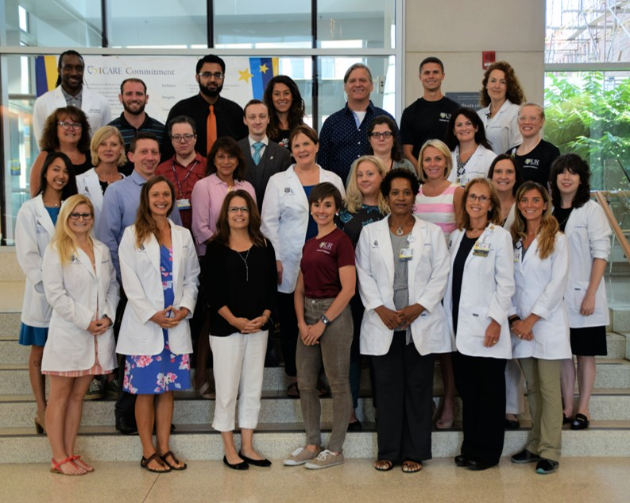 Developed by the School of Nursing, the UR Medicine Employee Wellness program, known internally as the Center for Employee Wellness (CEW), was among the honorees receiving the 2020 Meliora Award. The award, presented by the University of Rochester, recognizes staff members whose work performance and dedication during the preceding years exemplify the University's motto, Meliora.
What started as a program for University employees in 2013 is now offered in 55 organizations across the region to more than 47,000 employees. Today, the CEW employs 44 full and part-time employees.
Akin to a startup company, the Center for Employee Wellness was built from the ground up. With the dedication of a team of experts that includes clinicians, analysts, programmers, and scholars and the leadership of CEO Renu Singh, the wellness team developed a game-changing wellness program capable of achieving measurable health improvements in the population they serve. The team is consistently praised by clients and colleagues as working with clarity, integrity, innovative spirit, and a commitment to wellness.
Rick Amundson, wellness consultant at Smola Consulting said, "The team is driven by a collective commitment to improve health and wellness in our community." The team has reached numerous impressive milestones and achievements, including the highest reported engagement rates in condition management coaching programs for individuals with chronic diseases. Under the direction of Lisa Norsen, the chief wellness officer, the clinical wellness programs have demonstrated measurably improved health for employees that participated in screenings or one-to-one condition management programs. In a large data study recently published in a peer-reviewed health journal, the CEW demonstrated a significant reduction in cardiovascular health risks in the population they serve. 
"For the Center for Employee Wellness, the wellness program is not just a product, it's their purpose," says School of Nursing Dean Kathy Rideout in her nomination letter. "Every member of the team is invested in the mission."
"The most potent differentiator of this program is the outstanding quality and dedication of their clinical team," says Jason Mull, vice president of employee benefits at Brown and Brown Insurance, in a letter of support. "They are knowledgeable, sincere, and passionate about what they do. The client representatives and the business office are responsive, articulate, and committed to program success and client satisfaction."
Members of the center's team include Abdullah Abbas, Joe Alfano, Pablo Allois, Beth Anson, Helen Arditi, Claudia Barelli, Ann Bhattacharyya, Jeanne Bracken, Cathleen Bush, Tom Carroll, Jason DeVoe, Lindsey Dixon-Marianetti, Brenda Evarts, Christopher Foote, Ging Hoang, Rebecca Hoffman,  Ashley Humm,  Jonathan Jezioro, Carla Kinder, Holly Lavigne, Deanna McLymond, Jennifer Morse, Linde Mull, Katie Niebuhr, Lisa Norsen, John Northrup, Catherine Pluta, Kendra Pokhis, Michelle Rosipayla, Samuel Salter, Maureen Silber, Renu Singh, Dorothy Smith, Joyce Smith, Jennifer Taranto, Natalie Thompson, Kari Tuchrello,  Vestina Turner, Robin Walpert, Jonathan Wetherbee, Mitchell Wharton, Mike Wilgar, and Kyle Zess.
Read more about the Employee Wellness team and other University award winners here.