Spotlight on: Colleen Bayer, BSN, OCN Nurse Manager, Wilmot Cancer Institute
  By Marianne Benjamin
  Monday, May 4, 2020
Oncology nursing is a challenging field, but for Colleen Bayer, BSN, OCN, it became a natural choice. In high school she wasn't sure if she wanted to be a nurse or a teacher but family experiences and meaningful opportunities led her to her destined career.
Bayer, nurse manager for Wilmot Cancer Institute's Hematology/Oncology Clinic, shadowed nurses at Strong Memorial Hospital in high school and spent several summers and winter breaks from LaSalle College with internships on medical oncology unit 6-3400. "I fell in love with oncology nursing and the unit itself," she said. "So I was thrilled to work there when I got out of school."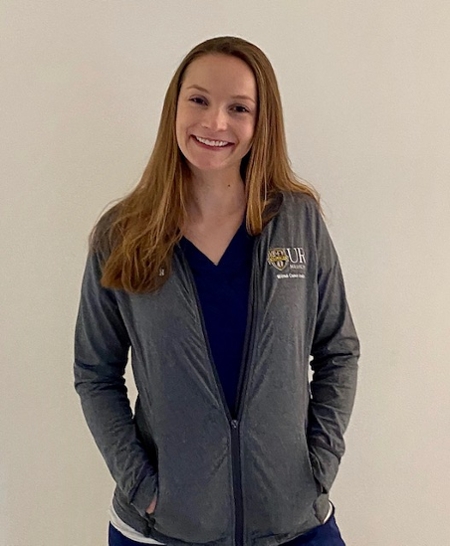 She spent seven years on the unit then worked in the WCC Infusion Center for three years before she became clinic manager in March.
"The beginning of the COVID-19 pandemic was an interesting time to start a new job," she said. "I probably had a week in of normal life in the clinic before everything started ramping up. But I can tell you it was a quick way to get to know our nurses. I am so grateful for them and the fact that they are so flexible and so willing to make large adjustments in the way we operate. It's awesome to see these nurses, providers, and leadership come together to implement protocols and make changes for staff and patient safety."
Oncology nursing is in Bayer's blood. "My mother's example and influence played a large role in me becoming a nurse," said Bayer. "She worked as a hospice nurse when I was on WCC7 and at times we would have the same patient during that tough transition. She currently works in the palliative care clinic where a large portion of their population is oncology patients, so we have a bit of overlap there as well. It's pretty awesome being able to relate and talk through difficult situations with her whenever needed."
Bayer's husband, Brian, is a nurse at Wilmot's Pluta Cancer Center, and another great support for her. Family members have also been patients at Wilmot and she was confident that they would receive the highest quality care.
"Oncology nursing at Wilmot is all I know but I can't imagine being anywhere else," she said. "I feel so passionate about working here." Because she has experienced the range of nursing from caring for newly diagnosed patients to those at end stage, she can appreciate the devotion that all the Wilmot nurses have. "This is truly a calling for us," she said.
"Oncology nursing is a special opportunity. We are with patients going through some of the toughest times of their lives. They are so appreciative. They rely on nurses and look to us and their providers for answers and comfort."
She is uplifted by the many success stories at Wilmot. "There are clinical trials and research going on that wasn't here 10 years ago," she said. "This is groundbreaking and insightful and gives us hope for the future."
Bayer is truly appreciative of her nursing colleagues throughout Wilmot. "We rely on each other, talk through our feelings, and share experiences," she said. "We help each other through the tough times. It means so much to be able to talk to people who understand our daily lives."
Nursing at UR Medicine's Wilmot Cancer Institute
UR Medicine's Wilmot Cancer Institute is the Finger Lakes region's leader for cancer care and research. As a component of Strong Memorial Hospital, Wilmot Cancer Institute provides specialty cancer care services at the University of Rochester Medical Center and a network of locations throughout the region. The Institute includes hundreds of nurses who not only provide compassionate, specialized care for patients with cancer, but who are also involved with research and making care better. KC Knapp-Clevenger, PhD, RN, CPNP, CCRP, serves as chief nursing officer. To learn more, visit wilmot.urmc.edu.