UR School of Nursing's Dean of Education Recognizes National Nurses' Week
  By Lydia D. Rotondo, DNP, RN, CNS, FNAP
  Tuesday, May 5, 2020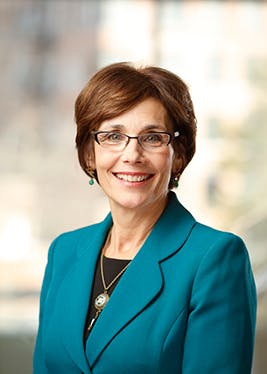 If you haven't heard, the World Health Organization (WHO) designated 2020 as the Year of the Nurse and the Midwife as a salute to the contributions nurses and midwives make to the health and wellbeing of populations across the globe.
In its first-ever State of the World's Nursing report, the WHO published how important it is to invest in nursing education, identify opportunities to address the nursing shortage, and appoint more nurses to leadership positions to strengthen our health care systems.

With the recent COVID-19 outbreak, it is clearer now more than ever how crucial nurses are to maintaining and promoting the nation's health. Historically, nurses have played vital roles in the delivery of care during emergencies, epidemics, other disasters, as well as humanitarian crises.

As the largest segment of the healthcare workforce, nurses will continue to serve on the frontlines of care. Nurses are also making vital contributions as health system leaders, scientists, informaticists, ethicists, and educators during this crisis and every day to optimize the delivery and outcomes of care, and promote health and wellness of individuals and populations.

For decades, the University of Rochester School of Nursing has been at the forefront of nursing education preparing nurses at the undergraduate, graduate, and doctoral levels to practice in a variety of clinical specialties, and professional and academic roles. As part of an academic health center, the School of Nursing closely collaborates with medical center leaders to meet the educational needs of the nursing workforce.

To meet the increasing demand for nursing during this public health emergency, URMC Chief Nurse Executive Karen K. Davis, PhD, RN, NEA-BC, and the University of Rochester School of Nursing teamed up to create a registered nurse re-entry course.

The course was designed by School of Nursing faculty and instructional designers in cooperation with nursing educators at URMC. Course participants are registered nurse retirees and nurses not currently practicing in direct care roles who are returning to the inpatient setting to meet the anticipated surge response at URMC hospitals.

The course consists of six asynchronous, self-paced online modules that include readings, videos, podcasts, and interactive activities. Participants take the course at no charge. Upon completion, students receive a certificate from the UR School of Nursing and begin the onboarding process at their assigned facility.
Creating a re-entry course for registered nurses is not the only way the School of Nursing has been supporting the COVID-19 response effort. Several UR School of Nursing faculty members who already serve as advanced practice nurses in acute and ambulatory settings are continuing to provide direct care and telehealth services while maintaining their faculty roles during the crisis. Several more are serving on medical center pandemic response teams.

In addition, nurses from the Center for Employee Wellness and Passport Health are supporting the URMC COVID-19 Employee Call Center, and offering the same service to Thompson Health employees and other UR Medicine affiliates if needed. Wellness coaches are continuing condition management services remotely supporting employees during this time of rapid change, increased stress, and isolation.

Over the past weeks, I have been in awe of our faculty and staff's ability to convert to a fully online learning environment employing innovative teaching strategies to ensure that our students successfully complete the spring semester. Their flexibility, collegiality, and student-centeredness during this difficult time have been a testament to their dedication to educational excellence, their students, and each other.

Some of our nursing students have been serving as volunteers to support the Rochester community's public health COVID-19 response effort. One group of nurse practitioner graduate student volunteers led by Assistant Professor of Clinical Nursing and Director of Educational Effectiveness Andrew Wolf, EdD, MS, RN, ACNP-C, have been volunteering for the Monroe County Health Department manning triage line and screening potential COVID-19 individuals.

Others have been serving as volunteers in the school's make-shift day care center created by the medical center to support hospital employees who were left without child care services when area schools closed.

There is no doubt that these past weeks have been filled with unprecedented challenges and opportunities to serve a community and nation in need. In honor of National Nurses' Week, I would like to recognize the extraordinary service of all nurses, and especially acknowledge the tireless efforts of the University of Rochester School of Nursing community serving on the "academic frontline" to fulfill our education mission to prepare the future nursing workforce and support URMC's pandemic response.
Lydia Rotondo, DNP, RN, CNS, FNAP, is associate dean for education and student affairs and director of the Doctor of Nursing Practice program at the UR School of Nursing. This article originally appeared in the Democrat & Chronicle's Salute to Nurses.