Nurses Take Leadership Role on AC6 Diversity Committee's Inclusion Efforts
  By Marianne Benjamin
  Wednesday, October 14, 2020
Embracing diversity and promoting inclusion and education is a way of life for Golisano Children's Hospital's AC6 Pediatric Practice. Spearheaded by nurses, the practice created a collaborative, interdisciplinary diversity committee more than 15 years ago to better serve patients and families.
"Our committee's goal is to create a fully inclusive, anti-racist, multicultural clinic in a transformed community," said Heather Wensley, RN, MSN, PNP, nurse manager and pediatric nurse practitioner. "The team is passionately committed to creating a space where all can feel welcomed, supported, and valued."
The AC6 Pediatric Practice clinic holds team-wide development opportunities to learn about cultural humility, implicit bias in medicine, anti-racism, racial inequalities in health care, and LGBTQ Safe Zone trainings.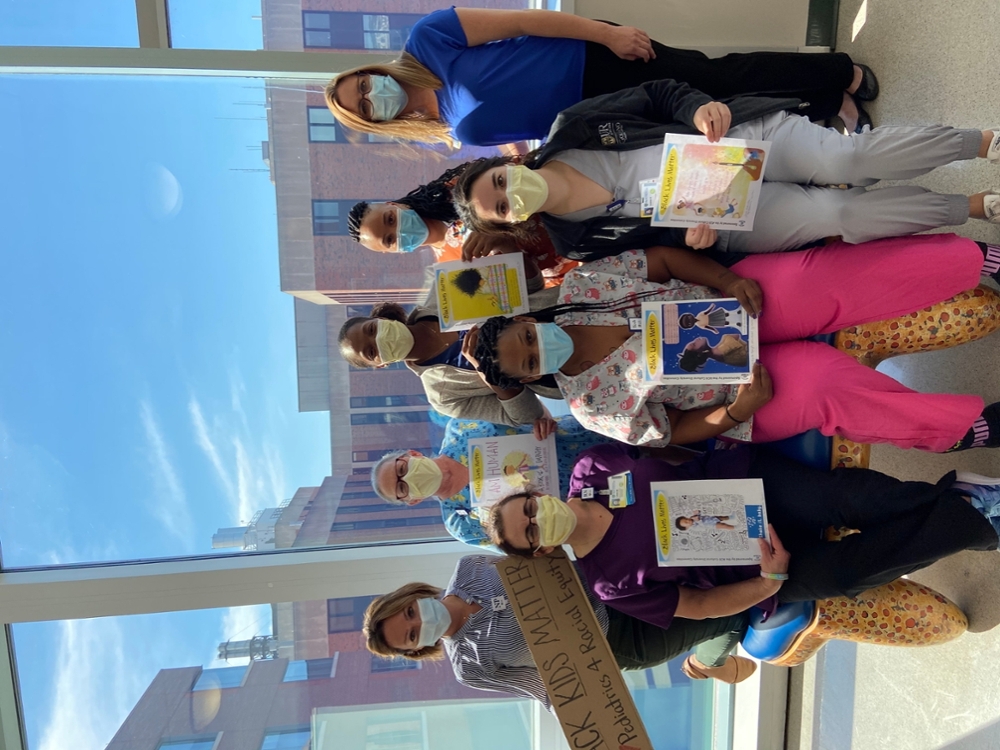 Mary Markell, RN, is known as the diversity champion of the practice. She has volunteered her time and dedication over the years to this mission, focusing on team and patient education, inclusion, and representation. Markell most recently researched and purchased many children's books that teach anti-racism, inclusion, justice, and empowerment.  Book covers are posted to clinic exam room doors to show the commitment of the practice to diversity.
Other team members like Tabitha Simmons, PCT, and Alexandria Kelley, RN, are involved in special projects, as well. The group has embraced the Black Lives Matter movement, securing funding for all team members to wear a "White Coats for Black Lives" badge and displaying signs and posters near the clinic.
They are also currently working on a brochure to help facilitate conversations with patients about racial inequity issues. "Parents come to us and tell us they don't know how to talk to their children about racism," said Simmons. "We are trying to help them explore the different ways to go about it and open up a dialogue between parents, faculty, and staff."
The group is also conducting a survey about trust of the medical community within multicultural groups. "We want to find out what their current fears are about medical treatment," said Kelley. "We are educating our staff about some of the atrocities Blacks have endured in the past that is the root of distrust in the medical system. And with data from our survey we can move forward to build trust."
Understanding cultural humility and cultural competence are also priorities. "People often don't realize that the things they do and say can be triggers that negatively impact people from their cultural standpoint," said Kelley. "Our group helps caregivers understand more, and our goal is to open the eyes of our staff to a bigger picture of our community today."
"We are also working to help others appreciate the different viewpoints of life based on where you come from," said Simmons. "For example, the culture of people from Jamaica isn't the same as the culture of those from India. There are many factors to take into consideration when talking to parents and treating children."
The committee is always looking for new initiatives that will benefit their patients. "I feel so fortunate to be a part of a group who believes in the urgency and importance of this work and who will continue to stand beside our patients, families, and team members to fight for racial justice and health equity for all," said Wensley.
About Golisano Children's Hospital
Golisano Children's Hospital employs more than 200 pediatric specialists and provides a spectrum of care that spans more than 40 specialty areas, serving more than 85,000 children and their families each year. With 148 beds, it is the area's only children's hospital and serves as the referral center for all seriously ill or injured children from the 17-county Finger Lakes region and beyond. The hospital's missions are to provide comprehensive care for children and their families, educate future pediatricians and pediatric specialists, and perform progressive research that will lead to the medical breakthroughs of tomorrow. Over the past decade, Golisano Children's Hospital has been ranked as a Top 50 children's hospital by US News & World Report in 6 out of 10 categories (endocrinology/diabetes, gastroenterology, neonatology, nephrology, neurology/neurosurgery, and orthopaedics).