UR Nursing Students Volunteer to Help Community's COVID-19 Efforts
  By Ivy Burruto
  Tuesday, April 21, 2020
When all University of Rochester School of Nursing classes were moved online, and most of the students' clinical hours and jobs were put on hold, Andrew Wolf, EdD, MS, RN, ACNP-C, director of educational effectiveness and assistant professor of clinical nursing, sensed an opportunity.
He emailed UR Nursing graduate students asking if they'd be willing to help the Monroe County Health Department's COVID-19 relief efforts.
Wolf received an overwhelming number of responses. Within a few hours, more than 40 students offered to volunteer their time and knowledge.
One of the volunteers, Kathleen Mullaney, RN, had just eloped with her then-fiancé in a Texas courthouse where they exchanged vows and $10 Walmart rings while their families watched on Zoom. They planned to marry in Rochester this June, but postponed the reception for their loved ones' well-being.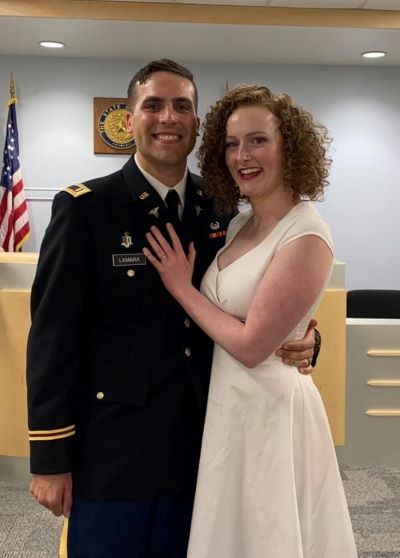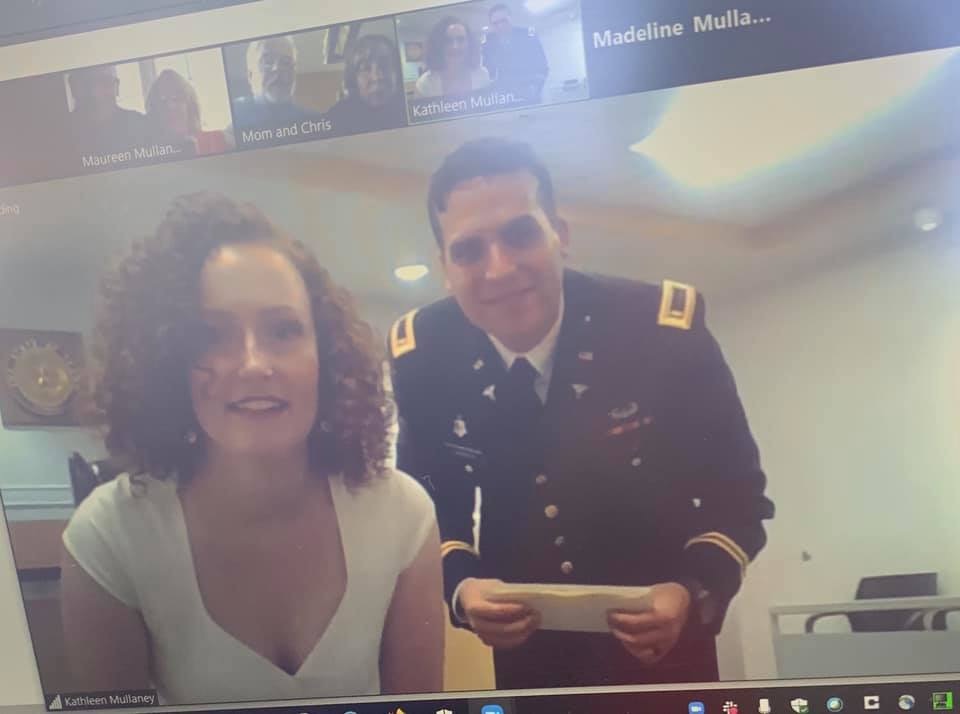 Mullaney is in the combined Family Nurse Practitioner (FNP) to Doctor of Nursing Practice (DNP) program. She temporarily relocated to Texas because it's where her husband is stationed, and because her current employer, St. Joseph's Neighborhood Center, has indefinitely closed its doors to patients due to the state-mandated guidelines.
>From her husband's home more than a thousand miles away from Rochester, Mullaney answers the public's questions through Monroe County's designated COVID-19 hotline and email. To do this, she and other student volunteers log into a secure system where the emails and phone calls are collected. They answer each question based on their expertise, research from the Centers for Disease Control and Prevention (CDC)'s website, and other validated resources.
"I have a really deep connection with the Rochester community. I want to make sure things are going well and that I'm at least part of the solution. Having these conversations even though I'm far away is important to me," said Mullaney.
"It eases our anxieties, but it also helps the community and the department of health who are most likely feeling overwhelmed. Educating and helping others through hard times is in our nature and, for some, volunteering helps provide a sense of normalcy."
While Mullaney is staying connected to Rochester from across the country, Tom Bonfiglio, an Accelerated Program for Non-Nurses (APNN) student, couldn't be closer to the COVID-19 frontline.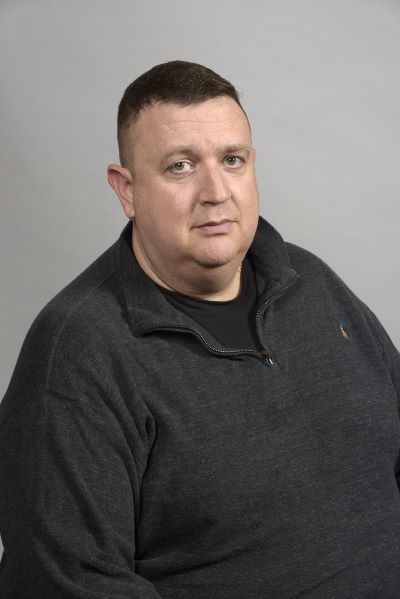 Monroe County's Office of Emergency Management (OEM) solicited nurses and student nurses to administer COVID-19 screenings, deliver isolation and quarantine instructions, provide wellness checks on isolated patients, and drop off sanitation supplies to patients in home isolation. Bonfiglio donned PPE and joined this group of volunteers.
For Bonfiglio, these visits were not unfamiliar. His EMS experience spans over 25 years and has no borders.
Besides studying in the APNN program, Bonfiglio works part-time as a paramedic for Wayne County Advanced Life Support. Prior to enrolling at UR Nursing last year, his job titles included, Regional Director for American Medical Response, and subject matter expert for EMS and fire protection services in Bolivia and Kenya.
Since he's had a little more practice, he was tapped to provide leadership and guidance to nursing personnel unfamiliar with working in the community setting.
Before the volunteer opportunity, Bonfiglio said, "The hardest part was being home when everyone was helping the cause. It was very difficult for me to just sit doing school work. I think it was the guilt and stress that finally pushed me to do something. This is what we're cut out to do, isn't it?"
Taylor Wheeler, RN, a student in UR Nursing's Adult-Geriatric Primary Care Nurse Practitioner program and a nurse on Strong Memorial Hospital's Bone Marrow Transplant Floor, volunteered at the recommendation of her professors who urged students to find other ways to gain clinical hours during the pandemic.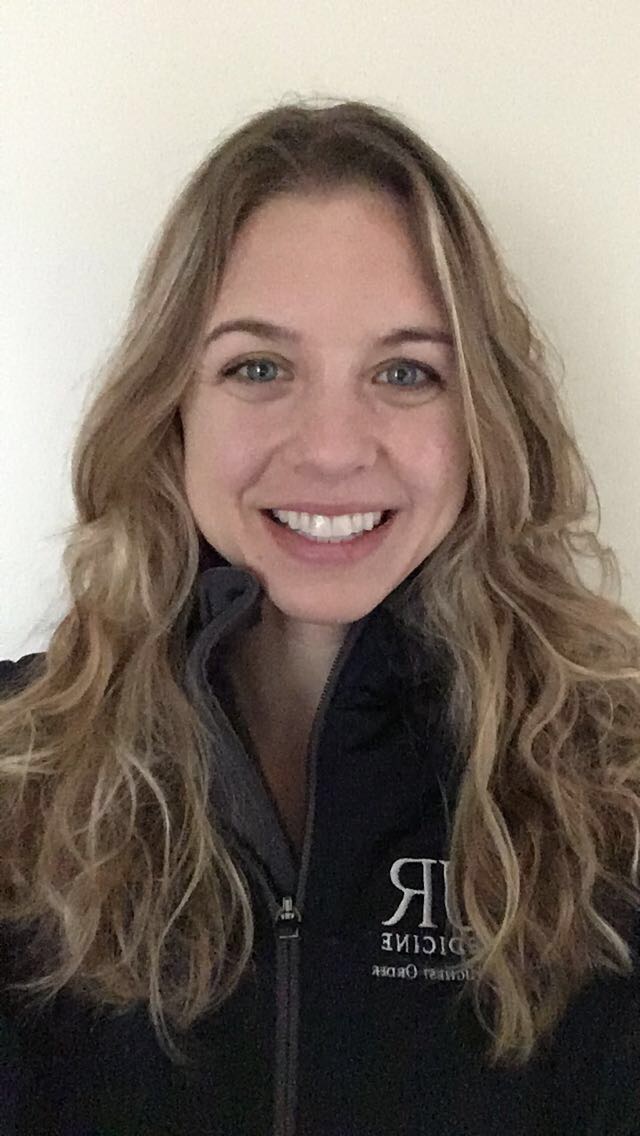 "When I saw there was a need for people to make phone calls to the community, I jumped right in. I wanted to share my knowledge and understanding of the virus to others who don't understand it.
Like Mullaney, Wheeler is a respondent on the Monroe County Health Department triage line, but she's the team's leader.
"As the team leader, I help decide who will answer which calls and how we will divide the work. I also take on difficult questions, and advise my colleagues on how to answer them."
"Unfortunately, we don't always have the answers to some of the questions. So much is still unknown about this virus."
According to Wheeler, one of the biggest challenges the pandemic presents is in the Bone Marrow Transplant Ward, where patients are the most immunocompromised populations in the hospital.  
"My unit has been struggling with how to keep these patients safe from the virus and how to limit potential exposure. We've had to ban all visitors from seeing their loved ones in an attempt to limit the spread of the virus. It's taken its toll on our patients."