Spotlight on: Nicole Dobbertin, RN, BSN, Charge Nurse, Highland Hospital
  By Marianne Benjamin
  Tuesday, March 24, 2020
When Nicole Dobbertin, RN, BSN, was in elementary school, her mom, Jacquie, began studying to be a nurse. As a young girl, she was inspired by how excited her mother was about classes and clinical rotations. "I also loved helping others and learning how the body works," said Dobbertin. "And I knew that would be the career for me, too."
The Honeoye resident is now 23 and works as a charge nurse on West 7 at Highland Hospital. She came to Highland at 18 to be a companion observer then served as a patient care tech for two years. After finishing her bachelor's degree at St. John Fisher, she knew that Highland was the place she wanted to practice.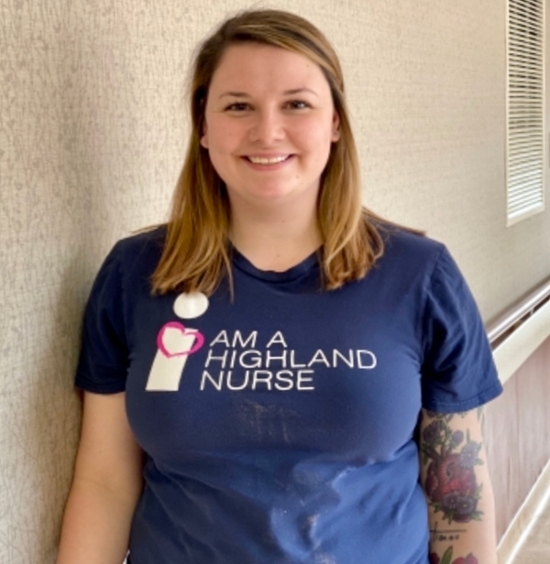 "My mom, now a nurse in radiation oncology at Highland, always spoke so highly about the hospital and the people there that I wanted to be part of it. I love the friendly, neighborhood feeling at Highland and the close relationship the hospital has with Strong Memorial Hospital," Dobbertin said. "I feel like I'm making a difference in patients' lives. I was honored to become a charge nurse after only a year, and I really enjoy being a resource to others."
 Highland's Nationally Recognized Nurse Residency Program
Dobbertin was in the third cohort of Highland's nurse residency program. The program gives to new nurses experiences that help develop skills and professional behaviors necessary to deliver the safe, high-quality care that is the hallmark of Highland.
"Highland received 'accreditation with distinction' from the American Nurse Credentialing Center (ANCC) for our nurse residency program," said Melissa Derleth, MS, RN, NE-BC, Highland's chief nursing officer. "In fact, Highland is the first in the Rochester region to achieve this honor and joins only 2 percent of hospitals nationwide to receive it," she said.  Only a very small number of hospitals can claim the enhancement of with distinction.
"I am so proud of everyone involved in the program," said Derleth. "We are giving our new nurses a very rich experience as they transition from student nurse to licensed registered nurse. The program is designed to not only focus on building clinical skillsets but, in parallel, infusing the goals of quality, safety, patient outcomes, enculturation and teamwork."
Dobbertin was galvanized by her experience in the program. "I am so glad I went through it, and I am excited to work with other nurses who are in it now," she said. "It made a huge difference to me. The program gives you opportunities to talk with other nurses and learn and share things you are struggling with. You can work on special skills like care of chest tubes and mediport accessing, things you don't see every day but things you need to be prepared for.  The result is that you have more experience and more confidence."
Dobbertin credits two special mentors: Rachel Davis, RN, BSN on West 7 and Becky Knowles, RN, BSN, coordinator of nurse residency program who was an educator on West 7. "Both of these nurses had my back and always gave me good advice," she said. "They helped me immensely throughout my first year of nursing and today."
Her advice for new grads? "Don't be afraid to ask questions," she said. "Always keep your head up and try to journal after every shift. If you have a hard day, write it down, learn from it, and move on. There are better days to come!"
Dobbertin especially loves her work on West 7 caring for sickle cell and cystic fibrosis patients. "I have strong bonds with these patients and their families because they are frequently admitted. I've cared for many of them for the past four years," she said.
As she prepares for the future, Dobbertin is working on her ASPN III project, part of Highland's career ladder for nurses, and studying to be board certified in med-surg nursing.  She is really enjoying her nursing career at Highland. "We have such a great team on West 7 and throughout the hospital," she said "You truly feel like work is your second home."
About Highland Hospital
Founded in 1889, Highland Hospital has a history of innovative and personalized care. The hospital is a regional leader in specialties such as bariatric surgery, joint replacement, geriatric care, gynecologic oncology, prostate cancer treatment, women's health services, and maternity. An affiliate of the University of Rochester Medical Center, the 261-bed organization and its 2,700 employees are committed to providing patient- and family-centered care. .
Highland Hospital offers nurses extensive opportunities including bedside care, education, and management. Highland was awarded Magnet status, is nationally recognized as a NICHE hospital—Nurses Improving Care for Health System Elders—and is a recipient of the Beacon Award for Excellence from the American Association of Critical Care Nurses.
Go to www.Highland.urmc.edu or visit the Highland Hospital Facebook page to learn more.