Spotlight on: Helen Thompson-Scott, CNM
  By Marianne Benjamin
  Tuesday, November 17, 2020
Helene Thompson-Scott, CNM, is passionate about women's health. As a labor and delivery nurse at a small hospital in Chicago, she was often the only nurse on her shift, so she played a significant role in many births. But Thompson-Scott didn't know much about midwives until she became a friend's birth partner at a midwife-run birthing center. That's when she was introduced to her true calling.
In 1986, Thompson-Scott and her husband moved to Rochester where she worked as a nurse at Strong Memorial Hospital, splitting time between Adolescent Pregnancy and Labor and Delivery. When the University of Rochester School of Nursing began to offer a program in midwifery, Thompson-Scott was part of the first class. She was hired upon graduation by Strong Midwifery. The group has had several name and location changes throughout the years, but Thompson-Scott has remained a valued part of the practice.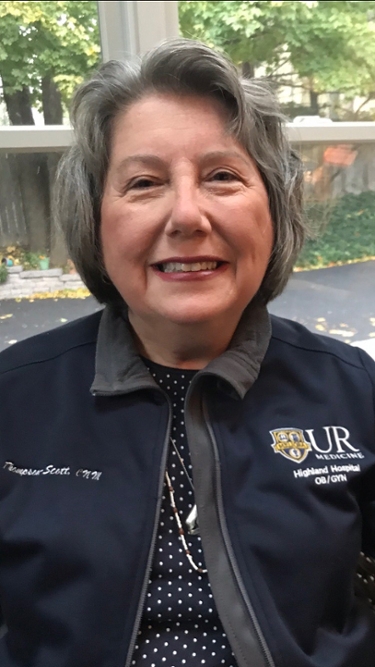 The midwives have their own patients, and, for several years, also saw patients at Planned Parenthood and at the non-profit, Threshold. Thompson-Scott kept a focus on adolescent health and often gave talks at high schools and in the community.
She remembers being on the local news to talk about contraception. "I wondered how my mom would react to watching me pull condoms out of my pocket during the interview, but education is a big part of what midwives do," she recalls with a smile.
Now called University Midwifery Group, the group births almost 700 babies per year. The midwife-assisted births were at Highland for 20 years, but the midwives are now back at Strong and have offices on Culver Road and Lattimore Road.
Taking care of pregnant women and birthing babies is the main focus of being a midwife. But they also perform endometrial biopsies, address contraceptive needs and perform annual exams. Thompson-Scott is also credentialed to do colposcopies, a form of cervical biopsy.  She was inspired to get her credentials by a patient who needed a colposcopy but would only get one if Thompson-Scott could perform it. "To be a midwife means to be willing to step up to respond to what your patients need from you," she said. "My patient needed me to learn how to do colposcopies and I did it."
Now she gets referrals for colposcopies from all over upstate New York. "I can take more time to help patients in a difficult situation and encourage them to have a procedure they might have declined otherwise," she said.
Thompson Scott enjoys the opportunity to take care of women at every stage of life from adolescents to seniors. "I am seeing young women as patients now who I birthed years ago," she said. "And I am aging with my patient population and taking care of women in their 60s. I am grateful for this fulfilling career."