Tantillo Book Examines Role of Relationships in Eating Disorder Recovery
  By Ivy Burruto
  Friday, December 11, 2020
While there is much more to uncover about eating disorders, considerable progress has been made in understanding how crucial relationships are to treatment and recovery.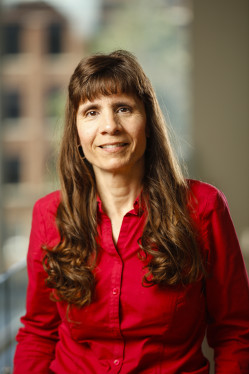 In her new book, Multifamily Therapy Group for Young Adults with Anorexia Nervosa: Reconnecting for Recovery, Professor of Clinical Nursing Mary Tantillo, PhD, PMHCNS-BC, FAED, CGP, examines recovery under a relational lens.
Reconnecting for Recovery (R4R) is an outpatient multifamily therapy group approach for young adults with anorexia nervosa and is the product of a decade of clinical observation and research developed in close partnership with patients and families. The new R4R approach, heavily informed by Relational-Cultural Theory and Motivational Interviewing Principles, is designed to help young adults and their family members learn the emotional and relational skills required to work collaboratively in recovery.
Intended for practitioners, patients and their family members, the book acts as a treatment manual that provides a deeper understanding of the nature, purpose, and process that characterizes R4R and how it specifically helps families name and repair internal and interpersonal disconnections associated with anorexia nervosa. It is a product of Tantillo's extensive expertise in clinical work and research related to the treatment of eating disorders. For over 35 years, she has provided care and support to patients and families coping with eating disorders across a spectrum of clinical settings.
Tantillo is the director of the Western New York Comprehensive Care Center for Eating Disorders (WNYCCCED), a partnership between the UR School of Nursing and Golisano Children's Hospital Eating Disorder Program. The WNYCCCED is funded by the NY State Office of Mental Health and coordinates eating disorder services in the 30-county Western New York region. Tantillo is also the founder and former CEO and Clinical Director of The Healing Connection, Inc., a non-profit eating disorder agency housing partial hospitalization, intensive outpatient and outpatient services for adults and adolescents, and a fellow and former board member of the Academy for Eating Disorders.
Multifamily Therapy Group for Young Adults with Anorexia Nervosa: Reconnecting for Recovery is available for purchase on Amazon. The book's co-authors include Jennifer Sanftner McGraw, PhD, professor of psychology at Slippery Rock University, and Daniel Le Grange, PhD, professor of psychiatry at the University of California, San Francisco. The book was illustrated by Santo Caruana, a young artist in recovery, and Marie Bieber RD, CSP, CDN, dietitian for WNYCCCED and Project ECHO®​.
Hear more from Tantillo about multifamily group therapy by listening to the two podcast episodes she recorded with Gürze Books, LLC's Eating Disorders Resource Catalogue. In one episode, Tantillo sits down with co-author Jennifer Sanftner McGraw, PhD, to discuss the clinical work and research related to the book. In the other podcast episode, mother and daughter Beth O'Sullivan and Amy O'Sullivan Wilmot join Tantillo to speak on their experience as participants of the multifamily therapy research for the book.