Spotlight on: Yachica Johnson, LPN, UR Medicine Home Care
  By Marianne Benjamin
  Tuesday, June 23, 2020
As a young girl Yachica Johnson, LPN, developed a passion for helping others as her family cared for her grandmother with health issues. Johnson's greatest inspirations were her mom – a social worker – and her aunt – a nurse – who devoted themselves to their family and to others. She knew that her future would be in nursing, and chose the LPN program at REOC in Brockport.
For the past 23 years she has worked in area nursing homes and for home care agencies. Since 2016, she has been part of UR Medicine Home Care, in a career she loves because the organization is patient-care centered.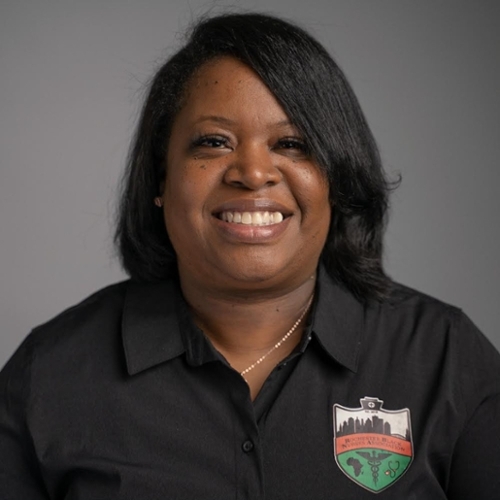 Johnson cares for people of all ages – from 18 to 100 – after hospitalization for congestive heart failure, other illnesses, and surgery. "I love to be able to teach patients and families about the best way to recover and improve their health, and it is so meaningful to see them in their own homes," she said.
The agency organizes staff into teams so they can support each other. "I like that we have patients who live near our own homes," said Johnson, a Rochester resident. "That makes it special for us and for our patients."
Johnson's commitment to nursing goes beyond her work. She is also a board member of the Rochester Chapter of the National Black Nurses Association (RBNA). RBNA was chartered in 2018 and the University of Rochester School of Nursing is a sponsor of the organization.Assistant Professor of Clinical Nursing Yvette Conyers DNP, MS, RN, FNP-C, CTN-B, a graduate of the school, serves as president of RBNA.
Like the national organization, the mission of the RBNA is "to represent and provide a forum for Black nurses to advocate and implement strategies to ensure access to the highest quality of healthcare for persons of color."
"RBNA is about bridging gaps in care to patients of color and educating and supporting them," said Johnson. "We also focus on education about good health and wellness. That's what attracted me to join the organization."
"Yachica is a founding member of RBNA," said Conyers. "As an LPN, it is important that she is serving in this leadership role and that her voice is heard. In 2019, at the 47th National Black Nurses Association conference, RBNA received the award for the smallest chapter with the most number of LPNs. Without Yachica's leadership, we would not have been able to receive that."
The RBNA is involved in community initiatives for better health, such as providing COVID-19 pre-screenings in Rochester neighborhoods. Pre-screenings included a review of COVID symptoms and checks for temperature, blood oxygen level, and blood pressure. Community members with symptoms were advised to follow up with their primary care physician, urgent care, or one of the two respiratory clinics at Jordan Health and Trillium Health. Sites were primarily staffed by volunteers from the RBNA and the Black Physicians Network of Greater Rochester, with other organizations helping to make it a success.
"The turnout was great for these pre-screenings," said Johnson. "People heard about it in their neighborhoods and stopped by. It is so important to make health care accessible in neighborhoods. I am so happy to be involved in this great organization and grateful for the amazing leadership and support of Dr. Conyers."
The RBNA is also planning a mentoring program for students and encourages their membership. The organization is open to nurses of all levels throughout Rochester who support minorities in nursing.