Spotlight on: Dena Helms, RN, Care Manager, Jones Memorial Hospital
  By Marianne Benjamin
  Thursday, September 3, 2020
Hospital floor nurse. Office nurse. CPR instructor. OR nurse. Care manager. Army nurse. At first glance that may sound like a list of six different people, but they are actually all roles that Jones Memorial's Dena Helms, RN, has had so far in her 32-year career. And that's just a sample of her experiences in nursing.
Her first job out of high school was as a nurse's aide at Wellsville Manor Nursing Home. She then pursued her LPN at Belmont BOCES and worked in various roles at St. James and at Jones.
"I worked for 20 years before I went back to school to get my RN degree," said Helms. "When my son said, 'You didn't go to college, so why should I?' it was just the push I needed to go back to school." With the encouragement of her husband, Jim, the mother of two earned her RN degree at Alfred State.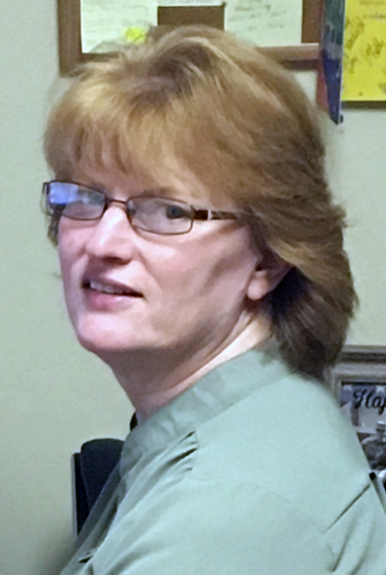 But that wasn't the only turning point in her life. "After the horrors of Sept.11, 2001, I was angry and wanted to do something to help our country, so I enlisted in the Army and became a military nurse," said Helms. "I'm proud to say I've been in the Army Reserve for 19 years and served for a year in Iraq in 2007." At that time she took care of young men who suffered traumatic experiences – many lost limbs and they needed counseling, as well as medical care. "It was hard,but I am glad that I was able to help them get through some dark times," she said.
This past summer Helms was mobilized again. This time for three months in the Philadelphia area on one of the Ready Forces for the COVID. Her role as chief ward master was to ensure that staff were in positions they needed to be in and trained with what they needed to know. "This was a great fit for me because I was able to help the soldiers and the patients as well," she said.
For the past year and a half Helms has been a care manager with Jones Memorial in the internal medicine offices of Shannon Mooney, RPA and Pasquale Picco, MD, who is also a pulmonologist.
"I work with very special people and everything we do is for the good of our patients," she said. "As a care manager I help make sure they have what they need to recover, whether its transportation, food, a life alert, and more. Our patients truly appreciate that we follow up after hospitalizations and find out if they are feeling better or need additional care or services."
Helms is grateful for all the opportunities she has had in nursing. "I don't know if I will ever retire," she said. "Nursing continues to be a perfect career for me, from the time I was a young mother and could schedule my per diem shifts with my husband's work schedule so we wouldn't need child care. There are so many paths you can follow in nursing. And I love working in a small town and being able to help people I know."
About Jones Memorial Hospital
An affiliate of UR Medicine in Rochester, Jones Memorial Hospital is a full-service, 49-bed acute care facility serving all of Allegany County, as well as western Steuben County and northern Potter County, PA. JMH offers an extensive array of outpatient services including specialty clinics, primary care, infusion services, and multiple rehabilitation services. In addition, JMH provides a primary care network with sites throughout the county in the Jones Memorial Medical Practices. The inpatient offerings at Jones Memorial include med/surg, critical care, and award-winning obstetrical services.
The hospital and laboratory are fully accredited by The Joint Commission and the 2018 TJC safety goals are fully implemented. The hospital has been recognized by Excellus and received incentives for meeting pre-established standards of care measures. Jones Memorial Hospital's Maternity Services have been recognized as a Blue Distinction Center. Since 2016, JMH has been certified by the New York State Department of Health as a Primary Stroke Center.