Spotlight on: Kaydean Harris, DNP, RN, FNP-BC, nurse practitioner Thompson Health Urgent Care, SON faculty member
  By Marianne Benjamin
  Monday, June 22, 2020
"My decision to become a nurse goes back to my years in college," said Kaydean Harris, DNP, RN, FNP-BC.  "I always knew I wanted to be in the health care field because I had a passion for caring for others. But I wasn't sure where I fit in." Harris comes from a family of nurses, including her mom, who encouraged her to go back to school for nursing.
"I chose the University of Rochester School of Nursing because the program offers the highest quality education, as well as several levels of degree programs," said Harris, who is a nurse practitioner at Thompson Health Urgent Care and recently joined the faculty at the UR School of Nursing. "The school is large enough to be recognized and well-respected across the United States, but small enough that students can have meaningful relationships with, and support from, the exceptional faculty," she said. "When I am caring for patients in a clinical setting I feel completely qualified and competent, and when patients ask me where I went to school they are impressed and confident that they are receiving the best care."
When she received her master's degree in 2018 from the School of Nursing, Harris was selected by her peers to be the graduate student commencement speaker. "It was truly an honor, and very much unexpected," she said. "I was certainly humbled by the fact that my peers considered me worthy of speaking on their behalf. It is an experience that I will always remember and cherish."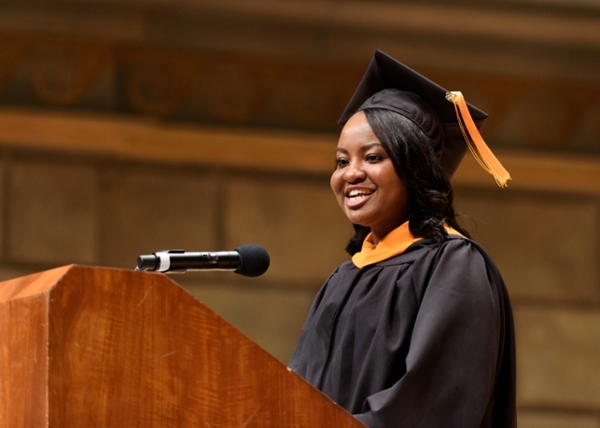 Harris spoke about persevering through adversity. She told her classmates, "Adversity is described as an unfavorable hardship, difficulties, misery, or distress. It is something that we must all face in life, and I would dare say that each of us have endured some form of adversity throughout our academic careers. From my personal experiences, I can attest that I have encountered poverty, teenage motherhood, racial injustices, and the difficulties of juggling multiple roles as a working wife, mother, and student. Challenges are an inevitable reality if we intend on growing and succeeding in life." Harris has blossomed through those challenges, achieved one of the highest degrees in nursing, and is in a profession she truly loves.
The Rochester resident isn't sure what her future career path will look like but she is hoping it will involve experiences in leadership positions. "The University of Rochester School of Nursing DNP program gave us a strong foundation in leadership," she said. "I am already using the knowledge and skills I developed and I look forward to expanding my experiences in the future."
She was supported in her path to a DNP degree by the School of Nursing. She was one of the first recipients – and the first Black woman – to receive full tuition support throughout her graduate education as part of a new school initiative to increase the diversity of its faculty.
Harris, who was born in Jamaica and came to the United States when she was 11, is a strong advocate for attracting more minorities to the nursing profession. "Nursing is such an honorable profession," she said. " We need to showcase that and reach out to minorities and show what an impact we can have on the community and that we can work in a variety of settings to improve community health. The University of Rochester has a wonderful leader in Dean Kathy Rideout, EdD, PPCNP-BC, FNAP, who is working to continue to expand the diversity of faculty and students."
"Nursing is the largest segment of the world's health workforce," said Rideout, "but we need more nurses in every corner of the world, and, fortunately, it is a field you can pursue at any point in your career."
The World Health Organization recently released The State of the World's Nursing 2020, an in-depth look at the profession that calls for governments to invest in a massive acceleration of nursing education, creation of nursing jobs, and leadership. "Those steps will be important to the future of world health care," said Rideout. A future that Harris is proud to be part of, and so will her daughter, who plans to attend nursing school in the fall.
About the UR School of Nursing
For nearly a century, the UR School of Nursing has been a pioneering force in the science and practice of nursing. Among our founders and faculty are giants of nursing education and research. The school is well known for developing the Unification Model of nursing, blending research and education with clinical practice. It now offers more than two dozen undergraduate, graduate, and post-graduate degree programs, including one of the oldest and most renowned nurse practitioner programs in the country. 
The UR School of Nursing ranks among the nation's best in delivering graduate education within an environment of diversity and inclusion. The school is a three-time winner of the Higher Education Excellence in Diversity (HEED) Award, and consistently ranks in the top 40 of the U.S. News & World Report rankings for both master's and doctor of nursing practice programs.  This year, the school ranks 26th among master's nursing programs, according to U.S. News, and 22nd among nursing schools in research funding from the National Institutes of Health.