After Two Years with a Full Plate, Former Chef Justin Wilks Ready to 'Embrace the Calm'
  By Patrick Broadwater
  Wednesday, July 28, 2021
Things are finally starting to slow down for Justin Wilks '21N. And he's just fine with that.
Over the past two and a half years, Wilks has started a new job as an RN, fought a global pandemic, welcomed the birth of his first child, moved into a new home, and aced his baccalaureate-completion degree program at the UR School of Nursing.
Despite the swirl of change around of him, Wilks graduated from the UR Nursing RN to BS program summa cum laude and was honored at Commencement with the school's Registered Nurse Award. The award recognizes a graduating nursing student who has achieved high academic standing, demonstrated outstanding ability practice professional nursing, and shown evidence of strong leadership potential.
"I figured out pretty quickly how to do new things on the fly," he said. "I've definitely grown quite a bit in the past two years, and I've learned a lot about myself. I'm ready to take some time to reflect and spend time with my wife and daughter and relax. I'm really just embracing the calmness right now."
Thriving amid chaos is nothing new to Wilks. Before entering the nursing field, he spent 10 years as a chef. In that career, he not only learned how to navigate a fast-paced, always-changing workplace, but he also saw firsthand how important it was to do everything needed to keep the consumer happy.
"I think that's why I've always been so calm under pressure. I kind of thrive in that stressful environment," he said.
"I do find that there are similarities. At the end of the day, you want to have someone have a great experience. Obviously, people are at the hospital for a much different reason, but they want to be taken care of and I want to try to accommodate them as best as I can and make sure they have the best experience possible in the hospital."
Wilks had once considered a career in pharmacy, but he left the University at Buffalo for the kitchen. After nearly a decade working in various Rochester restaurants, he grew frustrated with the business and gravitated back to health care. He earned his associate degree at Monroe Community College while continuing to work full time, passed his boards and began his new career as a nurse on a cardiac and progressive care unit at Highland Hospital.
Within months, he learned that he and his wife were expecting their first baby and he enrolled in the RN to BS program at the UR School of Nursing. With an unpredictable work schedule – exacerbated by COVID – and sleep schedule that comes along with a newborn, Wilks was grateful for the asynchronous nature of the program. He said he actually enjoyed the flexibility of getting up at 3 am to feed the baby and then being able to tackle a chunk of coursework in the middle of the night and still find classmates – and professors – online.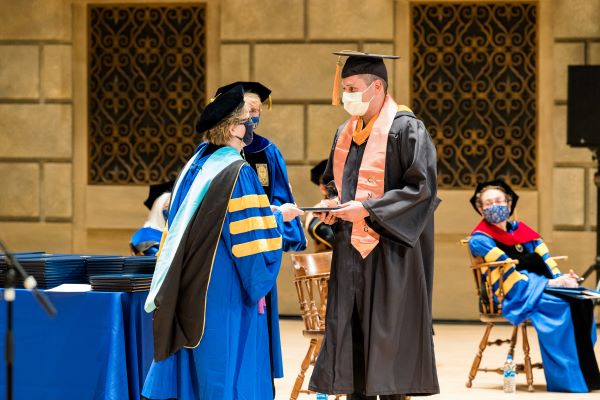 Wilks particularly singled out Instructor of Clinical Nursing Michael Rosario-McCabe, MNE, RN. "I don't think he ever slept," Wilks said. "I've been in a lot of college classes over the years – different programs, different schools – but his ability to be accessible, especially during the difficult times of COVID, I just felt like he really cared and supported students.

"I really didn't know what I was getting myself into when I started this program, but it's made me a more well-rounded nurse and able to look at the patient's needs more holistically. How can I support the whole person, not just the patient in the hospital? I'm looking beyond the hospital doors now, and that's the greatest lesson I learned in the program."