Alumni Profile: Cheryl Lustik Aims to Support Growth for Advanced Practice Providers in Leadership Role
  By Gianluca D'Elia
  Tuesday, January 24, 2023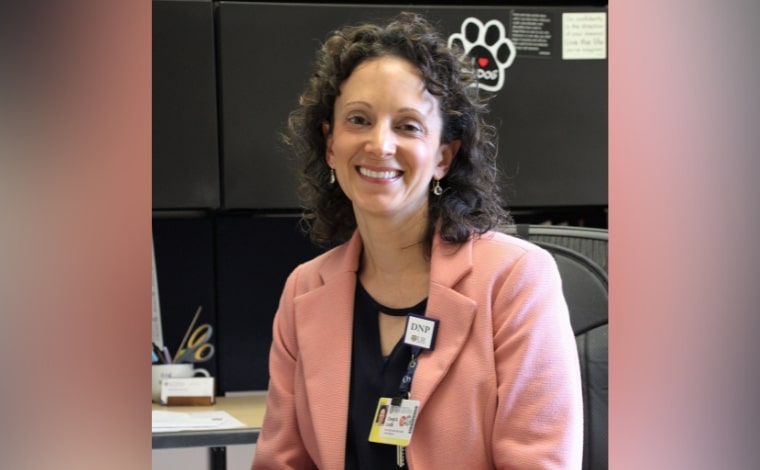 Cheryl Lustik, DNP, RN, MS, APN-C, has been named chief advanced practice officer of the Margaret D. Sovie Center for Advanced Practice, an office that supports more than 1,000 advanced practice providers (APPs) at the University of Rochester Medical Center.
In her new role, she will work in conjunction with clinical areas regarding models of care that allow nurse practitioners and physician assistants to work to the fullest scope of practice allowed by law. She will foster professional development through APP advancement models, fellowships, publications, and research.
Lustik is a three-time School of Nursing alumna. She earned her bachelor's of science in 2000, her master's in the Adult Nurse Practitioner specialty in 2003, and her Doctor of Nursing Practice in 2020.
As an undergraduate and master's student, she found the School of Nursing's clinical partnerships to be one of its greatest strengths. Now, she's in a position where she will help foster those relationships.
"When I was getting my master's, it was clinically focused, and I knew I wanted to take care of patients at the bedside several years ago. They did a great job finding preceptors and clinical rotations, and ensuring that you come out with a well-rounded experience. That is also something the Sovie Center, along with the School of Nursing, has tried to foster."
As part of her new role at the Sovie Center, Lustik is looking forward to having a strong partnership with the School of Nursing. It's a meaningful opportunity for Lustik, who has benefited firsthand from that relationship. When she started her DNP degree in 2017, she was part of the School of Nursing's inaugural class of DNP Fellows.
Lustik will now ensure the continued success of the fellowship program as part of her role.
"I'm a big proponent of people going back for their education," she added. "We still have that fellowship program in line, and I'm looking forward to continuing that partnership. Advancing in school and working full-time is a hard thing to do, but they make it as easy as they can."
Professional growth is a high priority for APPs, Lustik said. She hopes to create more opportunities for APPs to advance their work.
"A piece I would like to develop is another form of advancement that is more in line with leaders hip," Lustik said. "I'm very interested in promoting APPs in the clinical fashion, but also through leadership and professional growth."
Lustik's time in the DNP program was formative for her as a nurse leader.
"The DNP program taught me to look at things more programmatically and strategically. The School of Nursing gives you guidance, but it also makes you own it, make the mistakes, recover, and keep whatever project you have moving forward."
"The doctoral program was part of the trajectory to further my career," she said.
Want to share your news with us? Tell us about your latest updates in the Class Notes form.
Categories: Patient Care, Alumni