Celebrating NP Week 2023: Jose Perpignan Jr.
  By Gianluca D'Elia
  Friday, November 17, 2023
Almost 60 years ago, the University of Rochester School of Nursing's founding dean Loretta Ford and pediatrician Henry Silver pioneered the nurse practitioner role.
There are now more than 355,000 NPs improving the health and lives of millions of patients across the U.S. In honor of Nurse Practitioner Week 2023, the University of Rochester School of Nursing is sharing stories of alumni of its nurse practitioner programs.
Jose Perpignan Jr. '16N is excited to help improve access to health care, and to make a positive impact in patients' lives as an NP. He's in his final year of the School of Nursing's Family Nurse Practitioner program, with plans to complete a Doctor of Nursing Practice (DNP) in 2026.
He's an ICU nurse at Highland Hospital and currently completing clinical hours at Allergy, Asthma, Immunology of Rochester. Perpignan hopes to inspire future generations to pursue careers in nursing, and has already set a strong example through his frontline work and advocacy. Over the past year, he received he National Black Nurses Association's DAISY Health Equity Award for a Frontline Registered Nurse, and was named the 2023-24 Advocacy Leader by the American Association of Colleges of Nursing's Graduate Nursing Student Academy.
---
What led you on a path to becoming an NP?
It started with my parents. My dad was an EMT, and he used to take us to his base out in the Bed-Stuy section of Brooklyn. The volunteer ambulance service did a lot for the community, and my siblings and I were able to witness this during the summers when we spent time with them. Seeing my dad's love and passion for his work was an introduction for me.
Around 2015, when I was in the accelerated bachelor's program at UR Nursing, my mom was diagnosed with soft tissue sarcoma. The first place we went, they told her that she would have to have her leg amputated. I was still becoming a nurse, and I ended up looking for a second opinion. The first thing the second provider said was, "You're going to have a granddaughter soon? Good. You're going to be running around and dancing with her."
I've seen what it looks like when you pour into the community you're from, and when you don't have to be a victim of not having the care you feel like you should get. This also motivated me to want to become a nurse practitioner. I wanted to be in a position where I could educate myself, learn, grow, and be able to provide the care and treatment that patients need.
How do you feel that NPs make an impact in health care?
I believe that one's impact as an NP extends well beyond the confines of a medical facility. My dream is to open a medical practice to provide high-poverty areas with access to affordable, high-quality care, resulting in reduced healthcare disparities. As the eldest of ten and a secondary caregiver to my siblings, I developed a gift for providing holistic care. Utilizing this gift through active listening, understanding, and meeting people where they are has created opportunities in the field to build genuine bonds, earn trust, educate, and bridge the gap between underserved communities and quality healthcare.
I'm a co-founder of the Greater New York City Black Nurses Association. This opportunity put me in a space where I was able to see what was actually going on in the underserved black and brown communities, which I'm from, and helped me build trust and relationships with the community. I knew that by becoming a family nurse practitioner, I'd still be doing the community work that I love to do, addressing health care disparities, and being a familiar face.
In the GNYCBNA, we have utilized barber shops to address men's health, and it's been very successful because Black men don't always like to be vulnerable in the sense of asking for help, or knowing when to ask for help and having a familiar face in a setting that is comfortable to you. We feel like that was the best place to show that, and to say, "Look, we care. We're here, we're showing up. We're from the same communities you're from. And we have the education and the resources to help you live a healthier lifestyle."
Our chapter adopts different schools throughout New York City, and we utilize this opportunity to have students who are from underserved communities come into the nursing world. We brought students to Columbia University's simulation center and had them act as the nurses in patient scenarios. This introduces them to something new. Some don't even know that men can be nurses. Some don't see folks that look like them working in these spaces. For them to see that and be engaged, it allows us to mentor them, uplift them, and provide them an opportunity to figure if this is something that they may want to do with their lives.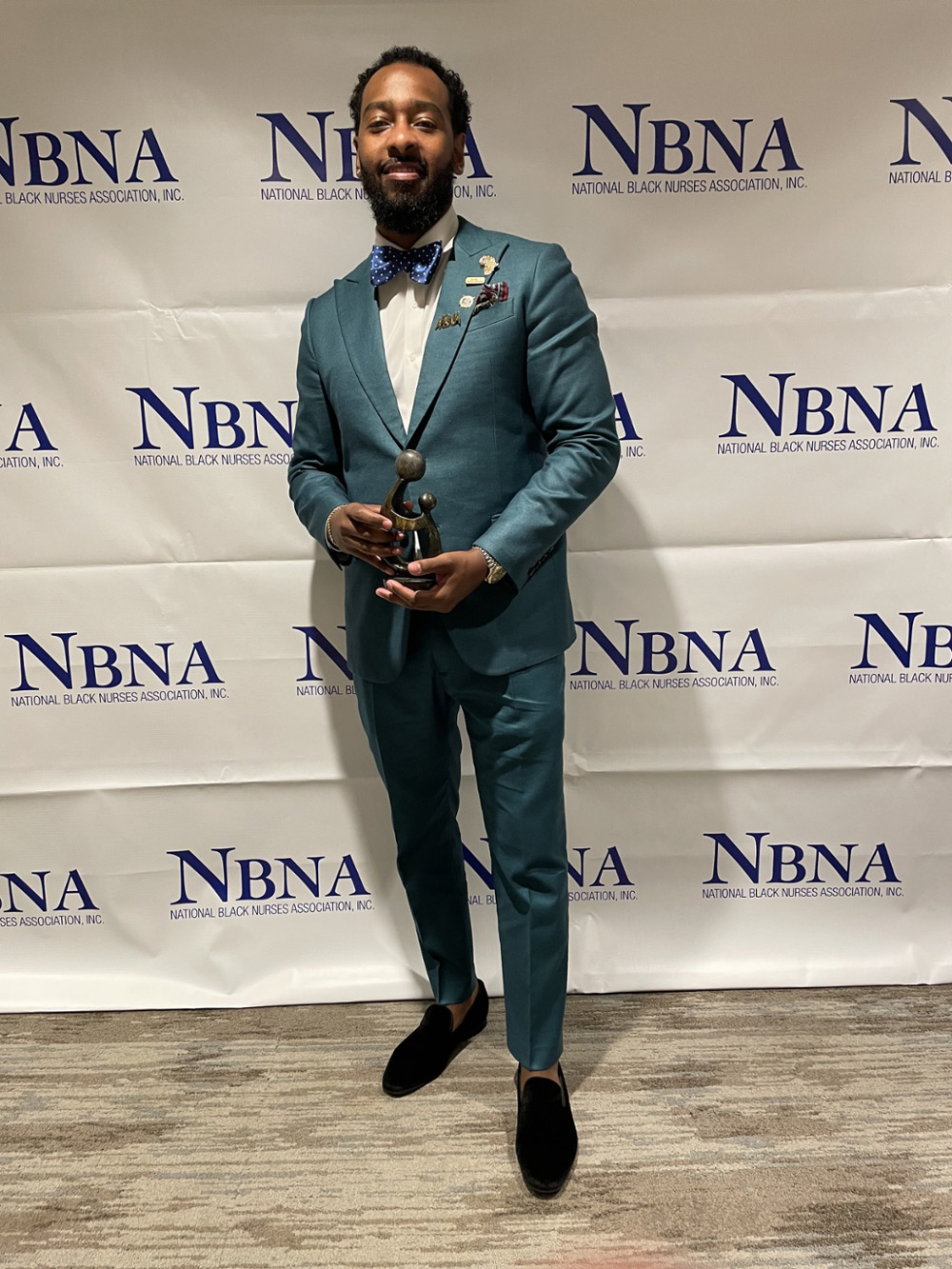 What is the most rewarding part of your work?
The most rewarding part is seeing patients' outcomes. I worked throughout the entire pandemic in the ICU. I come from a large, loving family. One thing that really was meaningful to me was offering support when family members were not able to be there with their loved ones or to watch patients. People felt alone and scared, so being able to fill that void and let them know, "I may not be your family directly, but I'm here for you, and I want you to feel seen and cared for and heard." That was impactful for me.
In general, going into the community or seeing a student that we work with who graduated high school and started their own journey into nursing is so rewarding. Patients, families and community members are happier when they have access and trust, and they know that the issues that they haven't had addressed prior, they have addressed now, and that they can live healthier lifestyles. Seeing families together again as they should be, in a healthier setting, is really meaningful to me.
Tell us about a faculty member or preceptor who has made a difference for you.
Dr. Kathy Rideout, who was the dean when I first started the bachelor's program, is someone that I look up to and have a lot of respect for. I remember walking through the hallway once and saying "good afternoon to her." And she said, "Oh, hello, Josie. How are you?" I was thinking to myself, "How do you know my name?" No matter how busy you are, no matter what the role or title is, the fact that you make time to get to know the students in your programs, that tells me, "I'm here, I see you, and I'm going to invest in you."

Dr. Yvette Conyers '07N (who is now associate dean for equity, diversity, and inclusion at University of Maryland School of Nursing) was a clinical instructor and mentor to me. She's always been there to guide me. She instilled confidence in me and let me know that I had a lot of potential to do more. If I doubted myself, she was there every step of the way to show me that what she saw in me was everything that I should have seen in myself.
Is there anything else you'd like readers to know?
I'm grateful for all those that poured into me. I would not be who I am or where I am if it weren't for those who invested in me and saw something in me.
And for those that are interested in pursuing an NP degree, find something that you're extremely passionate about and stick to it through the obstacles, during times of difficulty or doubt. Think back to what it is that brought you to this point to begin with, and the outcomes that you want to see, and just keep going. It's well worth it in the end.
Categories: Alumni, Nurse Practitioner Programs