Alumni Spotlight: Evelyn Santos is Breaking Barriers in Mental Health Care
  By Gianluca D'Elia
  Tuesday, September 19, 2023
Evelyn C. Santos '23N (MS), BSN, RN, PMHN-BC, lead nurse at UR Medicine's Lazos Fuertes Clinic, is at the forefront of addressing the local Hispanic and Latino community's mental health needs in new, innovative ways.
"The most rewarding part of my role is being an advocate for cultural awareness and providing equitable health care services," she says.
Rochester's Latino population has more than tripled since the 1980s, according to the Ibero-American Action League. Nationally, Hispanic and Latino communities in the U.S. can face unique barriers to mental health care, such as a lack of cultural competence among providers, legal status, stigma, or language barriers.
Evelyn has dedicated her nursing career to advancing health equity and mental health outcomes in the Latino community. In May 2023, she graduated from the School of Nursing's Leadership in Health Care Systems (LHCS) master's program to further her skills as a nurse leader.
Her successes as an LHCS student have led Evelyn to the next step in her career: later this fall, she will advance within the Department of Psychiatry to a new role as a quality and education nurse, and continue to contribute to the department's diversity, equity and inclusion initiatives on a wider scale.
Evelyn's time at the School of Nursing – plus more than 20 years of experience supporting individuals with mental health, developmental and intellectual disabilities – equipped her to be a fierce advocate for health equity.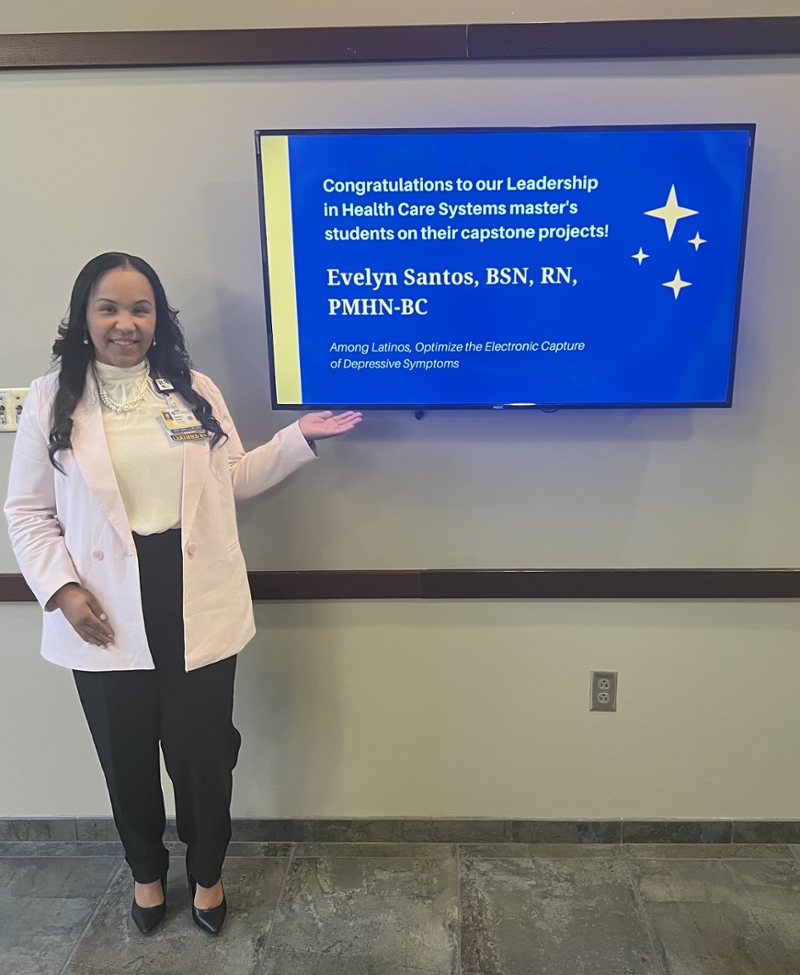 "What stood out to me as I explored opportunities for my master's degree was the UR School of Nursing's mission to be an inclusive environment," Evelyn recalls. "The School of Nursing makes diversity, equity and inclusion efforts a priority. As a minority student, this was important to me."
Her LHCS capstone project focused on optimizing the electronic capture of depression symptoms in the Latino community.
"I completed a needs assessment through a diversity, equity, and inclusion lens and implemented the utilization of iPads at my working site to capture depression screens electronically in Spanish among the Latino patient community," she explains.
"The project provided the opportunity to improve depression screening rates among our Latino patient population, and also helped improve our collaborative decision-making strategies within the program I support."
Evelyn's graduate capstone is the latest highlight of a career defined by breaking barriers. She led the development and implementation of a lead nursing role at the Lazos Fuertes Clinic, served as a consultant to help expand UR Medicine's Spanish-language neurology clinic, and created a guide dedicated to helping English-speaking nurses overcome language barriers that often interfere with care.
In recognition of her leadership in addressing health disparities, Evelyn received a 2022 Board Excellence Award from the UR Medicine Quality Institute and the University of Rochester Medical Center Board of Directors. During her time at the School of Nursing, she was also honored with the Paul J. Burgett Nursing Student Life Award, which recognizes a graduating student who enriches the School's environment and serves as a positive catalyst for change.
Outside of her work, she enjoys spending time with her family, decorating for holidays, enjoying cultural foods and music, and attending Rochester's annual Puerto Rican Festival.
Categories: Alumni, Nursing Leadership