Career Planning for the Nursing Profession
Deciding about your next career steps after graduating from nursing school can be complicated. The Center for Academic and Professional Success (CAPS) offers career development resources
 as well as coaching to discuss what career path is right for you. See below for more information and let us know how we can help you!
Writing your Resume & Cover Letter
Before applying for nursing jobs, learn how to tell your story through your resume and cover letter. 
See Resume & Cover Letter Support >
---

Nursing Interview Questions: How to Prep for a Successful Interview
Prepare for a successful job interview with sample nursing interview questions and tips from our nursing career coach.
How to Prep for a Successful Interview >
---

Nursing Job Opportunities
UR Nursing students and graduates can search recent postings and job search sites for positions in the region, including details about hospital nursing recruitment and residency programs.
---
Job Hunting for New Nursing Graduates
Many clinical units and patient care areas area hospitals directly hire new nursing graduates, depending on your patient care experiences and resume.
If you are interested in a unit, go to nurse recruitment early and express that interest. Usually, they will let you shadow for four hours. This is your golden opportunity!
Work hard, be positive, help others, and ask questions.
As a new graduate, residency programs offer more structure and continued education for specialty units that have historically been closed to new graduates. It provides new nurses with deeper connections and more support through formal and informal set of learning opportunities that focus on best practices. These learning opportunities will go above and beyond the hospital and unit-specific orientation. However, you do NOT need to enter a residency to get a job in the hospital.
Other advice for new nurses?
For specialty units, like Pediatrics or ICUs, start the application process earlier. For example, if your graduation date is in December, apply for residency/specialty area positions in September.
Have your resumes ready by the beginning of your third semester.
Make connections with your instructors who are in the specialties that you are interested in.
Ask questions and offer to help during your shadowing experience.
Residency Program Resource Guide
---
Career Planning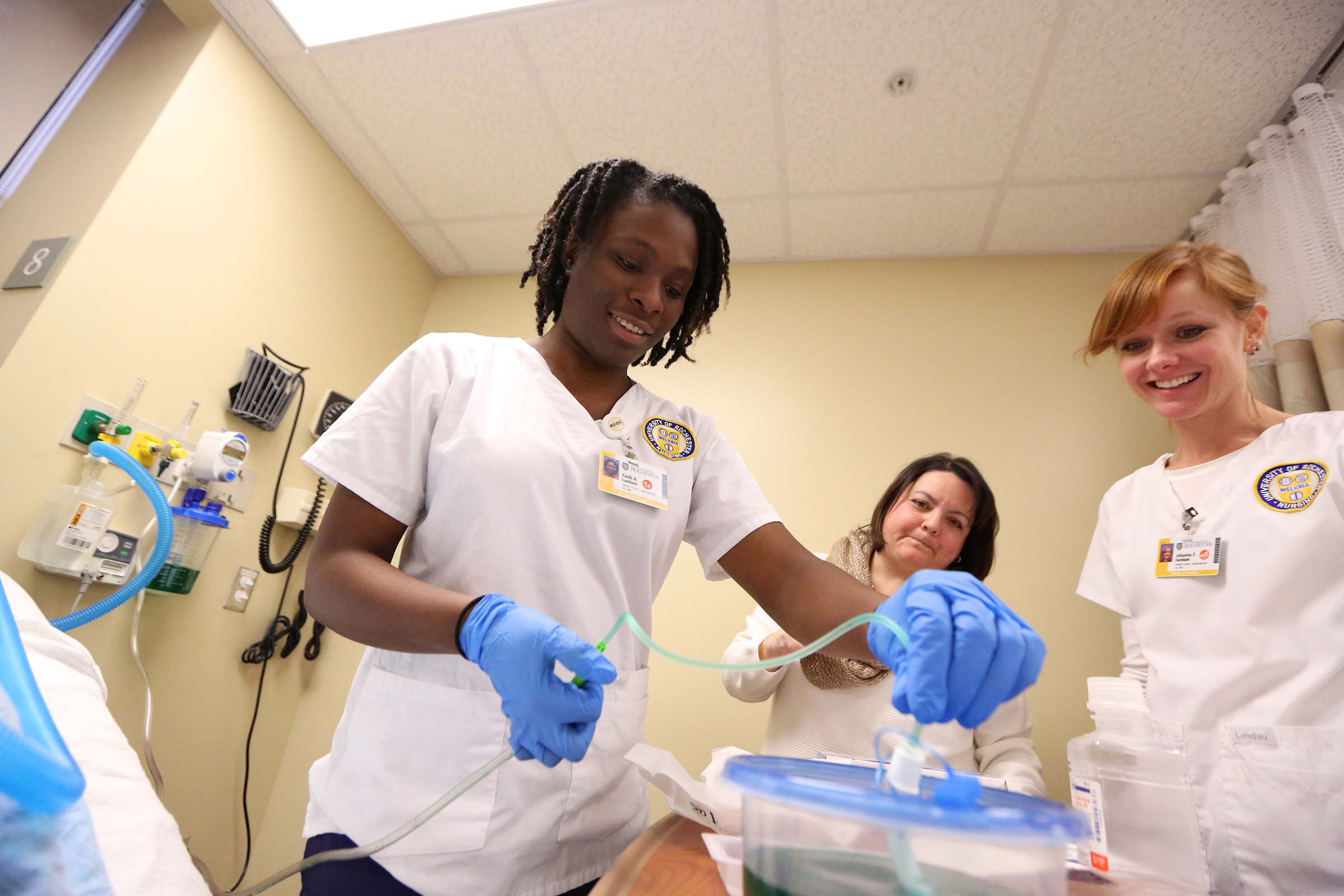 Becoming a nurse opens doors to so many opportunities. Whether you want to pursue a career as a bedside nurse in various patient care settings, work as a nurse manager or leader, conduct research, or teach the next generation of nurses, there is a pathway to get you there. 
The more experience you gain, the better informed you will be to specialize in a field that's right for you. Many of our accelerated nursing graduates also choose to advance their career by earning master's or doctoral degrees. 
If you're interested in exploring ways to expand or advance your nursing career, finding the right position or health care facility or have questions about where to take your nursing career, request to meet with our nursing career coach. 
---
Other helpful resources