Donor Profile: Barbara 'Buzzy' Vallone
  By Patrick Broadwater
  Thursday, July 6, 2017
Barbara "Buzzy" Vallone's life has taken her to many places. She worked as a nurse in Hawaii in the 1960s, visited Italy 27 times, and traversed all over Europe, Asia, and Africa. But no matter how far she has traveled or how long she's been gone, Vallone has always returned to Rochester, her adopted home.
Vallone was born in rural Pennsylvania to a long line of nurses. Her great aunts served in World War I, and her mother worked as a nurse in a hospital in the 1930s. Vallone followed in their footsteps, attending nursing school in Binghamton before being drawn to Rochester.
"I had received a scholarship to take courses at the UR School of Nursing, and I was looking for a place where I could start practicing and advance my career," said Vallone. "It was the perfect fit."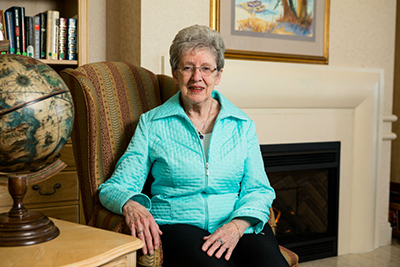 Vallone's first job was in Strong Memorial Hospital's intensive care unit (ICU) in 1960 – when ICUs were a relatively new concept. After 10 years, she transferred to the medical outpatient department, where she was promoted to nurse manager.
Over the course of her nearly 40-year career, Vallone witnessed many improvements in nursing and health care delivery, from the first kidney transplants to innovations in cardiac surgery. But she was also a driving force for change herself. Vallone played a key role in numerous advancements – including the launch of blood glucose testing at the hospital in the 1980s – and she was instrumental in shifting the perception of nurses and expanding their roles.
Vallone established a partnership between medical residents and nurses – which was virtually unheard of at the time – and she counseled her staff on their careers and how to present themselves as practicing partners in the health care delivery system. Under Vallone, nurses created professional portfolios for their annual reviews before they were a common requirement.
"She was a true visionary leader," said Patricia Rogers, '91N, '96 (MS), who was a staff nurse for Vallone in the 1980s and '90s. "She was always looking to the future when she made decisions, and she structured the role of the registered nurse based on how she thought that role would fit into the future of health care."
Although she retired in 1996, Vallone continues to make an impact on the nursing profession through her incredible generosity. Vallone is a member of the Dean's Diamond Circle, a group of distinguished donors who play an integral role in sustaining the school and paving the way for its future, and she's a founding member of the Wilson Society, a group of alumni, parents, and friends whose philanthropy to the university includes a planned gift.
But despite all she had already given, Vallone still wanted to do more.
"I had begun to think about my legacy, and I just knew deep down that giving back to the school and supporting nursing education was something I wanted to do," said Vallone. "It took me about a year to decide what I could do that would have the biggest impact."
After giving it a great deal of thought, Vallone decided to establish two scholarship funds – one for bachelor's degree students, and one for students in the Master's in Nursing Education (MNE) program.
"I believe that if you are going to change someone's life, you need to educate them, and this is my way to be a part of that," said Vallone, who made the donations in memory of her late husband, Romanio Vallone. "Now, because I decided to do this, I'm energized to do more in the future."
If you would like to make a gift in support of the School of Nursing, visit our
online donation page
or contact
Andrea J. Allen,
director of advancement and alumni relations, at 585-276-4336 or
andrea.allen@rochester.edu
. This story is also featured in the Spring 2017 NURSING magazine.