UR School of Nursing Welcomes Newest Students
  By Nora Williamson
  Tuesday, January 17, 2017
There was a buzz of excitement in the air on Tuesday morning as 66 students reported for their first day of nursing school and took the first steps toward a new and fulfilling career.
"It's really exciting to finally be here," one student said. "I'm overwhelmed and nervous, but we're all in the same boat together."
Tuesday marked the first day of a one-year journey for the new students, who are enrolled in the University of Rochester School of Nursing's Accelerated Bachelor's Program for Non-Nurses. The program is designed for individuals who have their bachelor's degree in another field — and while some just recently graduated from college, others led accomplished careers in areas like finance and marketing before deciding to make the switch to nursing.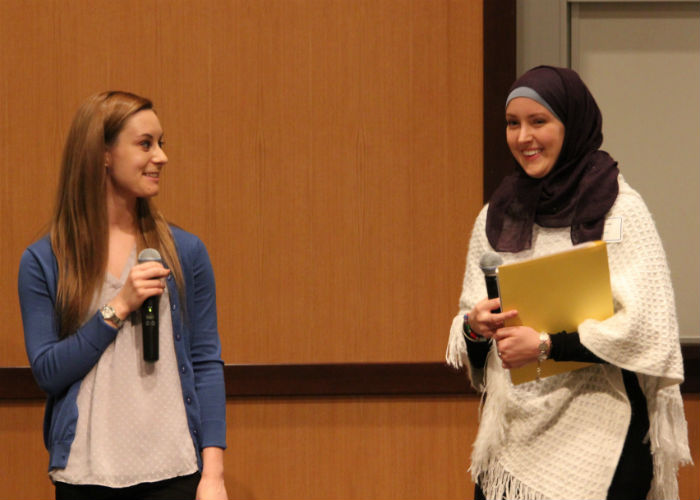 In less than one year, in December 2017, the new students will graduate and will be eligible to take the NCLEX and start working as baccalaureate-prepared registered nurses.
"You will experience an incredible transformation as you become a nurse during these 12 months," said David Goede, DNP, ACNP-BC, assistant professor of clinical nursing, as he was introducing himself to the class during orientation. "You all have life experiences that will help guide your careers, and I really believe that the students who graduate from our accelerated program are the nurses who will help move the profession forward."
The cohort includes five new Fuld Scholars, who receive a significant scholarship from the Helene Fuld Health Trust in recognition of their academic achievements thus far.
"We select the Fuld Scholars based on their applications," said Director of Admissions and Co-Director of the Accelerated Program Elaine Andolina, MS, RN. "They are honored for being among our strongest students, but we also look for applicants who exemplify leadership skills and a strong commitment to service in the field of nursing."
Fuld Scholars also benefit from special seminars and other learning experiences. They meet monthly with Dean Kathy Rideout, EdD, PPCNP-BC, FNAP, and Patrick Hopkins, DNP, APRN, C-PNP, NNP, co-director of the accelerated program, who help prepare them for leadership roles after graduation.
"We start the conversation about leadership by asking them what kind of characteristics they've seen in a good leader — and what kind of leader they'd like to be," said Hopkins. "Once they enter the second semester, we stress the importance of finding a mentor and help connect them with someone who matches their interests."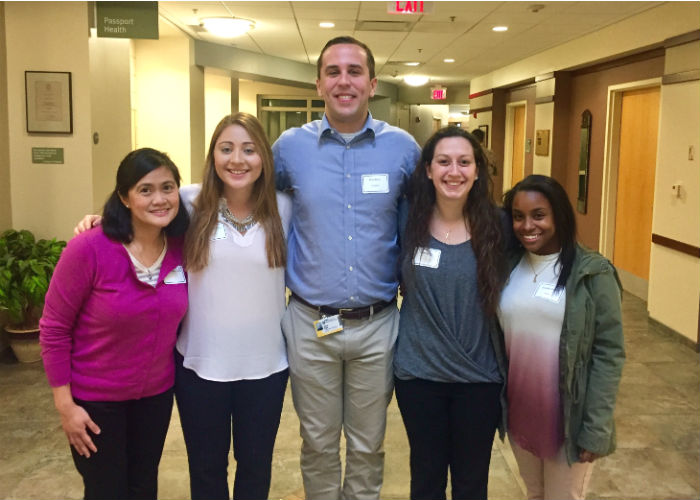 From left: Fuld Scholars Kathyrine Resurreccion, Michelle Harrington, Brian Bayer, Stacy Jackson, and Nyckiyah Mulkey. 
Like the rest of their cohort, the Fuld Scholars have diverse backgrounds. While some always wanted to pursue a career in health care, others — like Brian Bayer — took different paths to the field. Bayer, who has his bachelor's and master's degrees in integrated marketing communications, worked in real estate tax research at a bank in New York City before realizing he wanted to pursue a career focused on caring for others. 
Kathyrine Resurreccion, another Fuld Scholar, is originally from the Philippines, and was inspired to become a nurse after the birth of her son, who spent time in the NICU when he was born.
"The challenging experience that we had during his birth became my inspiration to rekindle my passion to serve people, especially taking care of their children," she said. "My dream is to become a pediatric nurse practitioner someday. I am very excited to be at the University of Rochester as I fulfill this dream."