Pinning Ceremony Celebrates Newest Graduates
  By Patrick Broadwater
  Wednesday, January 3, 2018
Kevin Liu stepped up to the podium on Wednesday, Dec. 20 and summed up the whirlwind experience of the University of Rochester School of Nursing's Accelerated Bachelor's Program for Non-Nurses (ABPNN).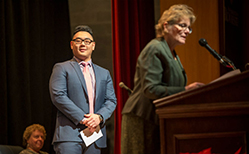 After 11 months of school time, 700 hours of clinical time, 35 tests, a gazillion amount of clinical prep, endless amount of studying, and countless amount of teardrops, we're finally here," said Liu, one of 61 ABPNN graduates honored in a traditional pinning ceremony at the Larry and Cindy Bloch Alumni and Advancement Center.
"As we all graduate tonight, I look forward to seeing many of us continue to grow to become leaders, educators, and pioneers. I cannot ask for a better group of people to go through this amazing but challenging experience we call nursing school."
It was back in mid-January of 2017 when this cohort reported for ABPNN orientation, the first step in their foray into a career in nursing. The group was characteristically diverse with students coming from a variety of different backgrounds. Some were recent Rochester area college graduates; others came from as far as China and South Africa or had established careers in finance and marketing. A full one-quarter of the graduating students were male, nearly three times the national average of male nurses in the workforce.
The accelerated program is designed for individuals who have already received a bachelor's degree in another field, guiding them through a rigorous yearlong immersion into the finer points of nursing. When they graduate from the program, students receive their diploma and a pin and are eligible to take the NCLEX and start working as baccalaureate-prepared nurses.
"You have received an amazing education, and now you have the privilege of using that education to dramatically impact the lives of those for whom you care," said Dean Kathy Rideout, EdD, PPCNP-BC, FNAP, who presided over the ceremony. "Be grateful for all the patients and their families for whom you care. Be open to what they will teach you. And remember that caring for them may be the greatest blessing or gift you will ever receive."
Liu, chosen by his peers to represent the cohort as class speaker, noted three main takeaways he learned during his intensive year of study: Be nice to everyone, know why you do what you do, and never be afraid to ask questions and advocate for your patients.
"As registered nurses, we've gained a vast knowledge in patient-centered care. The reason why we're professionals is because we are able to rationalize these interventions – why are we doing these things to our patients," he said. "As we all know, patient safety is number one, so you can't just wing it."
December 2017 Pinning Ceremony Photo Gallery