National Nursing Leaders to Address Health Equity at UR School of Nursing's 6th DNP Summit
  By Ivy Burruto
  Wednesday, August 25, 2021
This October, the University of Rochester School of Nursing will continue its tradition of hosting the Doctor of Nursing Practice (DNP) Summit.
Nursing professionals, thought leaders, and policymakers will gather to explore recommendations based on the Future of Nursing 2020-2030: Charting a Path to Health Equity consensus study report, published by the National Academies of Sciences, Engineering, and Medicine.
The report identifies ways nurses and institutions can support the challenging work of overcoming health disparities and achieving health equity in the U.S. Over the next decade, the nation's nearly 4 million nurses will be tested in new and complex ways at the intersection of health, education, and community.
Rising to those challenges will require the vision and skill of our nursing leaders. Nurses with DNP degrees have the education, expertise, and access to be those leaders and move the agenda for nursing along the path of achieving health equity.
This year's summit will keep the same virtual format as last year, allowing participants to attend the one-hour sessions anywhere. Three distinguished speakers will address the impact of DNP education starting on Oct. 15., and continuing Oct. 22 and Oct. 29.
Angelica Millan, DNP, RN, FAAN
Presenting "Advancing Equity Through Nursing and the DNP Role" on Friday, Oct. 15 at 1 p.m.

Millan is a member of the National Academies of Sciences, Engineering, and Medicine Committee on the Future of Nursing 2020-2030 consensus study report. Millan was also the former president of the National Association of Hispanic Nurses.
Alice M. Teall, DNP, APRN-CNP, FAANP and Rosie Zeno, DNP, APRN-CNP
Presenting "Building Resilience through Challenges: DNP-led Integration of Wellness into Culture, Community, Classroom, and Clinical Experiences " on Friday, Oct. 22 at 1 p.m.

Teall is an assistant professor of clinical nursing, director of Graduate Health and Wellness Academic Programming, director of Innovative Telehealth Services, family nurse practitioner and integrative nurse coach at Ohio State University.

Zeno is an assistant professor of clinical nursing, program director of the master's nursing program, and director of pediatric nurse practitioner specialty tracks at Ohio State University.
Rosemary Ventura, DNP, RN-BC
Presenting "Leveraging Technology and DNP Education to Achieve Health Equity" on Friday, Oct. 29 at 1 p.m.

Ventura is chief nursing information officer at the University of Rochester Medical Center.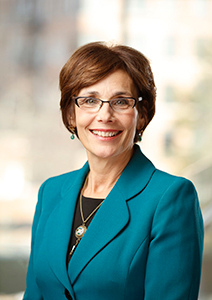 "This year's report focuses on the disparities that have always been embedded within our health system and communities," said Lydia Rotondo, DNP, RN, CNS, FNAP, associate dean for education and student affairs and director of the DNP program at the UR School of Nursing. "I'm grateful the summit creates a platform for these conversations, and opportunities for DNP-prepared nurses and other nurses working across the care continuum with diverse populations to turn takeaways into actions."
The UR School of Nursing enrolled its first DNP students in 2007, one of only two institutions in New York State to offer the degree at that time. In the decade that followed, over 350 DNP programs have enrolled more than 36,000 students in all 50 states, producing more than 7,900 graduates, according to the American Association of Colleges of Nursing.
The summit is open to all nurses, health professionals and students. Contact hours are available for attendees, and no registration fee is required. For more information or to register, please visit the 2021 DNP Summit page.