Marie Flannery to Direct UR Nursing PhD Program
  By Marianne Benjamin
  Tuesday, June 21, 2022
Marie Flannery, PhD, RN, has been named director of the University of Rochester School of Nursing's PhD in Nursing & Health Science program, succeeding longtime director Bethel Powers, PhD, RN, FSAA, FGSA, who is retiring in July.
"Assuming the position of director of the PhD program is an honor," said Flannery. "There is a rich history of doctoral education at the UR School of Nursing dating from 1979, and we are one of the longest established PhD programs in the country. I have had the privilege of knowing, learning from, being mentored by, and working as faculty colleagues with the last three directors, Mattie Schmitt, Maggie Kearney, and Bethel Powers. I would in particular like to acknowledge and thank Bethel for her dedicated stewardship of the program, students, and faculty over the last decade."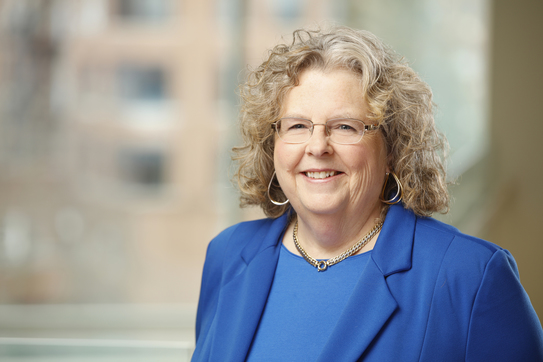 Powers has been a mainstay on the SON faculty for more than 40 years. She was named director of the PhD program in 2011 and became synonymous with the program for her commitment to mentoring graduate students and working with colleagues to prepare scientists and produce leaders in health care.
Flannery holds a Bachelor of Science in Nursing from the University at Albany and completed a cancer nursing fellowship at Roswell Park Cancer Institute. She holds MS, NP, and PhD degrees from the UR School of Nursing. She also completed Cancer Control and Research fellowship training through the URCC NCORP at the University of Rochester Medical Center's Wilmot Cancer Institute.
She began her career as a staff nurse at Strong Memorial Hospital, and after a brief stint at St. Elizabeth's Hospital in Utica, has served the UR Medicine system for many decades. She is currently an associate professor in the School of Nursing.
Flannery notes that it is a time of many opportunities for those pursuing research-focused doctoral education in nursing and health science. She refers to the 2022 American Association of Colleges of Nursing position statement;
"…. the PhD graduate is prepared to steward the profession, develop its science, define its uniqueness, maintain its professional integrity, and educate the next generation…. to achieve the vision of improving health outcomes for all people, particularly those in populations experiencing social and health inequities."
"I am excited to provide leadership for the program in collaboration with the students, faculty, and staff as we strive to make the program ever better," said Flannery.