Professor Emerita Jean Johnson Passes Away
  By Patrick Broadwater
  Wednesday, January 26, 2022
Jean Johnson, PhD, RN, FAAN, a renowned nursing leader who contributed groundbreaking work on sharing information with patients to help them cope with illness, died Jan. 23. She was 96.
A professor emerita at the University of Rochester School of Nursing, former associate director of nursing oncology at the University's Cancer Center, and clinical chief of oncology nursing at Strong Memorial Hospital, she devoted her nearly 50-year career to nursing practice, education, research, and advocacy for research and professional practice. She joined the University of Rochester in 1979 and retired in 1993, though she continued to be active as a researcher and reviewer for many years.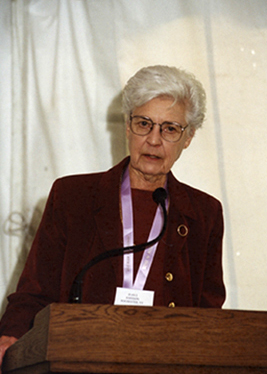 Johnson's theory of self-regulation evolved from stress and coping models in the 1970s and from empirical data collected in both laboratory and human research. Her findings demonstrated that when patients faced a stressful health care event, providing them information that included concrete information based on sensory data from individuals who had experienced the event, such as descriptions of physical sensations or other temporal factors, decreased anxiety, aiding in coping, and improved outcomes. Established in a range of settings and populations, the findings revolutionized nursing's patient education and transformed the standard of care.
The impact of her work has been recognized by the American Academy of Nursing (AAN), which inducted her as a fellow and, in 2005, proclaimed her as one of nursing's "Living Legends." In 1992, Johnson was named the inaugural recipient of the Oncology Nursing Society's Distinguished Researcher Award.
At the UR School of Nursing, Johnson received the school's highest honor, the Dean's Medal, in 2011.
Johnson received her bachelor of science degree from Kansas State University in 1948 and began her career as an instructor of nursing later the same year. She taught for 10 years in Kansas, Iowa, and Colorado, before moving into the hospital setting. In 1965, she moved on to Yale, where she would earn a master's in nursing while serving as a research assistant. She earned her doctorate in social psychology from the University of Wisconsin-Madison and spent eight years at Wayne State University in Detroit as an associate professor and, later, professor before joining the University of Rochester.
A loyal supporter of the UR School of Nursing, she made a generous commitment toward the establishment of the Jean E. Johnson Chair in Nursing Oncology, a permanent professorship supporting scholarly research and teaching devoted to the care of individuals with cancer. A conference room on the second floor of Helen Wood Hall is also named in her honor.
Johnson was the recipient of numerous awards throughout her career, including the Distinguished Contribution to Nursing Science Award from the American Nurses' Foundation (1983) and Outstanding Contributions to Nursing and Health Psychology Award from the American Psychological Association (1993). She also received the William H. Riker University Award for Excellence in Graduate Teaching from the University of Rochester in 1991.
She was also the first nurse to join various panels, such as the National Institutes of Health's Behavioral Medicine Study Section, the U.S. Army Medical Research and Material Command's Review Committee for the Breast Cancer Research Program, and the American Cancer Society's Advisory Committee on Psychological and Behavioral Research.
Elected as a member of the Institute of Medicine of the National Academies in 1974, Johnson was also a member of the American Association for the Advancement of Science, Academy of Behavioral Medicine Research, and the American Psychological Society.