A Family Affair: Fate (and a global pandemic) bring sisters and mother to UR School of Nursing at same time
  By Ivy Burruto
  Friday, February 11, 2022
For a period of about 11 months, sisters Marissa McFadden, RN, and Nicole McFadden, RN, were classmates in the University of Rochester School of Nursing's Accelerated Program for Non-Nurses while their mother, Lisa McFadden, RN, BSN, OCN, was also a student in the school's Clinical Nurse Leader (CNL) program.
Three members of the same household attending the same school at the same time may seem like an intentional family bonding experience, but in reality, it was more like a happy accident.
Lisa, a single mother to three children, had worked as a registered nurse for nearly 30 years before she decided to go back to school to earn her bachelor's degree through the UR School of Nursing's RN to BS program. She graduated from that program in 2019 and subsequently enrolled in the school's CNL program beginning in August 2020.
Growing up, both Nicole and Marissa had always admired their mother's hard work and love for nursing, though neither ever felt it was their calling. They did, however, share their mother's interest in science and medicine.
Nicole studied psychology and biology at Duquesne University, where she became fascinated with learning how people's life stories could influence who they were. Nursing seemed like the obvious choice for a career, but Nicole was reluctant. She was afraid of making a mistake and accidentally harming a patient.
It was Karen Keady, PhD, RN, NEA-BC, who changed her mind. Keady, vice president and chief nursing executive at the University of Rochester Medical Center, was the commencement speaker at Lisa's RN to BS graduation in 2019. In her speech, Keady shared that mistakes are how nurses become better nurses.
Nicole decided then to shadow a friend who was a nurse in a post-anesthesia care unit. There, Nicole saw how nursing offered an ability to bond with patients and learn their life stories.
Excited to embark on her new career, Nicole applied to the accelerated program only to be deferred until September 2020 due to COVID-19.
Marissa—only a couple of years younger than Nicole—had studied biochemistry at Hobart and William Smith Colleges. Later, she was a research assistant for a synthetic organic chemistry lab where she helped develop anticancer compounds.
After graduation, she worked as a patient care technician at Thompson Health, where she realized nursing was so much more than she had previously thought. She saw nurses as teachers, researchers, and patient care providers.
Marissa experienced her "light bulb moment" in the car with Nicole on their way to a family vacation in the Adirondacks. Nursing, she realized, would allow her to combine all of her passions into one career.
Marissa also applied to the September 2020 start date for the program, which meant she and Nicole were starting together.
The sisters—who had never been classmates because of their age gap—were now each other's live-in study partners since the didactic portions of the program were being taught virtually.
"I was grateful to have someone to sit across from during lectures and study sessions at a time when most people were isolated at home," said Marissa. "We worked well together, even though we had detested each other's studying styles when we were younger. Nicole was always hard-working, submitting assignments well before the due dates and I was a perpetual procrastinator and perfectionist."
Nicole and Marissa's graduation from the program in August 2021 became somewhat of a full-circle moment for the family. Lisa pinned both of her daughters, officially welcoming them into the nursing profession.
"I was feeling fulfilled that I had finally chosen the right career path that blended all of my interests into one job title," said Nicole, who works as a Level I nurse in the neonatal intensive care unit at Golisano Children's Hospital.
Marissa followed a little more closely in her mother's footsteps, working as an inpatient registered nurse on the adult hematology/oncology unit at Wilmot Cancer Institute.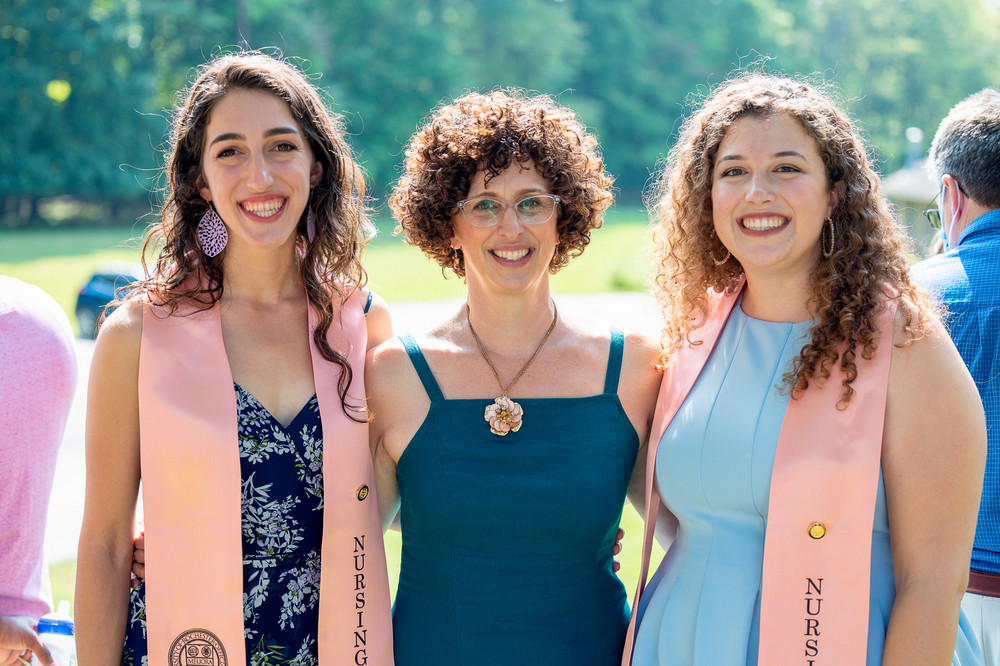 "Ultimately I feel each of them benefited from this, from both a personal standpoint and educational standpoint," said Lisa, an assistant nurse manager at the Interlakes Oncology and Hematology Center in Canandaigua. "Nursing just seemed to offer them both a bit of everything, yet differently, for what they were looking for in life. They can take their career to any level they want. They can advance their careers to teach, research, or practice. Nursing is ever-evolving."