UR Nursing Professor, Alum Earns American Heart Association Award
  By Gianluca D'Elia
  Tuesday, November 1, 2022
A Doctor of Nursing Practice (DNP) alumna who led an initiative to improve the transition of ischemic stroke care from hospital to home is now being recognized nationally for her work.
Ann Leonhardt-Caprio, DNP, RN, ANP-BC, FAHA, program coordinator of the Comprehensive Stroke Center at Strong Memorial Hospital and an assistant professor at the School of Nursing, has been named the recipient of the American Heart Association (AHA) Council on Cardiovascular and Stroke Nursing's 2022 Stroke Article of the Year Award.
Leonhardt-Caprio's award-winning article, "A Multi-Component Transition of Care Improvement Project to Reduce Hospital Readmissions Following Ischemic Stroke," was originally published in the April 2022 issue of The Neurohospitalist.
"I'm so honored to have been chosen for the Article of the Year award," said Leonhardt-Caprio. "The fact that this work is being recognized on a national level is really special."
Co-authors of the article include School of Nursing faculty members Craig Sellers, PhD, RN, AGPCNP-BC, GNP-BC, FAANP; Elizabeth Palermo, DNP, RN, ANP-BC, ACNP-BC; Thomas Caprio, MD, Chief Medical Officer for UR Medicine Home Care; and Robert Holloway, MD, MPH, Chair of the Department of Neurology at the University of Rochester School of Medicine and Dentistry.
Leonhardt-Caprio accepted the award over the weekend at the AHA's Scientific Sessions in Chicago, and will also speak at the State of the Science Stroke Nursing Symposium in February.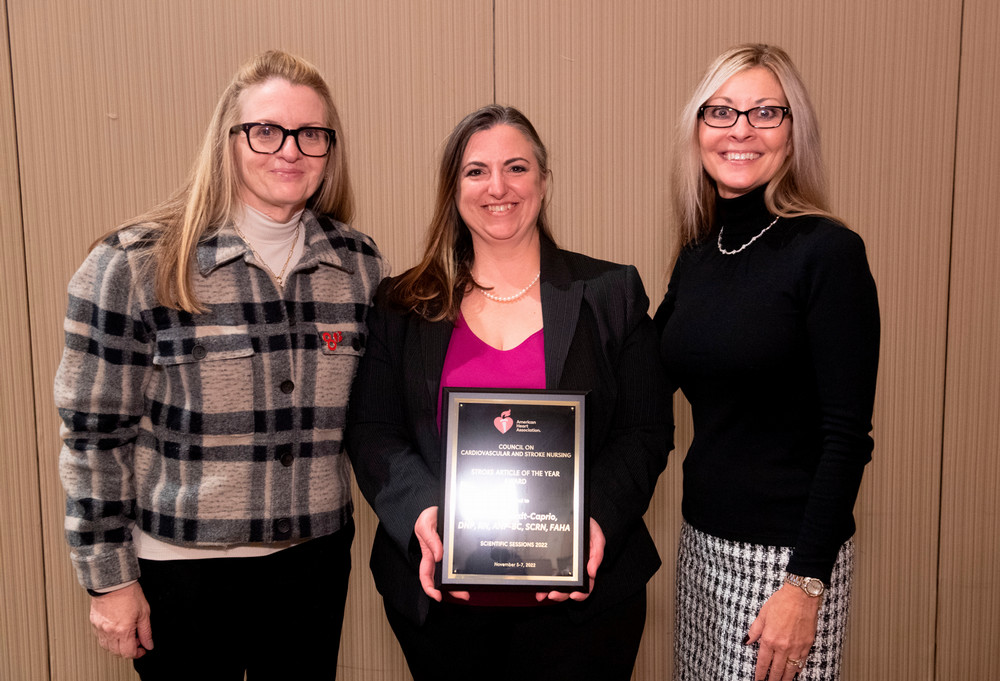 Leonhardt-Caprio, who has attended the Nursing Symposium in past years and watched previous Article of the Year award winners speak about their work, described the recognition as a full-circle moment.
"For years, I sat there and wondered, 'How do you get to be up there? I want to do that,'" she said. "And now I will have the honor of being part of this group of nurses I have admired."
The award-winning article shares the outcomes of Leonhardt-Caprio's DNP scholarly project, in which she implemented a multi-component improvement intervention to bridge the transition from hospital to home for patients who have had an ischemic stroke. Prior to the COVID-19 pandemic, the 2019 project led to a significant decrease in 30-day readmission rates and improved patient satisfaction.
"This project showed that by evaluating what is already in place in your system or practice, and making improvements to that, you can make positive change that impacts patients," she said. "We didn't need to go out, spend a lot of money, or hire new people."
Leonhardt-Caprio, a 2020 graduate of the DNP program, credited the School of Nursing for preparing her to evaluate and redesign the delivery of stroke care in her workplace.
"Doctorally prepared nurses are in a unique and strong position to evaluate systems of care, and where the needs are for patients within systems of care, in order to make improvements that benefit both the patients and the health care system," she said.
Leonhardt-Caprio also offered words of encouragement for current DNP students who are about to begin their scholarly projects.
"Don't be intimidated, and don't hesitate to put your work out there. No one can recognize your work if you don't get it out there."
Read more about Leonhardt-Caprio's work in The Neurohospitalist.