UR Nursing Receives 7th Consecutive Excellence in Diversity Award
  By Gianluca D'Elia
  Wednesday, October 11, 2023
For the seventh year in a row, the University of Rochester School of Nursing has received the Health Professions Higher Education Excellence in Diversity (HEED) Award from INSIGHT Into Diversity, the oldest and largest diversity-focused publication in higher education.
UR Nursing was one of 15 nursing schools across the U.S. and 63 institutions overall to earn the Health Professions HEED Award this year.
"We are proud to have been recognized by INSIGHT for a seventh consecutive year," said Dean Lisa A. Kitko, PhD, RN, FAHA, FAAN. "However, we are not standing still. Through our continued collaboration and commitment, we will strive to create a culture of belonging in the years to come, and find new, innovative ways to advance diversity, equity, and inclusion."
"The Health Professions HEED Award process consists of a comprehensive and rigorous application that includes questions relating to the recruitment and retention of students and employees — and best practices for both — continued leadership support for diversity, and other aspects of campus diversity and inclusion," said Lenore Pearlstein, publisher of INSIGHT Into Diversity magazine.
"We take a detailed approach to reviewing each application in deciding who will be named a Health Professions HEED Award recipient. Our standards are high, and we look for schools where diversity and inclusion are woven into the work being done every day across their campus."
The past year marked several milestones in diversity, equity, and inclusion at the School of Nursing.
The new UR Nursing Scholars program, which welcomed its inaugural cohort this fall, was recognized as a "best practice" by INSIGHT. In partnership with UR Medicine hospitals, the program offers a tuition-free second bachelor's degree for college graduates in exchange for a three-year work commitment upon graduation. In its first semester, the program attracted new students from across the U.S. and New York, from ages 21 to 53. Nearly 40 percent of students in the program come from underrepresented groups in nursing.
"The UR Nursing Scholars program makes this outstanding education more accessible to students from our community and across the nation, helping us to prepare a more diverse nursing workforce that better represents all patients served by UR Medicine and leads to better outcomes," Kitko said.
The launch of a 24-month pathway to a bachelor's degree also helped further the School's efforts to make nursing education more accessible. The 24-month degree features the same curriculum, experience, and outcomes as the 12-month program, but spread out over a two-year period. The longer program intends to offer flexibility for students who balance work and other commitments while completing the program.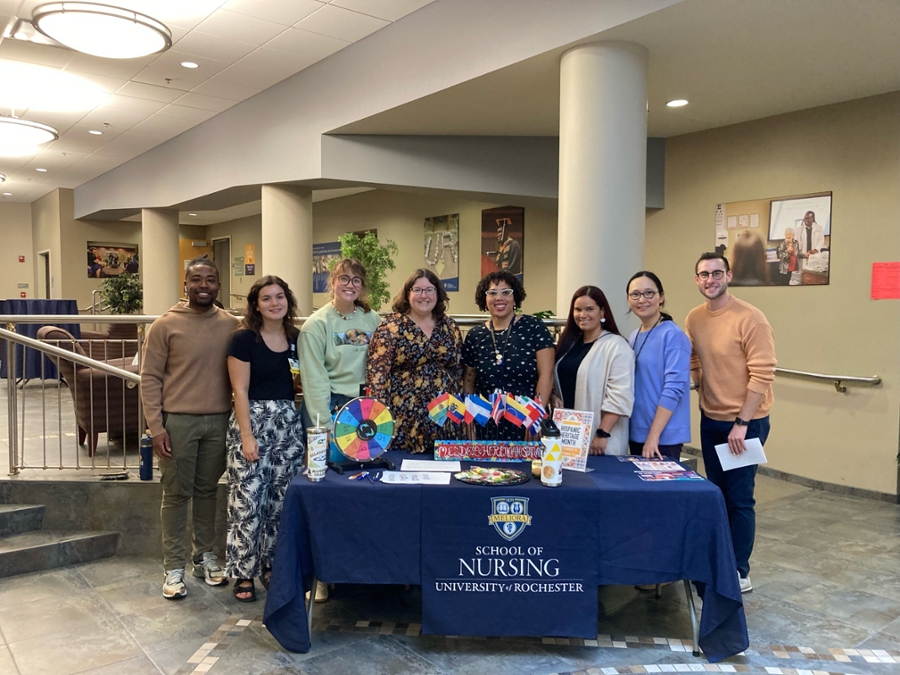 This fall, the School welcomed one of its largest accelerated bachelor's cohorts in program history. About 42 percent of students in the program are from underrepresented backgrounds, and 19 percent are men. Additionally, more than 100 new students joined the School of Nursing's RN to BS, master's, and doctoral programs, including 13 new doctoral students from three countries who are beginning their journeys to advance nursing science and practice.
The School of Nursing continues to attract students from many points on the map, including other states such as California, Hawaii, New Jersey, Texas, and Oregon; and nations across the world, including Ghana, India, Jamaica, Iceland, and many more.
The HEED Award also recognizes the School's community engagement, including two early-exposure programs with the Rochester City School District: a 10-week Nursing Pathways course for students at East High School, and the annual "See What You Can Bee Day," which introduces sixth-graders from the Children's School in Rochester to careers in health care.
The School has also continued to sponsor up to 25 bachelor's students for annual membership in the Rochester Black Nurses Association (RBNA). Chartered here at the School of Nursing in 2018, the RBNA serves as a voice for Black nurses, supports their professional growth, and develops programs to address health disparities in the local Black community.
As part of a University-wide initiative, 14 faculty members earned a "Fostering a Culture of Belonging" micro-credential through a partnership with the Association of College and University Educators (ACUE) over the past year. The program equipped participants with actionable practices to ensure all students and colleagues feel seen, heard, and valued.
"We take pride in the School of Nursing's successes as a HEED Award recipient," Assistant Professor of Clinical Nursing Caroline S. Nestro, PhD, MS, RN, who oversaw this year's HEED Award application. "Not only does the HEED Award demonstrate the school's history of leading the way in diversity, equity, and inclusion, but it also allows others who may be interested in joining our school to see that we are actively working toward excellence for the future."

For more information about the 2023 INSIGHT Into Diversity Health Professions HEED Award, visit insightintodiversity.com.
Categories: Diversity