Celebrating NP Week 2023: Kai Mbeke
  By Gianluca D'Elia
  Tuesday, November 14, 2023
Almost 60 years ago, the University of Rochester School of Nursing's founding dean Loretta Ford and pediatrician Henry Silver pioneered the nurse practitioner role.
There are now more than 355,000 NPs improving the health and lives of millions of patients across the U.S. In honor of Nurse Practitioner Week 2023, the University of Rochester School of Nursing is sharing stories of alumni of its nurse practitioner programs.
Kai Mbeke '22N (MS), RN, PMHNP-BC, has been providing mental health care as a nurse for nearly 20 years at the Buffalo Psychiatric Center. When she was ready to advance her career, the University of Rochester School of Nursing was here to help her take that step.
Mbeke pursued her master's in UR Nursing's Family Psychiatric Mental Health Nurse Practitioner specialty as a Patrick P. Lee Foundation Scholar. The Lee Foundation scholarship, established in 2020, seeks to address mental health workforce shortages throughout the region by covering tuition costs for Western New Yorkers pursuing a psychiatric mental health NP degree.
A desire to strengthen and diversify the mental health profession, which faces both general shortages and a lack of Black providers, is part of the reason Mbeke pursued her master's degree.
"The need for good, comprehensive care is great," Mbeke said. "It's important for individuals to receive the mental health care they deserve, and to know they are represented."
After graduating in Spring 2022, Mbeke was promoted to an NP role at the Butler Clinic, an adult outpatient mental health service at the Buffalo Psychiatric Center.
---
How did your UR Nursing education prepare you for your career goals?
My experience at the School of Nursing has uniquely prepared me for my goal of becoming a psychiatric nurse practitioner. The comprehensive curriculum has equipped me with profound insight on mental health disorders, psychopharmacology, and evidence-based practices. Through UR Nursing's clinical placements, I had the amazing opportunity to apply what I have learned in real-world psychiatric settings while also gaining invaluable hands-on experience. My educational experience proved to be priceless.
Where did you do your clinical preceptor experience?
I had the fortunate opportunity to complete my clinical experiences at the NYS OMH Children's Psychiatric Center (inpatient setting), BestSelf Behavioral Health (outpatient setting), and the NYS OMH Buffalo Psychiatric Center (all-male intensive rehabilitation inpatient unit).
Tell us about a faculty member or preceptor who made a difference for you.
The faculty at the University of Rochester were not only leaders in the mental health industry, but also compassionate and empathic. Dr. Susan Blaakman's mentorship and expertise in the field of psychology and psychiatry were integral in guiding my path as a psychiatric mental health nurse practitioner. She taught invaluable knowledge regarding patient care, therapeutic treatment approaches, and the absolute importance of empathy in the practice of psychiatry. She embodied the University's motto, Meliora, serving as our resilient leader as we weathered the storm of the historic pandemic with her calm and consistent demeanor. I will always remember her compassion during that time.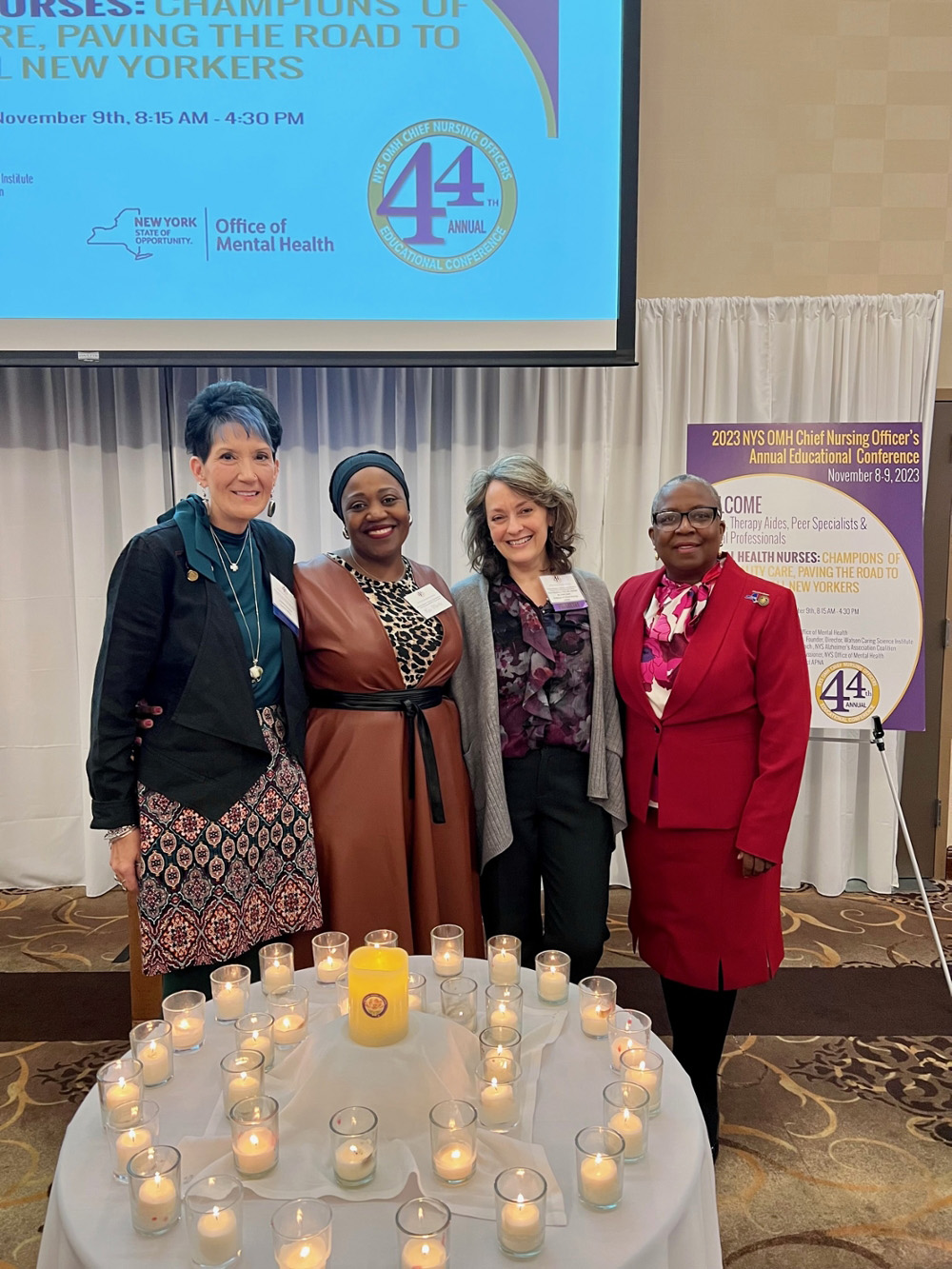 What kind of support was helpful to you as you balanced work and other life commitments with returning to school?
The beauty of the FPMH-NP program at UR Nursing is the fact that it is uniquely designed to accommodate working adults. The faculty were all extremely accommodating and understood the challenges students faced. Our advisors focused on tailoring each degree plan to meet the needs of individual students.
I was also greatly supported by the administrative community at the New York State Office of Mental Health (NYS OMH) while attending the program as both a NYS OMH and Patrick P. Lee Scholar. We collaboratively designed a customized alternate work schedule that allowed me to work fulltime and still attend and complete the graduate program on-schedule. One of the most supportive gestures shown to me was the financial assistance provided by the NYS OMH, Patrick P. Lee Foundation, and Project ENACT: Educating NPs to Address Childhood Trauma.
Tell us about your current role and what a day in your position might look like.
I have had the pleasure of working for the NYS OMH at the Buffalo Psychiatric Center for the last 19.5 years. After graduating and becoming a board certified psychiatric nurse practitioner in 2022, I accepted a position at the Butler Clinic on the beautiful campus of the Buffalo Psychiatric Center. The Butler Clinic is one of NYS OMH's multidisciplinary outpatient mental health clinics that serves WNY.
I work collaboratively with a comprehensive treatment team to provide evidence-based therapeutic care for patients who are recovering from various mental health concerns in our community. A typical day at the Butler Clinic includes providing patient-centered, evidence-based mental health care to the people in our community. As you can imagine, every day brings new challenges and bigger rewards as individuals meet their goals on the road to hope and recovery. Ever better!


Learn more about the Family Psychiatric Mental Health NP Program.
Categories: Nurse Practitioner Programs, Alumni