A Worthy Faux: Simulation Events Create Powerful Learning Environment
  By Patrick Broadwater
  Wednesday, July 6, 2022
Newer simulation events allow students to confront discomfort in a low-stakes, but powerful learning environment.
On a Friday morning in July, a pawn shop opened in a corner of Evarts Lounge was doing good business. So, too, was the nearby storefront offering paycheck advance loans.
Meanwhile, staff providing health care and social services in the neighborhood had comparatively little to do.
The "neighborhood" in this case was the ground floor of Helen Wood Hall, which had been converted into a small city for several hours for a role-playing exercise to help Accelerated Bachelor's Program for Non-Nurses (ABPNN) students gain a deeper awareness and better understanding of the daily challenges and barriers facing some of society's most vulnerable members.
Conducted for the first time this past summer as part of the ABPNN's Population Health course, the poverty simulation allowed future nurses to experience what it is like to live as part of a low-income family. Faculty and staff volunteers served as bankers, social workers, retail clerks, policemen, teachers, and other community members during the exercise, following a carefully crafted script to help guide the students' experience.
In character as fathers, mothers, grandparents, and children, accelerated nursing students were tasked with juggling a number of responsibilities, such as getting themselves to work and their child to school without reliable transportation, despite having very limited resources. As they navigated a month's worth of activities in a compressed two-hour timeframe, they often encountered other challenges, such as language barriers, unhelpful authority figures, and unexpected financial burdens.
Hence, the flurry of activity at the simulated pawn shop and paycheck advance store.
It's also no wonder that many of the students couldn't or didn't make health care a priority. With so many other difficult factors in their lives, they either didn't have the time or couldn't afford to visit their health care provider. That's an important lesson the event's organizers hope will resonate with students for years to come.
"It will help them to know how they can advocate for their patients, how they can empower vulnerable members of our community and help to allocate resources that will allow them to survive and meet the basic needs that these families have," said Erin Baylor, DNP, RN, PNP-BC, ONP, director of simulation and experiential learning at the UR School of Nursing.
"I think it also provides our students a little more empathy for the challenges that our patients are facing."

Erin Baylor
"When we have patients struggling with compliance or with showing up on time, it's really remembering the intersectionality that poverty plays in our everyday lives, not just in health care, but in terms of discrimination, racism, and other barriers that people face," said accelerated nursing student Casey Weaver. "When you take into account all of those challenges that people face, it's almost remarkable that people show up at all."
Poverty remains a huge issue in the U.S., and in Rochester, one of the poorest cities in the country with more than 30 percent of residents below the poverty line. Before the simulation, students drove around the city for a "windshield survey," taking note of the resources available in different neighborhoods. They also took part in a group debriefing session with all the participants after the simulation.
"Many of us probably experienced a form of poverty or at least some of that poverty culture," student Rabia Cav said. "But given that 34 million people in the U.S. are in poverty right now, it's definitely eye-opening. One thing I did notice, that bad luck happens to everybody, but when it happens to someone in poverty, things are harder for them than the average person."
The poverty simulation, held for the first time last July and each of the last two semesters, has quickly become an established part of the ABPNN curriculum. But it's just one of several decidedly low-tech simulation exercises utilized across the school's academic programs with the aim of sharpening skills in a low-stakes, yet high-impact learning environment.
The Nurse Practitioner programs, for example, began instituting objective structured clinical examinations— OSCEs —in 2019. These structured encounters with standardized patients give NP students an opportunity to demonstrate the clinical competencies they've learned in class and throughout their clinical rotations.
In this exercise, students enter an exam room where they meet their "patient" for the first time. They do a health history and a physical exam, while being observed by a small group of peers and instructors. After the examination, all parties debrief to talk about how the interaction could have been improved.
"It is a student-centric approach with patient-centered outcomes, and we're very committed to that," Baylor said. "This is their time to take everything they've learned and assess their patients, to have that connection with patients.
"That's why our students go into this field, because they're passionate about patient care."

Erin Baylor
"I'm even more nervous for this than for clinicals," Lee Lande '16N, an ICU nurse at Strong Hospital and family nurse practitioner student, said before taking part in the OSCEs last fall. "I feel like there's more at stake here. I know it's supposed to be a low-intensity environment, but just the fact that people are watching you do the history and do the exam makes me a little uneasy. But I'm excited, because it's a learning experience."
Whatever nerves students may have about the OSCEs are usually mollified by the experience itself. In fact, their self-reflection on their approach and interactions with the patient, as well as the feedback from the observers, help to alleviate student fears and boost their confidence.
"It was helpful having an expert in the room to identify any week points in my assessment and exam," said Lande.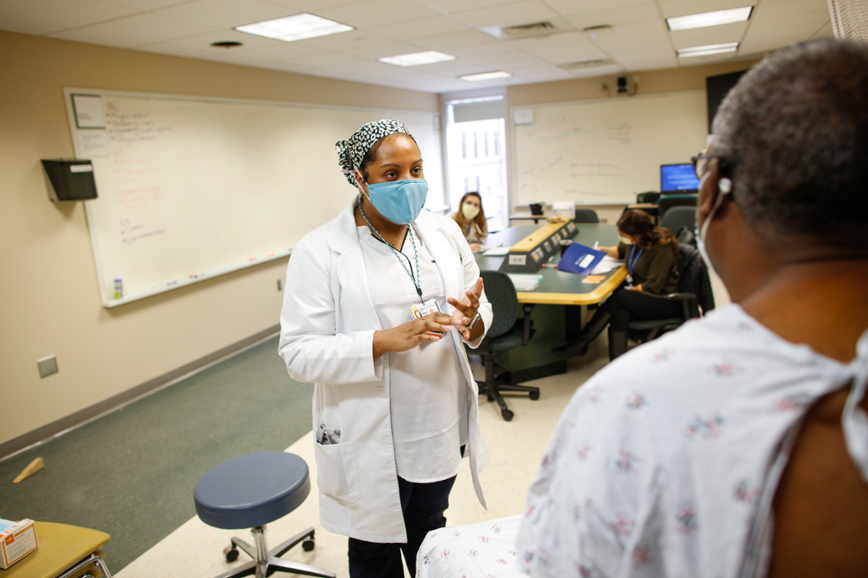 "So far, it's the most realistic education we've gotten in the program," Sean Goonan, RN, BS, OCN, a 2021 adult gerontology acute care nurse practitioner graduate, said after participating in his first OSCE. "In my opinion, it's almost the equivalent of walking into a real patient's room for the first time."
Which is exactly the point of simulation activities, Baylor said.
"Giving students opportunities to be successful, to learn from their mistakes, to be able to do some rigorous self-reflection on where they are and where they would like to be when they graduate is a real benefit of this kind of learning environment."
This story appears in the 2022 Volume 1 issue of NURSING Magazine.
Categories: Accelerated Programs Community Patient Care Nursing Education