School of Nursing Celebrates Students, New Dean at Opening Convocation Ceremony
  By Gianluca D'Elia
  Wednesday, September 7, 2022
The University of Rochester School of Nursing welcomed new and returning students and recognized some of its leading scholars at its annual convocation ceremony on Sept. 6. This year's ceremony also served as a welcome for the School of Nursing's new dean, Lisa Kitko, PhD, RN, FAHA, FAAN.  
"I am honored to be part of this community," Kitko said to more than 150 students, faculty and staff in attendance.
"I look forward to seeing how each of you in the room will grow as we begin a new academic year, and how you will continue to make important contributions not only to the School of Nursing, but to our profession.""You're talented, you're motivated, and you know you're the best because you're here at one of the best schools of nursing in the country," Kitko told students. "You have all the characteristics of not only a great nurse, but a great leader." 
Students were also greeted with welcome speeches from University of Rochester President Sarah Mangelsdorf, Medical Center CEO and Dean of the School of Medicine and Dentistry Mark B. Taubman, MD, and the university's new provost, David Figlio.
The fall semester marks the first full academic year in which students will be able to utilize the new, state-of-the-art Helen Wood Hall expansion, which was unveiled in May. Mangelsdorf praised the new facility as a "cutting-edge space" that will transform the future of nursing education. 
"This is an exciting time to be a student, faculty or staff member," Mangelsdorf told students in her address. "We have a new dean, new facilities, and today, we start a new semester and new academic year." 
Taubman told students that now is an important time to pursue a career in health care, noting that health institutions across the country are facing staff shortages that have only grown worse during the COVID-19 pandemic.
"You have picked a challenging but exciting time to work in the field of health care," Taubman said. "The School of Nursing will teach you strategies to address these challenges, while maintaining the self-care and work-life balance that help you sustain a rewarding career."
Figlio, who began his position as provost in June, said the School of Nursing reflects many of the qualities that attracted him to the University of Rochester earlier this year.
"This is a university full of innovation," Figlio said. "It's a place of extraordinary excellence and creativity. That spirit of innovation in scholarship and education is on full display here at the School of Nursing. Our graduates have played an outsized role in caring for patients in leading health care systems, conducting clinical research, and bringing new discoveries to the next generations."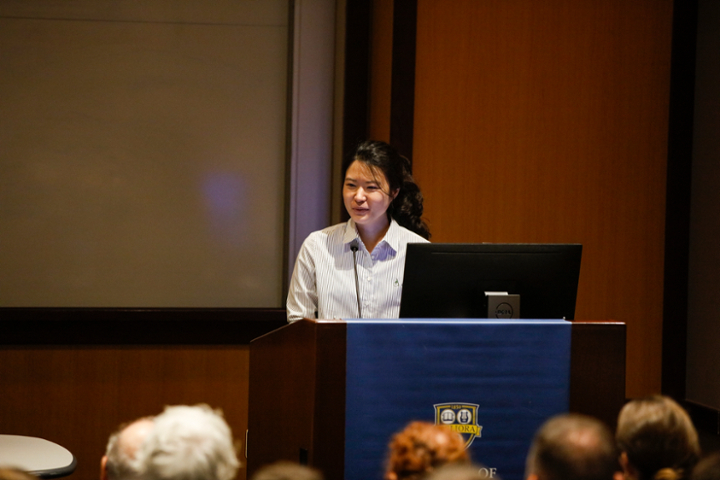 Lydia Rotondo, DNP, RN, CNS, associate dean for education and student affairs in the School of Nursing, and Mitchell Wharton, PhD, RN, FNP-BC, CNS, ACRN, associate dean for equity and inclusion, presented seven awards to returning undergraduate and graduate students. The winners were:
Michelle Copolo-Ziemer, an accelerated bachelor's (APNN) student, who received the Clare Dennison Prize for outstanding proficiency in general nursing care.


Bryanna Patterson, a student in the Family Nurse Practitioner program, who was honored with the Eleanor Hall Award as an outstanding master's degree student.


Dwight Hettler, MS, RN, OCN, NE-BC, a DNP student and the director of nursing at Wilmot Cancer Institute, who received the George Spencer Terry Jr. B'49 Endowed Fund in Nursing. This award is given to a DNP student who is developing innovative solutions to challenges facing nurses, health care providers, and students.


Yu-Ching (Katie) Yang, RN, a PhD student and recipient of the Jill Thayer Award. This award is presented to a doctoral student whose research demonstrates a commitment to personalizing or enhancing health care encounters and access to health care.


Lindsay Batek, ND, BSN, RN, a student in the MS-PhD combined program, who was awarded the Katharine Donohoe Scholarly Practitioner Award, given to a doctoral student prepared as a nurse practitioner who has undertaken research focused on improving the well-being of the population served.


Joseph Escobar, a student in the Leadership in Health Care Systems master's program, who was honored with the Michele Unger Leadership Award. This award is given to a leadership student who exemplifies the life character of Michele Unger, a beloved nurse leader at Strong Memorial Hospital and assistant professor of clinical nursing at the School of Nursing who died in 2013. Unger was known for her ability to establish collaborative relationships, and for leading cultural, operational and financial transformations throughout her career.


MS-PhD student Wonkyung Chang (Psychiatric Mental Health Nurse Practitioner specialty) and Family Nurse Practitioner student Bryanna Patterson, the two recipients of the Student Diversity Engagement Award. This award recognizes any School of Nursing student who demonstrates a commitment to diversity and inclusion through work within the Medical Center, the university at large, or the community.


The school also welcomed its newest cohort of students to the  Acaccelerated Bachelor's Program for Non-Nurses. The class of 63 students is a rich mixture of students of different ages, backgrounds, undergraduate majors, and talents. They come from seven U.S. states and South Korea. Twenty-one percent of the class is made up of men – almost twice the national average of men in the nursing workforce – and 30 percent come from underrepresented minority groups. The Sept. 6 convocation ceremony was also the first day of school for their 12-month program.