UR School of Nursing Unveils $15M Addition to Helen Wood Hall
  By Patrick Broadwater
  Friday, May 6, 2022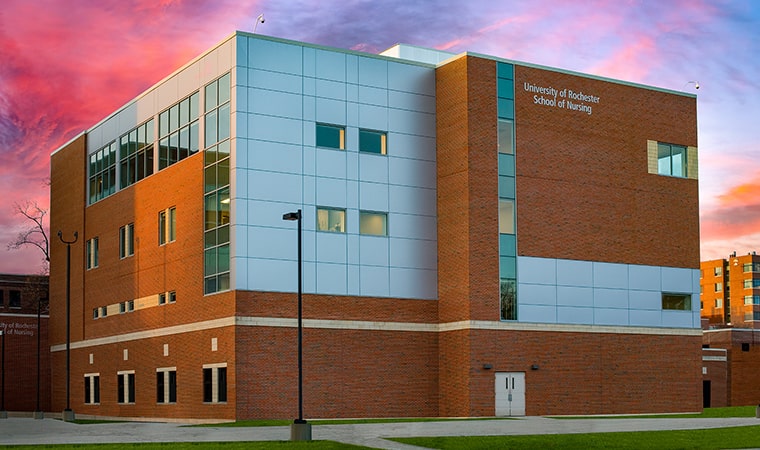 The University of Rochester School of Nursing unveiled a state-of-the-art $15 million addition to Helen Wood Hall today that will transform nursing education for generations of future health care providers.
The three-story, 26,000-square-foot vertical expansion above the Loretta Ford Education Wing, was designed to meet the increasing need for technologically advanced and synergistic learning opportunities while accommodating the school's continued growth.
The expansion includes dozens of dynamic and flexible spaces optimized for collaborative and active learning. Among them: a 20-bed skills lab furnished with the same equipment students will find in a hospital setting, four simulation labs with high-fidelity human simulation mannequins, two extended reality rooms featuring alternate and virtual reality technology, customizable experiential and clinical learning rooms, and expanded student lounge and study spaces. The new addition provides students with more opportunities to collaborate in small- and large-group settings, as well as simulate clinical experiences and apply their knowledge in a low-stakes, high-impact learning environment.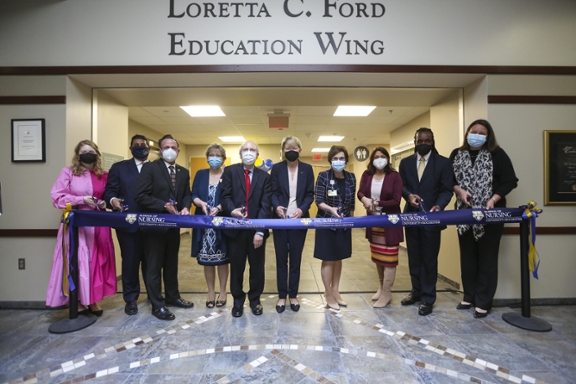 University of Rochester President Sarah Mangelsdorf, UR Medical Center CEO Mark B. Taubman and School of Nursing Dean Kathy Rideout delivered welcoming remarks at the formal ribbon cutting ceremony for the addition. They were joined by donors, University leadership, and elected officials, including NYS Senator Jeremy Cooney, Assemblymember Harry Bronson, and Gov. Kathy Hochul's Finger Lakes regional representative Elizabeth Morabito. Tours and demonstrations of the cutting-edge technology built into the new facility followed the ribbon cutting.
"Today is a momentous day. Not only is it the start of National Nurses Week recognizing, acknowledging, and thanking nurses for the work they do for others, it's also a day that we add brick-and-mortar to the University of Rochester's School of Nursing," said President Mangelsdorf. "This new facility will serve as a hub for experiential learning and simulation – the cornerstones of the school's innovative approach to educating the nurses of tomorrow."
"This new addition is the physical embodiment of our educational philosophy and commitment to preparing the future health care workforce with the critical thinking and clinical judgment skills necessary for a complex and rapidly evolving health care environment," said Rideout. "I'm extremely grateful for the donors and countless faculty, staff, students, University administrators and elected officials who helped to make this expansion project a reality."
Built in 1925, Helen Wood Hall is the original home of the University of Rochester's nursing program. The building served as a dormitory in its early years, with its residential space later converted to classrooms, clinical learning spaces, and private offices. The Loretta Ford Education Wing, named for the school's founding dean and co-creator of the nurse practitioner role, was added in 2006. The UR School of Nursing has grown by more than 50 percent since 2016 with enrollment reaching an all-time high of more than 800 students in the fall semester.
Additional details on the new spaces:
Second Floor:
Four identical simulation suites with one-way mirrored windows for observation from the control room and video capture system with three cameras, two microphones and an overhead speaker. High-fidelity human simulation mannequins (adult, child and baby) and a birthing simulator can be utilized in the space.
A skills lab with 20 12-foot by 8-foot bays replicating the hospital environment. Includes 15 patient beds, including a state-of-the-art ICU bed and patient monitoring/telemetry system, and 5 patient exam tables. The center of the room includes a large educational area with twin 70" monitors equipped with Apple TV on opposing walls.
Several debriefing rooms with tables, chairs, and monitors for reviewing activities.
Third Floor:
Eight experiential learning rooms (ELRs), multifunctional instruction rooms featuring an exam table and audio/video capture technology. Each room is connected via a sliding glass door so that multiple areas can be engaged at the same time. Motion sensing technology allows instructors to roam between rooms and mute or un-mute individual rooms.
Four clinical learning rooms (CLRs) with exam tables and audio/video capture technology and one-way mirrored windows for observation of interaction with standardized patients.
Two extended reality rooms equipped for virtual and alternate reality technology, allowing students to participate in a variety of complex clinical patient encounters, such as a complicated labor and delivery or mass casualty trauma.
Fourth Floor:
A 90-person divisible classroom made up of two equally sized rooms separated by a retractable wall. Equipped with full AV technology.
Two conference rooms for collaborative learning or faculty meetings
A large student lounge space equipped with ample seating and an eat-in kitchen.
For more information on the new addition, visit the Helen Wood Hall expansion page.