Kathy Rideout Receives Health Care Achievement Award
  By Patrick Broadwater
  Monday, February 19, 2018 3:18 PM
 
Kathy Rideout, EdD, PPCNP-BC, FNAP, was recognized with a 2018 Rochester Business Journal Health Care Achievement Award for her more than 40 years of contributions as a pediatric nurse, educator, administrator, executive, advocate, researcher, and mentor.

As dean of the University of Rochester School of Nursing, she leads one of the most highly respected nursing schools in the country, shaping the next generation of rigorously educated nurses, health care leaders, and scientists. She also remains committed to practicing as a pediatric advance practice nurse at Golisano Children's Hospital and is vice president of the University of Rochester Medical Center.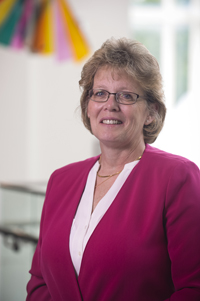 Among the many accomplishments of Rideout's tenure as dean at the School of Nursing:
As a member of URMC's senior leadership team, Rideout plays an influential role in the strategic direction of the Medical Center as it adapts to a rapidly changing health care system. She sits on a number of the Medical Center committees and councils, as well as serving as a member of the President's Cabinet and other University councils and committees.
Nationally, Rideout is a member of the influential Dean's Health Policy Coalition, a group of seven deans from prestigious schools of nursing formed to address issues in health care research and reform. She was coalition co-chair in 2014 and chair in 2015. She is also a member of the government affairs committee for the American Association for Colleges of Nursing, helping to advocate for the profession at the national level.
 The RBJ's Health Care Achievement Awards recognize individuals and groups who are nominated by their colleagues, supervisors, and patients for significant achievements in health care. Honorees are selected in eight categories: behavioral health, health care staff, innovation, management, nurse, physician, senior care, and volunteer.
The 26 award recipients were honored during a luncheon March 23 at the Hyatt Regency Rochester.