A Message from the Dean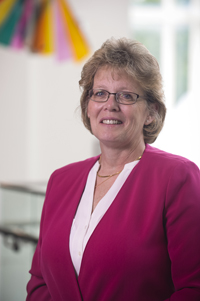 My love for the School of Nursing and its mission of lifelong learning has been forged over the past 25 years as I've worked as a teacher, a practicing nurse clinician, and scholar, alongside men and women whom I consider to be the best and brightest faculty, staff and students anywhere in the world.
As dean, I'm passionate about ensuring that our faculty and students remain successful and that our School remains dynamic, strong, and held in the very highest regard.  Though we have many challenges ahead of us, nurses will play a vital role in reshaping the delivery of health care. The contributions we make as researchers, educators and clinicians are essential to transforming our health care system to better meet the needs of patients and our broader community.
As a school we are also entrusted with the responsibility and privilege of preparing the next generation of health care leaders, educators, researchers and providers who will be able to meet new challenges and positively contribute to the future of our profession.
We are entering a very exciting time for our school as we build on the strength and tradition of our past, and chart a course toward an even more vibrant future.
Our unique passions, ideas and commitment to our mission will continue to fuel the school's success. I look forward to your input and support as we embark on this fulfilling journey together.
Kathy H. Rideout, EdD, PPCNP-BC, FNAP
Vice President
University of Rochester Medical Center
Dean and Professor of Clinical Nursing and Pediatrics,
University of Rochester School of Nursing