Leadership Team
The University of Rochester School of Nursing is guided and directed by a team of accomplished and inspiring leaders who embody our historic mission of unifying nursing education, practice, and research.
Our Dean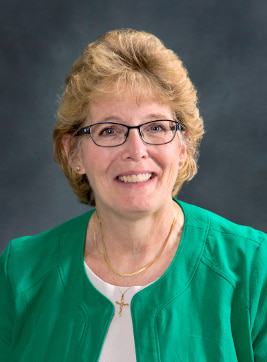 Kathy Rideout, EdD, PPCNP-BC, FNAP, has served the School of Nursing community for more than 25 years as a nurse practitioner, teacher, scholar, and administrator. When appointed as dean in 2012, Rideout said that her "greatest source of pride will be in seeing the continual success of our students, faculty, and staff and in helping the school carry out the strategic goals that will position us as leaders in research, practice, and education." Dean Rideout has invigorated and diversified enrollment, and launched an ambitious strategic plan while continuing to work with children and families as a pediatric ostomy nurse practitioner, and serving as vice president of the University of Rochester Medical Center.
Contact the Dean's Office
(585) 275-8902
Lukira_Carroll@urmc.rochester.edu
Senior Associate Dean of Research
Harriet Kitzman, RN, PhD, FAAN, is an award-winning nurse, mentor, leader, and researcher who studies, among many other topics, the evolving role of the pediatric nurse practitioner. Her program of research on the effects of nurse home visitation on economically disadvantaged mothers has had significant impact on both individual care and health care policy nationally and internationally. "Research is a thriving enterprise at the School of Nursing," says Kitzman, "with a cadre of distinguished, nationally known faculty who are engaged in cutting-edge studies that will, ultimately, improve health outcomes for various populations throughout the country."
(585) 275-8874
Harriet_Kitzman@urmc.rochester.edu
Senior Associate Dean of Operations
Renu Singh, MS, ensures the fiscal success and resource management for all missions of the School of Nursing. With 25 years of leadership experience in health care program design and implementation, finance, and operations, her passion for wellness has led to the development of the school's evidence-based wellness program, where she also currently serves as CEO.
(585) 275-2830
Renu_Singh@urmc.rochester.edu
Associate Dean for Education and Student Affairs
Lydia Rotondo, DNP, RN, CNS was named dean in 2015 and continues as the director of the Doctor of Nursing Practice (DNP) program. As dean, Rotondo works closely with program directors, faculty, and students to meaningfully respond to emerging educational needs to meet the health care workforce demands of the future. She says health care reform will call on students to "demonstrate competence in working in interdisciplinary teams that employ evidence-based practice, utilize information technology, and critically appraise the quality and safety of the health care environment."
(585) 273-5639
Lydia_Rotondo@urmc.rochester.edu